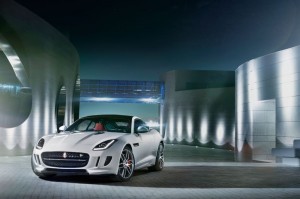 Norrmally, when automakers build a gorgeous new sports car, they debut it as a coupe and promise to chop the roof off a year later. Jaguar went the other direction, revealing the stunning F-Type convertible at the 2012 Paris auto show and hinting that a hardtop would follow. As planned, the Jaguar F-Type coupe makes its debut at this year's Los Angeles auto show, building on the striking design and raucous engines of its droptop forbear.
The Jaguar F-Type coupe looks very much like the convertible, with a dropping nose, enormous oval grille opening, creased hood, hidden door handles, and narrow LED taillight strips that wrap onto the wide rear fenders. The obvious difference is that the aluminum body (only the hatchback is not formed from aluminum, instead using composites)gains a tapered greenhouse above the cabin. The narrow rear windshield ends in a U-shape, where it meets a stubby decklid that, at speeds above 70 mph, rises to serve as a spoiler than reduces aerodynamic lift by 264 pounds. Where the convertible has a wide deck behind the two seats, the Jaguar F-Type coupe has what amounts to a skinny hatchback flanked by wide, aggressive haunches.An optional full-glass panoramic panel can replace the aluminum roof.
The cabin is carried over directly from the convertible, with an asymmetrical center stack that features a large buttress-cum-grab handle for the passenger, a joystick-like shifter for the eight-speed automatic transmission, a pair of aggressively bolstered leather seats, and a straightforward instrument cluster with twin analog instruments bookending a color LCD trip computer.
Three Types of Power
The Jaguar F-Type coupe has two V-6 engines that offer equivalent power to the convertible. The standard 3.0-liter supercharged V-6 packs 340 hp and 332 lb-ft of torque, enough for a 5.1-second run to 60 mph and a top speed that is electronically limited to 161 mph. As the least sporting version of the F-Type coupe, this model also has the smallest brake discs, measuring just 13.9 inches in diameter out front, and it's the lightest coupe at a claimed 3477 pounds. It lacks adaptive suspension dampers and has an open rear differential.
The next step up is the Jaguar F-Type S coupe, which matches the F-Type S convertible with a version of the supercharged V-6 tuned for 380 hp and 339 lb-ft, good for a 4.8-second sprint to 60 mph and a top speed of 171 mph. The S receives significant upgrades compared with the 340-hp model, including the louder Active Sport exhaust, adaptive suspension, launch control, a limited-slip differential, and larger brakes with 15.0-inch front rotors. Both V-6 models are easily distinguishable by their twin center-mounted exhausts, as opposed to the R model's quad tailpipes.
The final version is the Jaguar F-Type R coupe. It shares its supercharged 5.0-liter V-8 with the V8 S convertible but trumps the droptop's output. The coupe boasts 550 hp and 502 lb-ft of torque, a 4.0-second 0-to-60-mph time, and an electronically limited top speed of 186 mph. To cope with that much performance, Jaguar endows the R coupe with 20-inch wheels, an Electronic Active Differential that automatically locks and unlocks the rear axles for optimum traction, and a torque vectoring feature that brakes the inside wheels in turns to preempt understeer. In addition to having more power, the R coupe also has suspension springs that are four percent stiffer than those in the F-Type V8 S convertible.It comes standard with the so-called Super Performance braking system,which includes red-painted brake calipers and 15.0-inch front brake discs. Both the F-Type R and the S coupe can also be equipped with carbon-ceramic brakes that reduce unsprung weight by 46 pounds, improve stopping performance, and come only with black 20-inch "Storm" wheels.
2015 Jaguar F-Type Coupe Debuts At 2013 Los Angeles Auto Show