It would be an understatement to say that "crowdsourcing" was in its infancy in 2005. Sure, the idea of using an army of volunteers to help create something wasn't new — the Oxford English Dictionary was famously crowd-sourced by a team of 800 volunteers in 1884 — but the term "crowdsourcing" as we understand it today wasn't actually coined until 2006. Crowdfunding was even further away — Kickstarter didn't launch until 2009.
So it was that in 2005, Chris Lindland found himself with a crazy idea, some bad jokes about horizontal stripes, and no ready-made platform on which to share his discovery with the world. Instead, he began talking with his friends about his plan to make horizontal corduroy pants. His friends had suggestions on how to make them better, and (perhaps surprisingly) the desire to purchase a pair.
Cordarounds was born out of that back-and-forth between Lindland and his friends, who (perhaps even more surprisingly) helped front the money for Lindland to create a prototype, and then begin working with local manufacturers in the San Francisco area to create a real product. It was a rousing success. Not in a "reshaping fashion as the world knows it" way, perhaps, but in a much more important "validating the business model" way.
Over the next several years, Lindland took that initial idea and ran with it. Start with a joke from Lindland or, increasingly, his growing audience of loyal customers and fellow ironic pranksters, like shiny pants made out of 100% "disconium." Run it through the wringer of community feedback. Prototype a product like Disco Pants. And then let the community put their money where their mouths are in a Kickstarter-like funding process that would only see the item produced if enough people placed preorders.
The result: Bike To Work pants that were comfortable, looked like regular chinos, but had enough reflective material to keep bikers safe; Black Sheep Sweaters made out of the wool of actual black sheep; and the aforementioned Disco Pants, which quickly became the go-to lower-body apparel of Burning Man attendees. In 2010, the company rebranded as Betabrand and was riding high on sales of over $1 million annually. Just three years later, everything would change.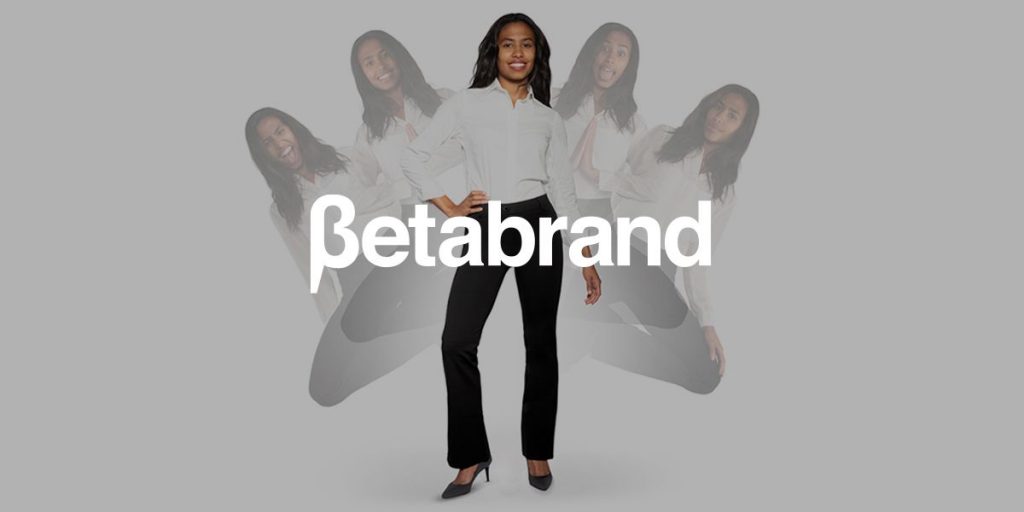 In 2012, Betabrand sold almost exclusively menswear — reversible smoking jackets/blazers, pinstripe "executive" hoodies, and the ever-popular Cordarounds. In 2013, Betabrand launched their first foray into women's wear with a product called "Dress Pant Yoga Pants" with a campaign featuring models with PhDs. By 2020, finding a single article of men's clothing on the site requires manually searching for the few overstock items still available. The women's line was such a hit that it completely overtook the business.
Dress Pant Yoga Pants might have seemed, on the surface, like just another tongue-in-cheek product crowdsourced by a community that spun garments out of raw, ethically-sourced irony. Instead, it took over. But it wasn't blind luck — lightning striking the right place at the right time. Betabrand was actually set up from the beginning for success just like this.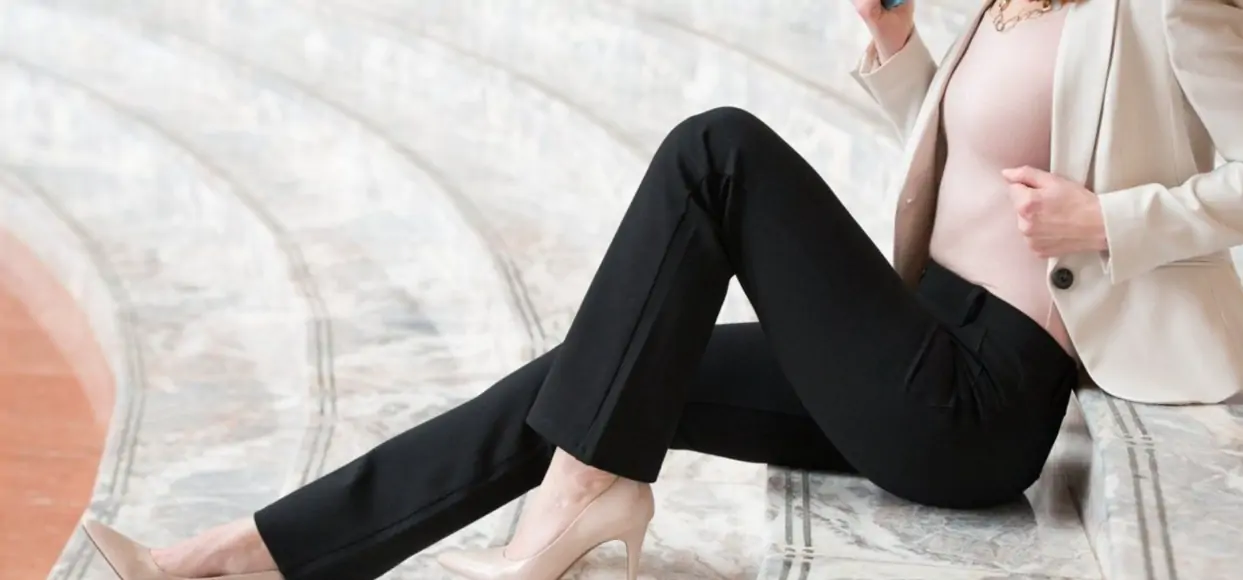 As mentioned earlier, the price is definitely on the high side of things compared to shopping for athletic pants somewhere like Fabletics or Victoria's Secret.
However, they are a high end activewear brand that essentially combine two pant styles in one (dress pants and comfy yoga pants). If you take into consideration how much dress pants cost, it makes it a little easier to justify the purchase.
This is the math I had to do to make myself feel better about spending $79 per pair of Betabrand pants.
It would typically cost me $40 for a pair of good yoga pants and another $50 – $60 for a nice pair of work dress pants that last a long time. This totals $90 – $110, so the fact that I could get these two in one pants for a lower price made it easy for me to go ahead and try them out.
If you're used to buying more spendy brands like Lululemon that are around the same price as Betabrand, you shouldn't hesitate to try them out – you pretty much get two pants for the price of one!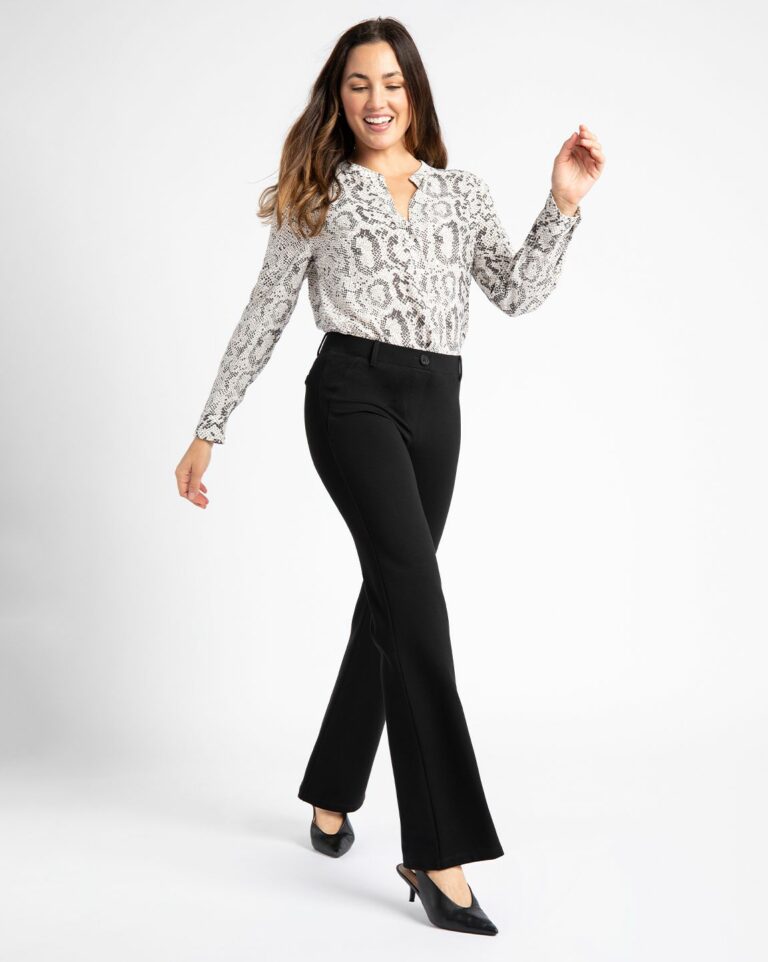 Classic Bootcut Dress Pant Yoga Pants

With over 2500 reviews averaging 4.5 stars, I felt like I couldn't go wrong with this purchase! These are truly amazing!
I highly recommend these, I feel like the bootcut style is on its way back and Betabrand is making it better than ever.
The stretchy material hugs my curves perfectly and, even at the end of a long day, they are still tight-fitting, which is a must for me. While both pairs of pants I got were a bit long, they were fine with small heels. I might try a petite size next time.
Classic Straight Leg Dress Pant Yoga Pants

This was another top-rated best-selling pant from Betabrand that were a must have for me. I feel like the straight leg is a great option that never gets old.
It always looks good and isn't as large of a fashion statement as the bootleg cut. Like the other pair, these were ultra comfy and tight-fitting, while still looking professional enough to wear to the office.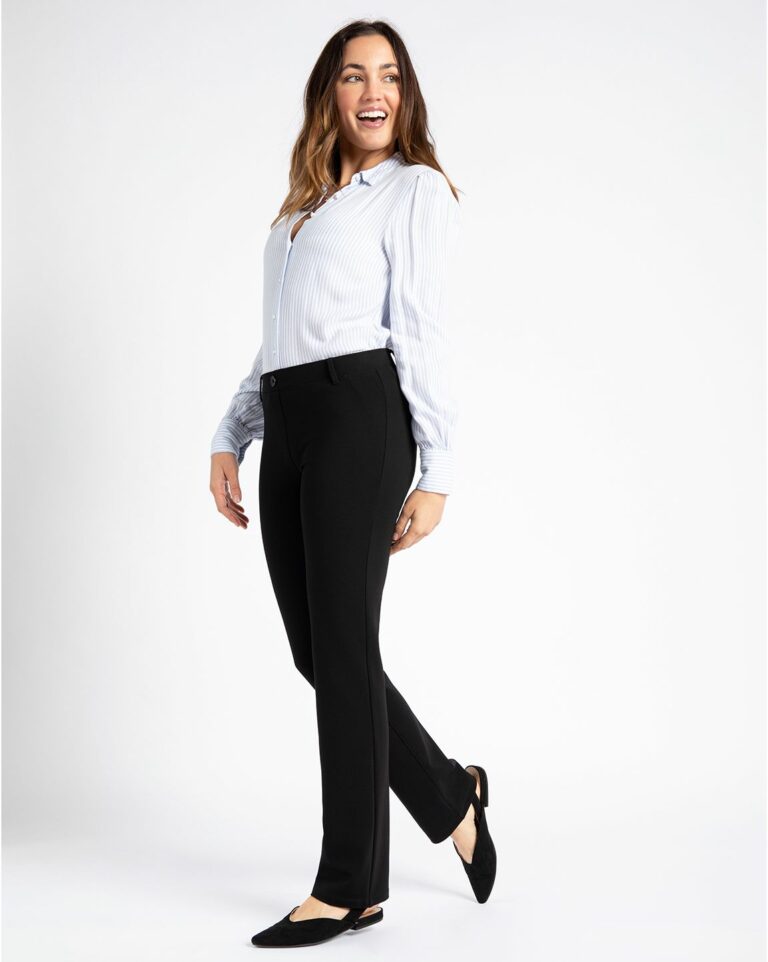 Pros 
Cons
– Extremely comfortable and flexible
– Business professional
– Tons of styles to choose from
– Stretchy without sagging
– Can be used for both work and exercise
– Makes legs and butt look great (but still professional)
– Warmer than typical leggings because they are thicker
– Frequent first order deals (I got 30% off)
– Price ($70+ per pair)
– Costs extra for the pants with pockets
– Fake pockets on the regular pair are a little obvious
– Petite size only means shorter
– Girls with a larger butt or pear-shaped body might want to size up
– A lot of reviewers think petite sizes are still too long 
How Do Betabrand Pants Fit?
Overall Fit: I'd rate the fit an 8/10! 
These Betabrand pants were very form-fitting without being too revealing. They made my booty look great! I do have a decent sized butt, but not huge (if you do have a big butt, they might be too tight and you may have to size up, or else they may be "too revealing" for work). 
Even their normal fit might be too tight depending on your office environment, but you can always wear a tunic over them so you can still wear these comfy pants! 
Shape 
I found that they're form fitting around the hips and tight on the waist, which is great if you have an hourglass shape. If you have more of a pear shape with a big booty, you might have to size up as mentioned previously. 
Also, since they fit tight on the waist, it can cause a little bit of a muffin top that you might not like. Some don't mind, but do keep this in mind when picking a size. 
Length 
Betabrands has inseams ranging from 28'' to 34'' (my pair was a little longer than listed on the chart listed). However, I didn't have a huge issue with this because they are easy to pull up due to the tight fitting fabric around the hips. They also were the perfect length when paired with heels.
I've seen a lot of Betabrand reviews that say their pants were far too long when they got them, but they shrunk to the perfect size after washing. 
Short Petite, Petite, Regular & Long are all the same hip and waist size. The only difference you will notice is in the inseam.
I always love when brands offer special sizing for Petite size women! This was a bonus for me when I started browsing their styles, so you can understand that I was a little disappointed to find out that this sizing only indicated the length of the leggings and pants. Nonetheless, I was still excited to try what the pants that would soon be the best pants I owned.
Your Torso size will determine the fit – if you have a normal torso, you will find out that it will be a perfect fit! Long torsos will have more of a low rise fit, and smaller torsos will be high-waisted. I'm 5"4 and they were a little high-waisted, which was just the right amount. 
Is Betabrand Good Quality?
I'd honestly rate the quality a 9/10!
After wearing a few of their different styles nearly daily for the past 6+ months (they're just so comfy), I can tell you that Betabrand makes a high-quality product. The fabric is super thick that keeps its elasticity, plus they don't fade or fray after washing. You will have no underwear lines with these. 
Most other leggings I've purchased lose their stretchiness in the first few months if I wear them often, then they start to fade.  But, I do typically buy leggings less than half the price of these, so you get what you pay for. 
Shipping 
The shipping speed was great. My items shipped 2 days after purchasing and took another 3 to get to me. 5 days to receive an item after the purchase isn't bad!  
Note: If you have a preordered item, it will take much longer to get to you! I purchased one pre-ordered item and it took almost 6 weeks to arrive.
Betabrand Returns
Fortunately, I didn't have to return any of my pants. For those that do want to make a return, here's the basics.
You can return or exchange up to 60 after receiving them for a full refund OR 110% store credit
Must be unworn and unwashed
Exchange can only be made for the same item, just a different size 
Can take up to two weeks to process exchanges
You have to pay to send it back in the mail, or you can do an in-person return if they have a location near you
Purchased from the "Last Chance" sale page are final sale and not able to be returned.