Los Angeles-based Iolo has been a market leader in the PC tune up utility software category for years, thanks to its best-selling System Mechanic software. This app has traditionally offered sluggish PCs a new lease on life – but does the new System Mechanic 14 live up to the standard set by its predecessors? And is it worth the upgrade from System Mechanic 12.5? I took Iolo's new beta software for a test drive to see what improvements you can expect.
Overview
With the proliferation of both personal and corporate devices, there are a lot of PCs out there performing a wide range of increasingly complicated tasks. Naturally, sluggish and overburdened computers are the result. A slow, glitchy personal device is bad enough, but enterprise-wide, it can lead to a loss of revenue and less efficient workers.
Individual consumers and businesses have a lot of options when it comes to optimizing their PCs. According to market research by NPD Group, Iolo's System Mechanic enjoys almost two thirds (66%) of the market share for software utility products – and it has long been among the best-selling software in its category in the US.
In addition to System Mechanic, however, consumers have the option of utilizing competing solutions including the popular (and free) SlimCleaner as well as the cloud-based SlimCleaner Plus, which retails for $29.95 (about £17.55, AU$31.91) – a considerably lower price point compared to System Mechanic's price tag of $49.95 (around £29.25, AU$53.22).
System Mechanic's new version includes a lot of interesting and fresh technology that may help to even the playing field a bit – even the most budget-conscious consumer may well decide System Mechanic 14 is worth the splurge.
System requirements
System Mechanic 14 is compatible with devices running Windows 8.1, as well as Windows 8, Windows 7, Vista, and XP. The under-$50 price tag is consistent with the previous version, though the product is often offered for a sale price of $39.95 on the company's website.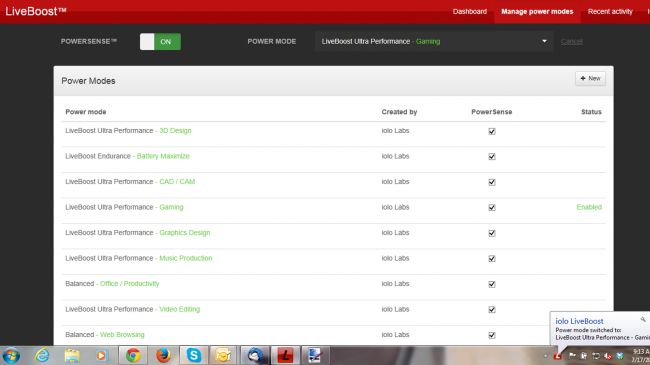 https://www.reviewerblog.net/iobit.php?r=1
System Mechanic 14 also continues to offer Iolo's popular "whole home license," which allows installation across an unlimited number of a user's home PCs – a handy feature in an age when consumers are accustomed to restrictions on the number of devices they're able to install an app on per subscription.
Company-issued proclamations about increased speed and better performance are fine – but the real test is how System Mechanic 14 actually performs.
The installation on a Dell Inspiron 1570 test laptop (featuring a 1.30GHz Genuine Intel U4100 processor and 3.0GB of RAM) took about two minutes. Up popped the System Mechanic dashboard along with the Iolo LiveBoost real-time optimization interface (more on that later). System Mechanic 14 also includes the same handy desktop widget as the previous version.
What the System Mechanic dashboard lacks in flashy design it makes up for in usability. The simple window offers a left-pane menu with standard options familiar to users of System Mechanic 12 and System Mechanic 12.5: Overview, ActiveCare, Internet Security, Toolbox and Reports along with subcategories that offer more specific solutions. What's new is the addition of the menu item "LiveBoost", with its subcategory, "Real-time Optimization."
First, I took a look at System Mechanic's bread and butter – the performance-optimizing system analysis that identifies and resolves issues on a user's device. A deep system analysis took about 40 minutes, as the pop up screen indicated it was performing the analysis as well as scanning for excessive system clutter. (There's also a "quick analysis" option, but I had a feeling this laptop needed all the help it could get.)
System Mechanic's scan returned the verdict of "system status critical," a report detailing 10 problems and one warning, all of which harming the system's overall status. It also listed three recommendations to improve the performance of the laptop.
Cleaning out the clutter
Among the 10 problems System Mechanic identified as lowering the health and security of the test computer were 5.56GBs of system clutter; three core data conflicts within the Windows communication infrastructure; 646 registry problems; low memory level (32%); 111,179 misaligned files taking up 48.54GB; and a registry that was 15% fragmented.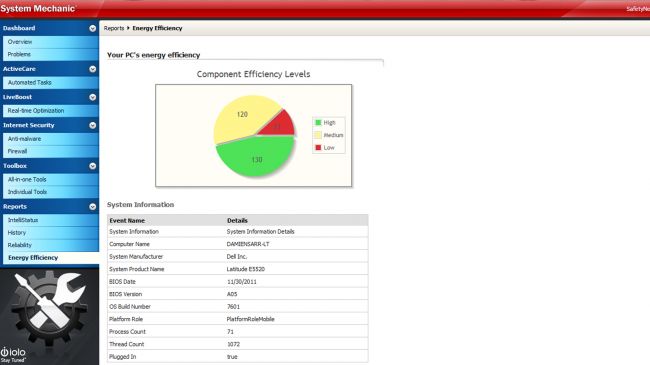 Among System Mechanic's recommendations were installing available updates to three drivers and the removal of 30 potentially unwanted startup programs. Overall, it was an impressive and thorough analysis of a computer that was clearly in desperate need of a tune-up.
In addition to listing the identified problems, System Mechanic offers a few sentences about why the issue negatively affects the computer's performance, which gives the user a better handle on why the computer is running slowly and what exactly System Mechanic is doing to help.
Final Verdict
Building on the strength of the previous versions 12.5 and 12.7, System Mechanic 14 is a solid upgrade with a host of new and useful features. While a few of the services in the beta version took longer than advertised to execute (the deep system scan took around 40 minutes instead of the stated 5 to 7 minutes), they still got the job done.
Most importantly, the test laptop ran noticeably quicker and startup was remarkably accelerated after the installation of System Mechanic 14 – with programs like Spotify and Google Chrome loading almost instantly, while iTunes took a fraction of the time to open compared to before the installation. This is a solid option for users who hope to breathe new life into their PC as well as current customers looking to ensure they have the latest from Iolo's software line.
Iolo System Mechanic Review