Your laptop is your essential portal into the digital world–a source of contact with others, the key to information and data, and vital access to news and notices. You want to protect it and carry it with you in your daily life at all times. A well-constructed backpack will take care of this need and ensure the safety and security of your computer. When considering the options, take a look at the Thule Crossover available at Amazon.com. Its many features include:
Internal compartments
The nylon Thule Crossover is an ideal choice and good investment. It is sturdy and well-designed with an elevated compartment for a 17-inch laptop such as an HP or Macbook Pro. There is a "dedicated sleeve" for an iPad as well and various side pockets. This versatility makes the Crossover tops in the field and a popular best-seller.
Roomy Interior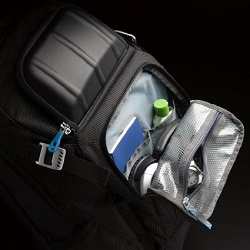 If you need to tote personal items like clothing or books in addition to your laptop, this one is for you. There is ample room in the heat-molded, crushproof inner pouch. Even sunglasses, your iPhone, and other electronic gear will be safe in these surroundings.
Power source pocket
The Thule Crossover features a zippered pocket for your laptop power source or any other device of your choice. Segregating the contents of your backpack ensures better organization for your stored items and easy access when on the go.
Shove-It pocket
This unique feature with compression straps provides additional storage on the outside of the backpack that is lockable. As it is also crushproof, the pocket will protect and safe-guard valuables.
Pros
The Crossover has many benefits. The nylon fabric is easy to clean and is damage proof. The construction is solid and properly designed for the purpose of protecting your laptop along with other odds and ends that accompany your busy day. Cords and accessories are tucked away but easy to find when needed. This utilitarian bag is a must-have for an everyday or business casual look. Its many compartments offer the user organization while the over-all appearance is trendy and stylish. At $130, the Crossover is well-priced for its quality and multiple features.
Cons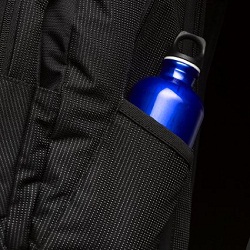 There are few cons about the Thule Crossover. It is limited to one color—black. It is also nylon, not leather or suede if that is a preference. You may find the numerous compartments difficult to maneuver if you are in a hurry and want everything visible and quickly retrievable. It may be too large and heavy for children and smaller adults. Although the item is made in China, implying a lower cost, the backpack is offered at $130 which may be pricey for some budgets.
Summary
The Thule Crossover is a durable bag in a convenient size, measuring 12.5 x 8.5 x 20 inches. It weights almost three pounds and is loaded with extras. Well-made and padded to protect, it does double duty as a daily tote and overnight bag. It is efficient yet roomy, fun to carry, and versatile–making it the laptop backpack of choice.
Thule Crossover 32L Backpack Review