Hotwire.com offers trip insurance in case your plans change or you need to cancel. This insurance guarantees free cancellation.
If you're not willing to take this gamble on a hotel, you can still search for lodging with standard rates. When running in this mode, Hotwire is a normal hotel booking site. You can view hotels on a list or pinpointed on a map, sort by TripAdvisor ratings, amenities and star ratings. The standard rates are higher, obviously, but you can view names and images of the hotels.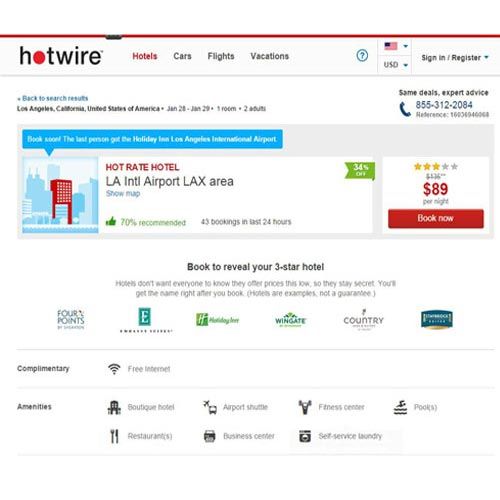 The standard rate hotel profiles show photos of the properties, but they're small, so you may not catch everything you want to see. Just like the Hot Rate Hotels, you can see amenities and other information about the hotel like available rooms, occupancies, policies and standard rate. Be sure to read the fine print at the bottom of the page to catch essential information like cancellation policies. Unfortunately, Hotwire doesn't list check-in or checkout times for any of the hotels.
Whether you book a hotel via Hot Rate Hotels or standard rates, Hotwire provides a trip summary upon booking a room. This summary includes your hotel's rate per night, number of nights booked, taxes charged for the room, travel dates and room type. To book a room, you are required to enter your name and contact information with billing and card information at the bottom of the page. You can also opt for trip insurance in case the hotel you're booking doesn't offer free cancellation.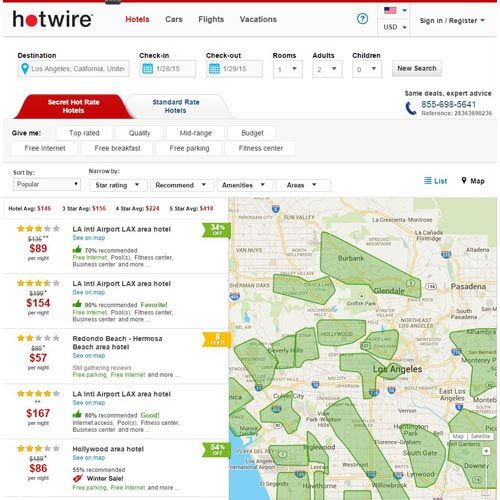 Trip insurance is a good safeguard if you opt for the Hot Rate Hotels booking. It costs under $10, so you won't be spending the money you saved booking with Hot Rate Hotels, and it guarantees a refund if you don't like the hotel you book. In addition to hotels, you can also book flights, rental cars and vacation packages on Hotwire. Hotels are the only booking option Hotwire uses the Hot Rate feature.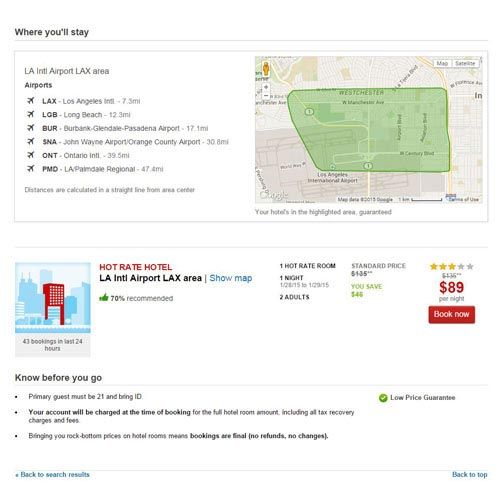 Summary
Hotwire.com has good deals if you just want a cheap hotel room with some specific features like a pool or pet-friendly rooms. We recommend this service for groups of friends and business travelers, rather than using Hotwire for destination vacations. You can still reserve hotel rooms the traditional way, but the deals aren't as sweet.