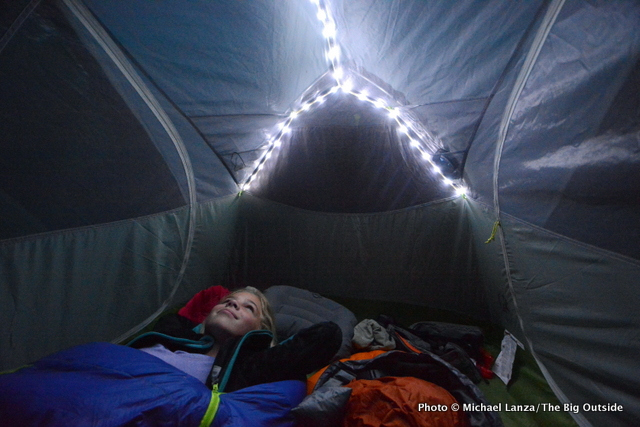 Three-Season Tent
Big Agnes Rattlesnake SL2 mtnGLO
$350, 3 lbs. 9 oz. (not including stuff sacks and stakes)
bigagnes.com
On the last night of a family backpacking trip on the Rockwall Trail in Canada's Kootenay National Park, our kids announced to my wife and me that they had dibs on this tent; we had to settle for the tent without internal lighting. But the LED lights built into the Big Agnes mtnGLO tent series are more than a novelty; they elevate the livability of backcountry camping. Technologies like that change the way people perceive an activity by making "roughing it" seem a little less rough. For those of us who've been happily backpacking more primitively, lights in a tent certainly add a lot of convenience.
The first backpacking shelters with integral lighting, the Big Agnes mtnGlo tents have flexible strips of tiny LED lights in the ceiling seams that run on three AAA batteries. Controlled by an inside switch, the lights have two brightness levels; the brighter setting provides enough light to see everything in the tent (though not enough for reading). The lights pack away with the tent, so there's no additional fussing to deal with them (other than occasionally replacing the batteries). They add just a few ounces to the tent's weight and run 90 hours or more on a set of batteries.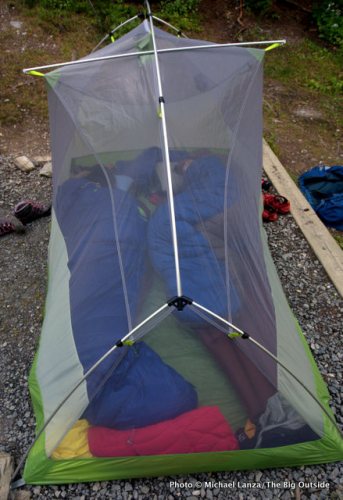 Beyond its illuminating feature, the Rattlesnake is a high-quality, lightweight, three-season tent. A pole structure widely used in backpacking tents—a single unit of DAC hubbed poles arcing along the tent's spine and sitting into grommets at the four corners, with one short, bridge pole crossing the spine to make the side walls more vertical—provides enough stability to stand up in winds of up to about 30 mph, the worst that most backpackers encounter as long as you avoid completely exposed campsites in severe conditions.
With two doors and vestibules and an all-mesh interior canopy, the tent ventilates well. On a very calm night on the Rockwall Trail, with a low in the 40s, we awoke to a little condensation under the rainfly (as there was on the other, double-wall tent we had on that trip), but not enough to get bags or anything else inside wet. The 27 square feet of floor space is snug, but vertical walls and the 40-inch peak height make it more livable. The 88-inch length is good for tall people, and the 52-inch width is basically enough for two standard sleeping pads, which was fine for my 14-year-old son and me. Two nine-square-foot vestibules are big enough for medium-size packs and boots.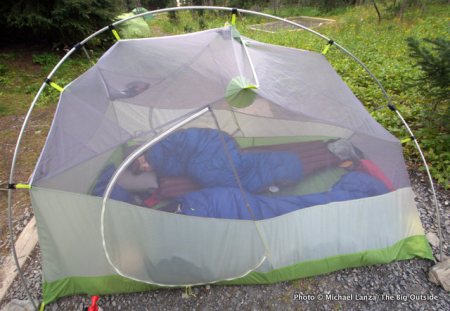 With the rainfly doors fully open, the rainfly extends out over the doorways, keeping rain from dripping inside when entering or exiting. The rainfly and floor are made of silicone-treated nylon ripstop with a 1,200 mm waterproof polyurethane coating, and all tent seams are taped. Big Agnes sells separately a Fast Fly footprint ($60) for pitching the tent with a rainfly and floor only (no interior canopy), a lighter shelter for bug-free nights.
Big Agnes has introduced versions of other tents in their line with the lights, including the popular Copper Spur series. I think we'll be seeing more lights and other electrical technologies built into tents and other backcountry gear.
BUY IT NOW: You can support my work on this blog (and find the best price) by clicking this link to purchase this at backcountry.com.
GEAR REVIEW: BIG AGNES RATTLESNAKE SL2 MTNGLO TENT