BrandCrowd is Simplest Logo Makers
BrandCrowd is an online logo maker for businesses. Nothing easier. The company was founded in 2008, so the tool is not a newcomer in the market. Anyway, with BrandCrowd, you can generate a beautiful logo in a minute without having any design skills. It is like a marketplace for logo templates or a huge library where you can find what you need for your business.
But you have to understand that the tool is not based on AI, and it's not going to guess your thoughts, and then, voila, you have your logo. No, it's about building your logo fast, with the help of a large library of pre-made icons and layouts, instead of using complex and complicated tools like Photoshop.
Although BrandCrowd is a logo maker, you can do more than a logo design. For example, you can create your design for your business card—another important element for your identity. Moreover, what is nice about this tool is that BrandCrowd offers over 21,000 icons. Yet, each one was designed by a professional logo designer. That's why I think you will have a premium, not just a logo.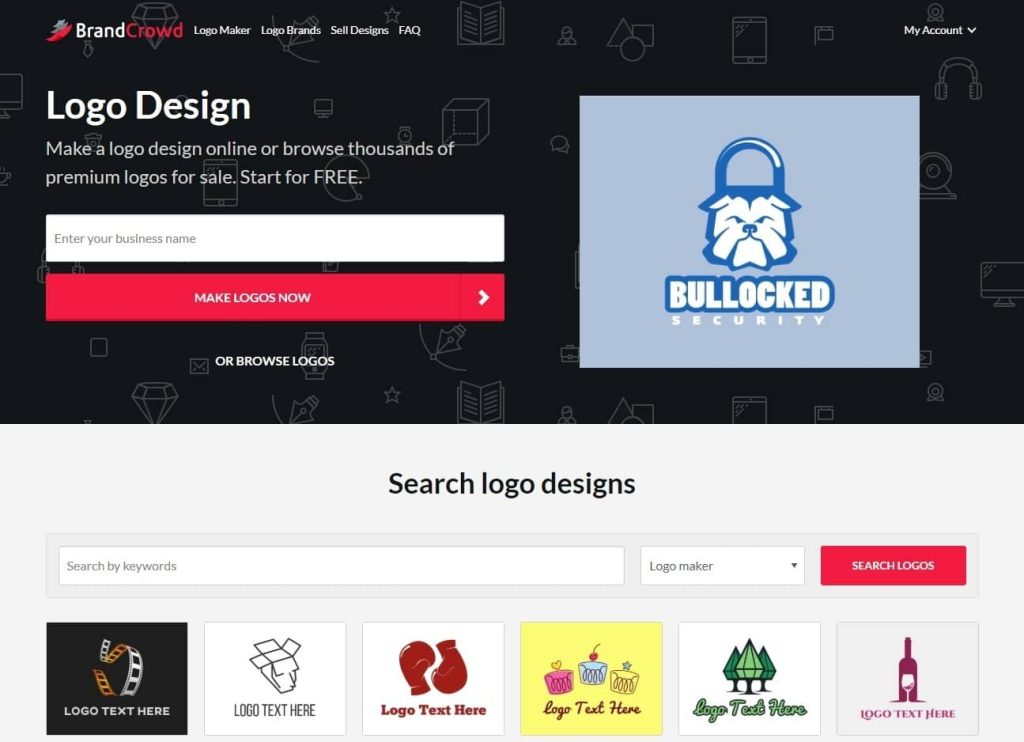 The BrandCrowd offer is pretty simple, they claim that you can create the perfect logo for your business within minutes. The process has been broken down into three simple steps;
Generate logo designs
Customize your logo
Download your logo
And that's it! A carefully designed algorithm will use the name of your business to pull up relevant logo designs. You can browse through them, pick your favorite one, and then take it to the editor to customize it with your specific preferences to get the ideal look. 
It will generate a lot of options so they have created a shortlist feature that you can use to favorite the designs you like the most for closer side by side inspection. Also, you can narrow down your options by searching by keyword, logo style, font style, and color which will pull up logo designs relevant to that topic. 
22,000 is a lot of logo designs, but if you work down to specific niches, then the number of options are relatively limited. There is a risk that someone else could pick the exact same design as you. The only point of difference would be the business name.
Lots of relevant logo ideas are generated really quickly.
The only input that generates your designs is your business name. This limits the potential that the algorithm can really understand what you want from the design.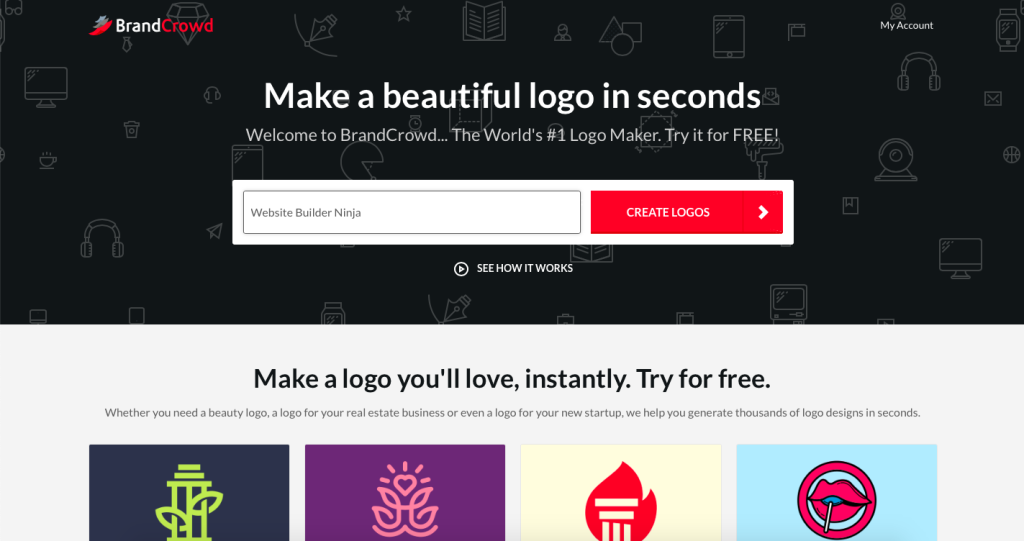 BrandCrowd Logo Maker Features
Once you've selected the logo design that you would like to take to the next step you can choose to either download it straight away or customize it using the BrandCrowd editor. When in the editor, your logo will be placed over a grid to help you with alignment and you can make edits to the Icon, text, and background color. It's a fairly basic editor but it has everything you need to make small tweaks before finalizing your design.
When editing the background or any other color you can choose from recommended colors, default colors, or create a new color with the color mixer. Alternatively, you can also create a new color using a Hex or RGBA code to get a precise color for your logo design. This works well if you already have brand colors you want to match or if you have seen a color somewhere else that you want to match exactly. 
The text editor allows you to edit the copy, change the font, change the size, and add an outline or shadow effect. You can have two text boxes, the first is for your business name while the second is for your tag line. There are over 100 fonts to choose from so if you're not happy with the suggested font then you can change it to any of the other options. The types of fonts available include Serif, Bold, Vintage, Sans, Funky, Handwritten, and Other.
Finally, you can add in shapes to add an extra element to your logo design if you think it's needed. The types of shapes that you can include are badges, banners, lines, basic shapes, and symbols.
Ability to create custom colors using Hex and RGBA codes.
Overall the editor is quite basic and only allows you to make small changes to the design.
Video Tutorials & Onboarding Animations
As we have mentioned earlier in the review, getting started with the BrandCrowd logo maker is super easy. All you have to do is enter your business name and the logo generator will load dozens of logo ideas for you to choose from. There is a really short onboarding video available to watch which you can find underneath where you enter your business name right before you start generating logo ideas. It's a quick overview of how to use BrandCrowd and what you can do. It doesn't have any detail on how to use the editor which would be of benefit to beginners who have never created a logo before.
Short video introducing Brandcrowd and what you can do on their website.
No detail on how to use the logo maker.
Additional Tools & Features
The BrandCrowd platform specializes in logo designs and there are a couple of features outside of the logo maker if you're looking for something extra. Firstly, if you don't want to build your own logo, then you can browse premade logo designs that have been handcrafted by professional designers. There are nearly 10,000 ready-to-go logo designs for you to choose from and you can narrow the selection down by searching by keyword, logo styles, font styles, and colors. 
There is also a small selection of free logos that you can customize with your own business name and brand colors. Once you're happy with the design you can download the logo for free and you will receive high-resolution PNG and JPG files as well as vector files (SVG, EPS & PDF).
Finally, there is also a business card maker tool that is very similar to the logo maker. You can enter your business name or browse through the library of business card templates and populate it with your own logo and business information. They are really quick and simple to create.
Free logos
Ready-made logos
Business card maker
Popular logo categories
Social media tools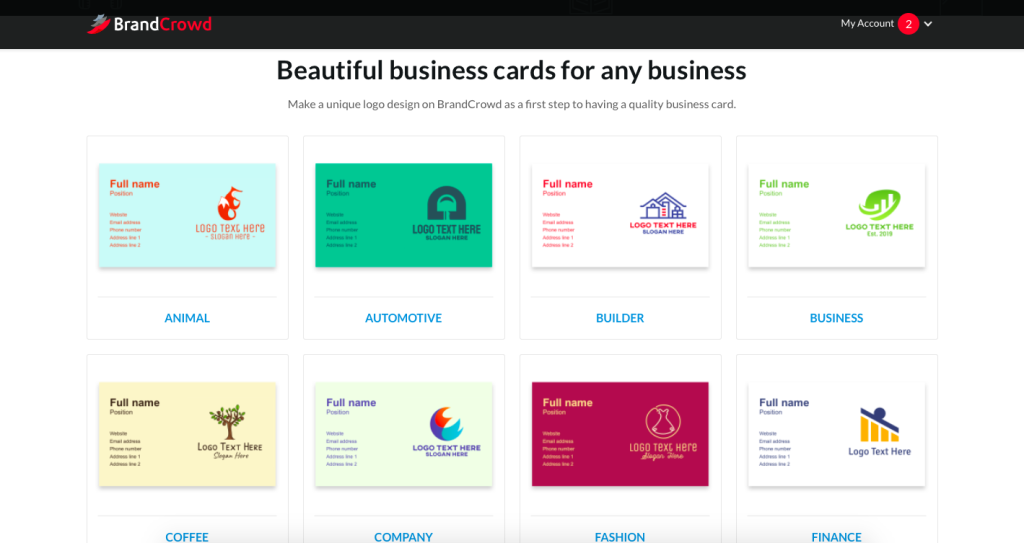 Value For Money & Support
Free Trial & Features
There is no free trial on BrandCrowd however there is a small inventory of completely free logos that you can edit and download. Additionally, all of the premium custom logos are free to create, you will only need to pay when you are happy with your logo design and you're ready to download the production files.
Pricing Plans
There are two options when it comes to downloading your logo from BrandCrowd, you can either choose the monthly subscription and get access to more than just your logo or you can pay a one-off payment and download your logo with a full set of production-ready files.
The Standard Logo Pack costs $45 and gets you high-resolution and vector files of your logo ( PNG, JPG, SVG, EPS, and PDF) as well as files with transparent background and multiple variations of your logo. The multiple variations include a black & white version of your logo, a version with the icon only, a version with text only, and versions with different layouts.
The Premium Logo plan costs $15 per month and includes everything you get with the standard pack plus some extras like unlimited edits of your logo, social media design templates, business card templates, and unlimited downloads of your logo files.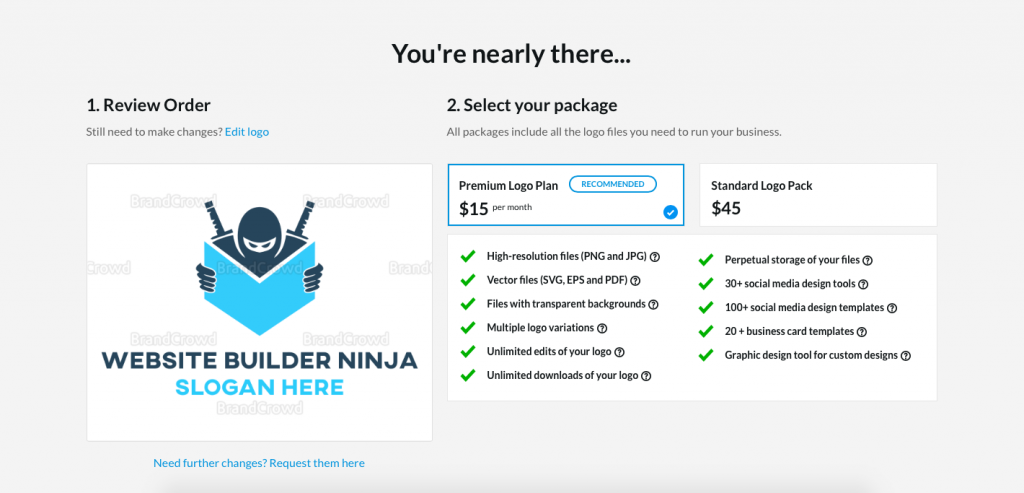 Support 
The first line of support available from BrandCrowd is the FAQ section which covers lots of relevant topics and answers some common questions that lots of BrandCrowd users face. If you can't find your answers here, the other alternative is to submit a contact form that you will find on the 'contact us' page. Once you've submitted your form you will get an email back to help you resolve your query.
BrandCrowd is active on Facebook, Instagram, and Twitter. You can follow them on these platforms to stay up to date with the latest news and promotions as well as using the social media chat services to contact the support team.
Finally, there is also a blog filled with articles related to logo design with a few articles with inspiration for particular niches. For example, some of the titles include '35 band logos of emerging artists'  and '40 boutique logos for your online store'.
Email ticket support along with a helpful FAQ section.
No phone or live chat support.