Hello Friends! Today,
   I am going to explore Zyro review, which is one of the most popular website builder in the market.
Previously, developing a website was too expensive. In addition, it would take a long time for individuals to figure out how everything worked. Due to the expansion of the online business industry, many people are looking for solutions like Zyro website builder to quickly and easily build a website with just some drag and drop features.
Despite this, new builders have a lot to live up to when competing against industry giants like Squarespace and Webflow. In order to earn the reputation as a useful and good investment, they must provide something distinctive and engaging.
Using the Zyro website builder, you'll be able to create a visually stunning, search-engine-optimized website quickly. It's quick, and the price is very reasonable for what you're getting. In comparison to other website builders, Zyro takes around 300ms to load a page. Others charge $10 a month, whereas Zyro only charges $2.61.
In January 2020, a brand-new edition of the redesigned Zyro website builder went live. It's a clean website builder that makes it simple for anyone to create a great website or online business. This is where Zyro's originality comes in. It has a simple editor interface and a slew of AI tools that are available (including AI writer, AI heatmap, and a logo maker, etc).
  Zyro is a brand-new platform for creating websites. Zyro is working hard to make its website builder better, and they're always releasing new features. A recent addition is a full-featured eCommerce platform that allows you to manage your whole online business from within Zyro. There are a variety of features, such as managing orders, tracking inventory, and automatically calculating taxes.
Zyro customer reviews will be included in this post so that you can see how popular and trustworthy it is.
  Zyro (Web site builders) allow users to rapidly and easily develop a website. The best part is that you don't have to know how to code or design anything to get started.
It has a WYSIWYG interface, which allows users to make changes immediately on the web pages by utilizing the available tools and elements.
Zyro website builder not only provides a GUI for web development, but it also provides related tools that could be useful.
For example, you can utilize an AI content writer script, heatmap assistance, and a free image library to help you develop your website.
Let's take a closer look at the Zyro review now…
9 Reasons Why Should You Choose Zyro Website Builder – Features Review
Zyro is one of the best website builders because of the following zyro features:
Instantly Powerful Tools
Zyro is a simple, clean interface with easy-to-use features for customizing and launching websites and online stores.
You don't need to know anything about code or design because the builder will take care of everything. Zyro's AI-based capabilities range from content generation to highlighting your site's most interesting points.
Using the drag-and-drop builder, you can set up an eCommerce store in just an hour, according to Zyro, and that claim is accurate. There are a variety of pre-made templates available to you that may be applied to practically any project you're working on.
To make your life easier, Zyro implemented 9 powerful automatic tools which I am going to explore ahead in Zyro review.
AI Logo Maker: Create a professional logo for your business and watch your sales soar.
AI Business Name Generator: Create a memorable company name to get your venture off to a successful start. Instantly come up with brand names for your products or services.
AI Slogan Generator: Make a distinctive slogan for your company and choose from a variety of options.
AI Writer: Are you in need of assistance? Allow an AI writer to develop material that ranks well in search engines.
AI Heatmap: Improve user experience and boost conversions with AI Website Heatmap.
AI Background Remover: Put the focus on your subject and eliminate distracting image backgrounds.
Image Resizer: Make your photographs seem great no matter where you put them or what size they are.
AI Image Upscaler: Improve the quality of your low-resolution photos with this simple tool.
AI Blog Title Generator: Outstanding ideas for your blog posts and articles.
The functionality and usability of Zyro's website builder have been greatly improved as well as new features added in 2021.
Free SSL Certificate & Cloudflare CDN
New website owners frequently experience the headache of having to buy all of the components for a site in various locations. Content management system (CMS) users must purchase a web hosting package and custom domain separately, which is the case for the majority of CMS users.
Customers of Zyro won't have to worry about this because each plan comes with free public web hosting. To make things even better, the Zyro team will take care of the back-end configuration for you.
What we explore in my Zyro review is that they also offer a free SSL certificate to all customers. This feature protects the website's connection from snoopers.
Additionally, all Zyro-built websites utilize Cloudflare's CDN. It's a network of servers that delivers site content while also boosting performance and providing security against DDoS attacks.
For individuals who already have a domain name, Zyro offers free integration with that domain name. In the most affordable subscription plan, certain website builders like Weebly don't provide this advantage.
You can get a free one-year domain registration with one of the top-tier services if you don't already have one.
Lightning Fast Performance
When it comes to sharing information and doing business online, speed is critical. According to an extensive study, a sluggish website can prevent people from staying on your page longer. It also affects negatively your conversion rates.
It's a good thing Zyro is known for its lightning-fast response time. The site builder claims to be fast, so we ran a test to see if they were true. The results were impressive in the Zyro review: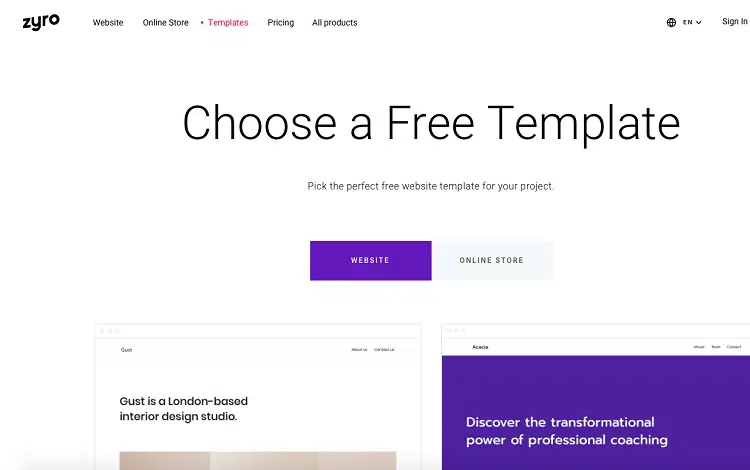 Ready Made Responsive Templates For Your Website
Zyro features a library of ready-made templates you may utilize to jumpstart your project. If you'd like, you can use them as-is and personalize the content, or go all out and create something completely new from scratch.
They're available in a variety of styles that can be used for various projects. The following categories are available:
eCommerce
Service business
Photography
Restaurant
Portfolio
Resume
Events
Landing page
Blog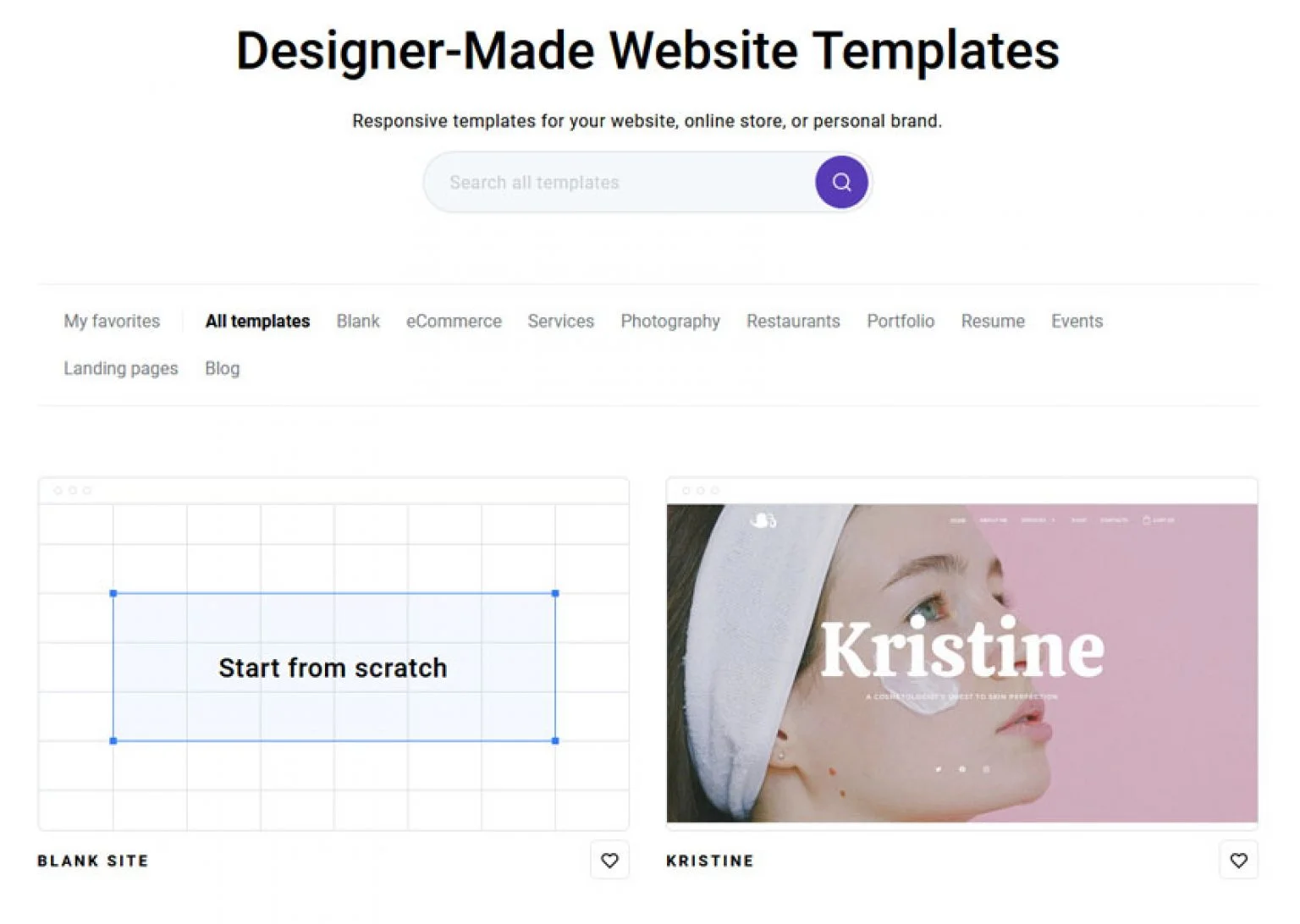 When using Zyro's builder, it's much simpler to make changes to current templates because there are fewer elements and design principles to consider.
In this Zyro review, I had take a closer look at the Zyro website builder features.
To get the most bang for their buck, I recommend that users approach the templates with scepticism. Don't think you're stuck with these options. There are always more options. Take a look at the various templates to get a sense of what you can do with Zyro.
Templates that use partially overlapping images to provide the appearance of depth to websites are a good example of this. You'll be able to create some unique, eye-catching templates if you can grasp principles like that.
Is Zyro Easy to Use?
Zyro excels in terms of user-friendliness. Users don't need to read an information guide to figure out how to use the visual interface. Additionally, it gives you complete control over how the templates look and feel.
When it comes to Zyro's onboarding, it's comparable to that of other website builders. Creating an account is simple; just pick a template and choose a premium plan when prompted. The drag-and-drop editor will show on the screen once you've logged in.
Zyro's editor lets you move, resize, and adjust every element on the page at once without any block-based limits.
You can duplicate, delete, resize, or move sections up and down, change background color with the drag-and-drop builder.
For non-designers and non-technical users, there is a grid system in each part to help align and preserve the proportions of the elements.
Zyro interface has a left sidebar where you can access the following features:
Pages and Navigation
Add Element
Website Styles
Blog
Online store
AI Tools
Help and Support
Website Settings
Let's know all features in detail:
Pages and Navigation: Users can add, remove, and assign pages to the navigation menu here. It is also possible to add Page Titles and Descriptions, which is beneficial for SEO..
Add Elements is one of the most popular features, according to my Zyro review. Zyro allows you to add text, buttons, images, videos, buttons, grid galleries, Google Maps, Instagram Feeds, and social media icons to your website or app. Subscription sign-ups, Stripe Checkout, and contact forms for businesses are also available.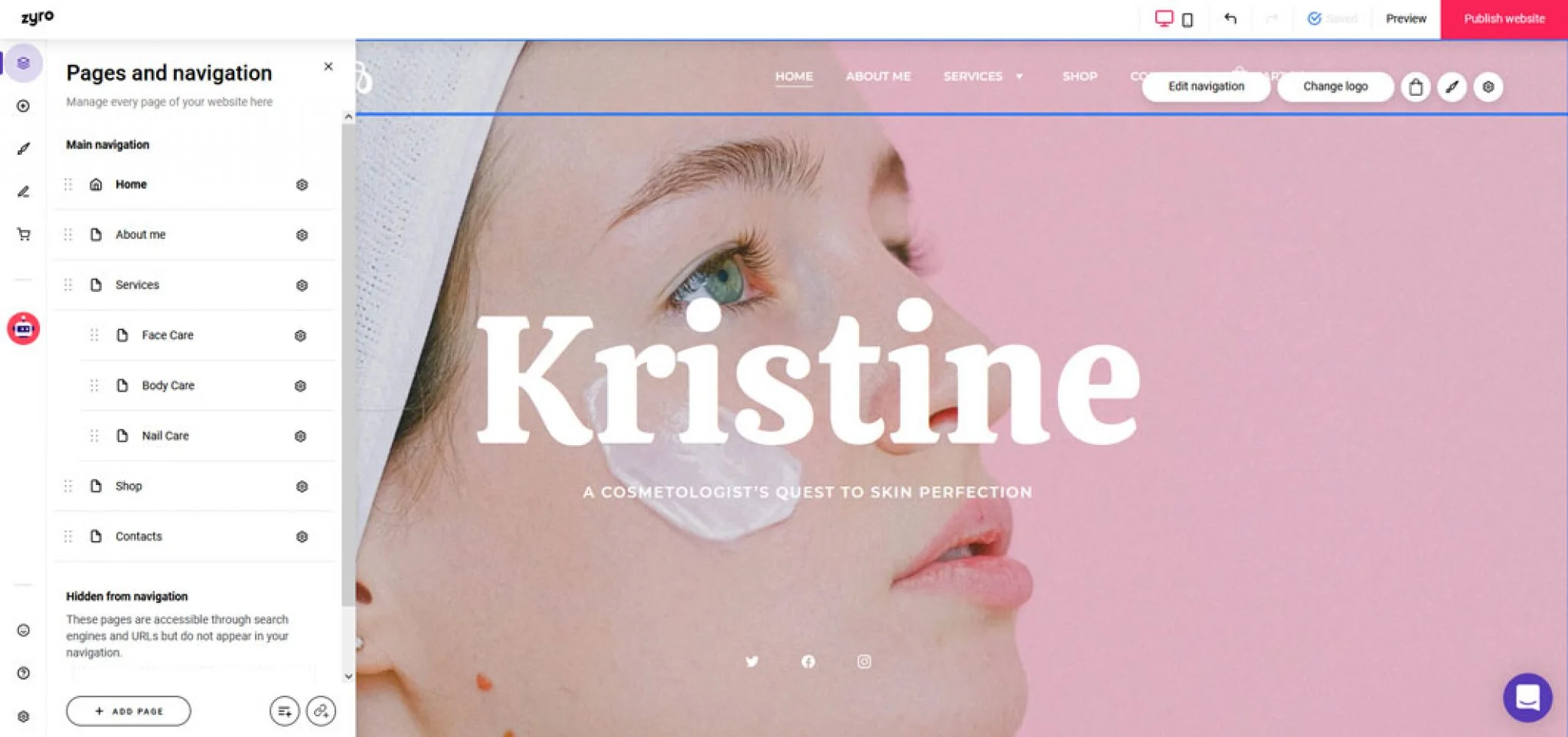 Website Styles: This menu gives you access to Zyro's design tools, which let you customize the template's appearance. The color scheme, typography, and button form can all be customized by the user.
Blog: Create a blog and post your content quickly and effortlessly. Increase the number of visitors to your website by optimizing the page titles and descriptions under the SEO tab.
Online Store: Another great feature in Zyro review is, You can set up your online eCommerce store and start adding products, shipping, and payment method.
Mobile editing Mode: In contrast, most other website builders just let you preview your site on a mobile device. When it comes to mobile editing, Zyro goes one step further by allowing users to use their mobile devices.
Cons Of Zyro
No Zyro Review is complete without covering the cons.
Let's take a look at a few reasons you may not want to invest in this specific website builder.
There Are Not As Many Templates As Other Website Builders
Even though there are over a hundred templates to choose from, many other website builders have thousands.
Since Zyro is relatively new to the game, it won't have as many options for template designs.
The site is continuously adding new templates, but it will take a while for the site to catch up with other popular website builders.
You Cannot Change the Template After You Start Uploading Content
One of the main drawbacks is that you can't change the template after entering data, information, and content into your website.
This might be a pain if you want to change your site's layout after editing it for a bit.
The Drag and Drop Editor Is Quite Limited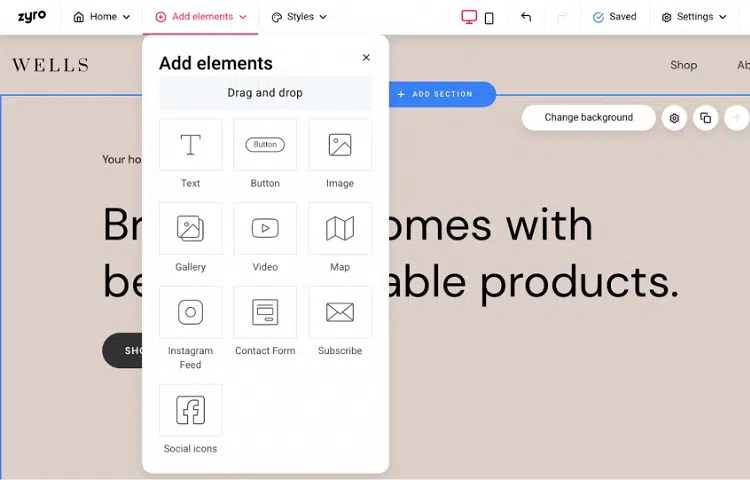 Even though many Zyro reviews rave about the site's simplicity, it may be a bit too simple.
Compared to a few other sites, you only have a certain amount of space to drag and drop content.
You do not have a lot of freedom when deciding where different elements will go.
There Are Only Five Elements You Can Add to Your Website Pages
If you want a builder with lots of elements and graphics to add to the pages, Zyro will not be your best bet.
You can add only five elements, including buttons, images, videos, text, and maps.
The lack of options will not give you as much creative freedom as you may have hoped for.
Zyro Does Not Have a Lot of Resources for Beginner Website-Builders
One of the main downsides of Zyro is that it does not have a lot of resources for people who are beginners to the process.
Even though Zyro has a blog with many articles on website-related topics, there are few instructional blogs with beginners in mind.
The Companies Website Does Not Have a Lot of Information
While Zyro's main characteristic is simplicity, they may have taken it too far with their own website.
When you visit Zyro's website, you will not see a lot of information about their service.
They cover all of the main points, but people who would like to have detailed information and examples will be disappointed.
Since Zyro is a paid service, this downside will be frustrating to some people.
Customers like to have as much information as they can before they buy a product.
Beginners Will Find It Hard To Edit Their Websites Domain Name
On most website builders, all you have to do to edit your domain name is edit the DNS server.
However, with Zyro, you will have to visit the CNAME records and edit those, which will be much more difficult for beginner website builders.
Customer Service Is Slow
Another feature that majorly lacks with Zyro is their customer service.
Even though they do have 24/hour customer service, it usually takes a few hours to respond.
Furthermore, even though you contact them with an online chat box, they will not respond to you there.
A Zyro customer service representative will normally email you a response.
There Is Not a Helpful FAQ Section
Most of the popular website builder platforms have really helpful FAQ sections that answer most of the main questions people have with in-depth answers.
Unfortunately, Zyro pales by comparison.
A lot of their answers in the FAQ section consist of one or two lines.
The answers are not very helpful since they are pretty generic and short.
Special Features Of Zyro
The next thing we will cover in this Zyro review is what special features the website builder has.
Every site builder is unique in its own way, so let's look at what Zyro has to offer.
You Can Set Up a Blog on Your Website
No matter what kind of website you are building, you will be able to set up a blog as well.
Blogs are a great way to connect with your consumers on a personal level.
You will simply edit whatever template you choose to get your blog up and running.
Zyro Websites Can Write Content for You
Zyro has an AI (artificial intelligence) writer which is one of its more unique features.
If you are not a skilled writer and do not want to pay extra for content, this will be the tool for you.
This tool will write original content in a few seconds after you answer a few questions.
Even though you may have to do a bit of light editing, the AI writer will give you a solid foundation to work with that will be much easier than starting from scratch.
You Can Edit the Meta Tags on Your Site Pages
Want a bit more control regarding SEO optimization?
You can edit various texts such as the meta descriptions, page titles, and alt text of your images.
This tool will give you the potential to drive in a lot more traffic to your site if you have a bit of pre-existing SEO knowledge.
Zyro Websites Load Fast
One of the best features of the Zyro website builder is that their sites load fast.
Website speed is one of the most important elements for your website.
You can either lose or gain customers depending on how fast your page loads.
On top of that, the mobile version of your site will also have no problem loading.
This feature will majorly increase traffic.
There Are Several Free Domain Extensions To Choose From
Many other website-building platforms only have one domain extension available, which is usually the company's name.
Zyro, on the other hand, has 12 extensions that you can use for free.
This feature will give you a bit more freedom when choosing the domain name of your site.
There Are Hundreds of Free Images You Can Use for Your Site
One of the main features of many websites is images.
You can't have a visually pleasing site without pictures.
However, it is hard to find pictures that are both high quality and free nowadays.
Fortunately, Zyro has partnered with Unsplash and allows you to access their database while editing your website.
This feature will make the editing process much easier and help you find beautiful photos that match your site's style.
Why Use Zyro?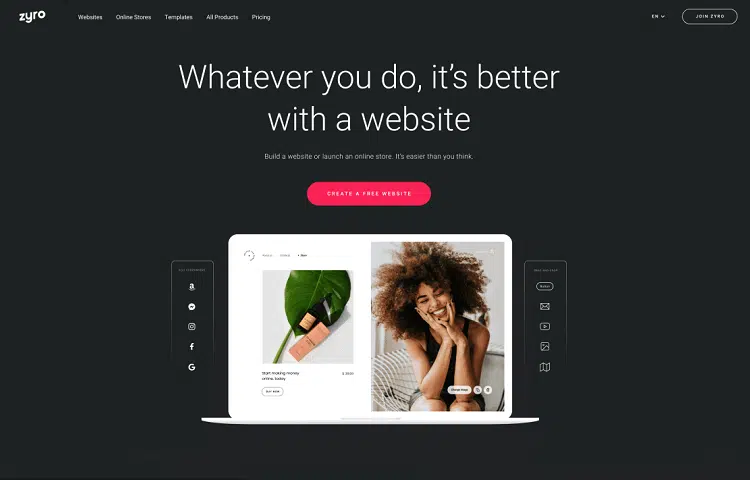 Now that our Zyro review has covered most of the platform's main features let's consider why you should use the platform.
Taking in both the pros and cons of Zyro, it is safe to say that the creators designed the site for beginners.
While people with more advanced tech knowledge can still use the platform, they will most likely become frustrated by its limitations.
With that being said, Zyro will be the perfect choice for those who have never built a website before.
The platform is extremely easy to use; you can get your site up and running in a few minutes.
New website builders will appreciate that Zyro does not have dozens of options and features to choose from since this could be overwhelming.
Even with its basic features, Zyro is capable of producing a stylish and efficient site.
Zyro will also be a great option if you do not have SEO optimization skills.
What the site lacks in design options, it makes up for with SEO and AI tools.
Zyro can generate titles, logos, names, slogans, and even content.
Even if you have no skills whatsoever, Zyro has everything you need to create a professional site that will generate a good amount of traffic.
If you have a very specific vision in mind regarding your future website, Zyro will not be a good choice.
On the other hand, if you simply want to build a professional online presence in a few easy steps, this platform is made for you.
Zyro Price Plans
The last section of this Zyro review will discuss the different plans and pricing options.
Let's get into it.
Free Plan – (Free) – The free plan will allow you to choose a template from the database and edit the site as you would with any plan. However, you will still have ads. You won't be able to connect your own domain or use the google analytics tool. The free plan will give you 500 MB of bandwidth and storage.
Unleashed Plan for Business – ($15.99 monthly) – This plan comes with all of the basic features you need, including blogging tools, AI tools, and SEO optimization. You will also get unlimited bandwidth and storage.
Basic Plan for Personal Brands – ($14.99 monthly) – The basic plan has a bandwidth of 3 GB and has 1 GB of storage. You will also have access to blogging and AI tools as well as SEO optimization.
ECommerce Plan – ($24.99 monthly) – This plan comes with the essentials, including unlimited bandwidth and storage. You can also use AI and blogging tools. Your site will also be SEO optimized.
ECommerce + Plan – ($29.99 monthly) – The eCommerce + plan has unlimited bandwidth and storage. Your website will be secure with SSL, and it will also be SEO optimized. The plan gives you access to the essential tools as well (AI and blogging tools).
Conclusion
Zyro is a great website-building platform that has a lot of cool and effective features.
For instance, AI tools are unique and will be a lifesaver to many people who are not tech-savvy.
Zyro will be one of the most uncomplicated website builders to use with its drag and drop interface.
It will build an effective, SEO-optimized site that will take minutes to create.
If you are unfamiliar with websites or technology in general but want to build a professional and high-end site, Zyro will not disappoint.