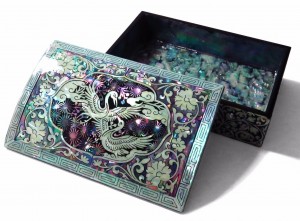 Jewelry boxes were once like treasure chests for the royalty, priests, and aristocrats who could afford to own valuables worth being stowed away. But as fine jewelry became more affordable during the Industrial Revolution, jewelry boxes, too, were mass-produced for the middle class. There were small boxes made for single rings, larger boxes meant for multiple pieces of varying sizes, and boxes designed for jewelry as well as accessories such as gloves. Some had myriad compartments, drawers, trays, and velvet slots for rings. Others contained mirrors, clocks, or mechanical music-makers. And while many were sealed with a lock and key, some boxes were puzzles whose solution revealed the jewels inside.
One type of jewelry box is the jewelry casket, a rectangular box made of inlaid or carved wood, metal, porcelain, button-pressed glass, or plastics like celluloid or Lucite. Others are shaped like squat cylinders with feet, heart-shaped boxes, egg-shaped containers, or human figurines. Respected ceramic factories in Limoges and glassmakers like Fenton have also made their own unique jewelry containers.
Others jewelry boxes are like miniature replicas of household furniture such as cabinets and bureaus. Sometimes these tiny replicas are produced by craftsmen who specialize in the full-size stuff, but these miniatures are not to be confused with jewelry armoires, which are actual pieces of furniture large enough to sit on the floor and hold a substantial jewelry horde, like that of Marie Antoinette. Handcrafted and hand-carved jewelry boxes are often considered family heirlooms, passed down from one generation to the next.
A close cousin of the jewelry box is the trinket box. As Victorians filled their homes with curiosities, souvenirs, gadgets, and other knick-knacks, they embraced these gorgeous containers, which often featured miniature figures of kids, flowers, or animals on the lids. Characters based on children's illustrations by Kate Greenaway were particularly popular motifs for these boxes.
In the early 1900s, metal jewelry caskets flourished. Mass-produced in Europe, they were sold to U.S. customers through mail-order catalogs such as Sears & Roebuck, Marshall Fields, and Montgomery Ward. Cast of antimonial lead, the boxes would be electroplated in copper and finished in silver or gold with names like French Bronze, Roman Gold, Pompeian Gold, French Gray, and Parisian Silver. Later, these metal boxes were also enameled with ivory. Inside, these boxes would be lined with velvet, satin, faille, or silk.
The emergence of the naturalistic Art Nouveau movement led to flowing organic motifs, such as sinewy flowers, fluttering birds, and the magnificent tresses of beautiful women. Keeping with Victorian tradition, the type of flowers on the jewelry box could represent a coded romantic message: four-leaf clovers meant good luck, daisies meant innocence, and roses were for love. Since most of these metal boxes, made from the turn of the century to the 1920s, have been destroyed or fallen apart, they are highly sought by collectors today.
Americans of that era were not content to just buy these European jewelry boxes; they created their own, often depicting scenes from American history, like plantation life prior to the Civil War. Special trinket boxes were also made to commemorate major events, like the 1904 World's Fair in St. Louis. At the time, these were simply cheap souvenirs, but now they are coveted.
Early American jewelry-box manufacturers include Jenning Brothers, Benedict Manufacturing Company, NB Rogers, Kronheimer and Oldebusch, Brainerd and Wilson, and the Art Metal Works. Many of their jewelry boxes are unmarked, as catalog companies such as Sears & Roebuck didn't want any names other than their own on the products they sold. Fashions dictated they incorporate motifs with ancient Roman, Greek, and Egyptian imagery. Brainerd and Wilson put patents on their Art Nouveau designs, while Weidlich Brothers patented their Colonial patterns.
Established in New York City in 1912, Mele installed sophisticated displays for jewelry-store windows on Fifth Avenue, and that eventually led the company to produce high-quality jewelry cases. While metal was rationed during World War II, Mele had the honor of designing the boxes that held the Purple Heart medals awarded during the war.
After the war, Mele renewed its success by inventing a jewelry box with a tray that popped up automatically when you lifted the cover. According to a 1948 "Life" magazine, Macy's listed this box as one of its top-10 best-selling Christmas gifts.
Antique and Vintage Jewelry Boxes