By:If you click a merchant link and buy a product or service on their website, we may earn the commission by the merchant. The display of third-party trademarks and trade names on this site does not necessarily indicate any affiliation or endorsement of Reviewerblog.net
Network Solutions Summary
Network Solutions is one of the more well-established web hosting and website building companies around today. They offer services that run the gamut of what anyone looking to establish an online presence might need, from basic web hosting to website building to online marketing. They also have a dedicated customer service team and use one of the best website builder tools to help newbies and experienced website owners alike craft a great space for their blog or online business. Their web hosting solutions are pretty typical in terms of features. While the shared hosting options are affordable, some of them lack significant features unless you pay extra fees. Meanwhile, the WordPress options are robust and include some of the best security shields around without requiring you to pay extra. Both hosting solutions rely on cloud-based servers, meaning you can count on excellent uptime and general stability in most cases.
Pros
Cloud-based servers provide reliable uptime.
Smart backup technology that reduces the likelihood of losing files permanently.
Great user-friendly website builder.
In-house customer Service.
Comprehensive WordPress plans and features.
30-day money-back guarantee.
Windows and Linux hosting available.
Cons
Strange cancellation fee policy
Shared hosting lacks security if an add-on isn't purchased.
Lacking monthly payment options on shared hosting plans
Lacking free website-migration on all plans.
 
Network Solutions Shared Hosting
Network Solutions offers shared web hosting through the cloud. While this isn't yet ubiquitous across the web hosting market, it's becoming more popular due to its increased versatility and extra security over traditional shared environments.  For those wanting an economical solution, most of the plans are relatively inexpensive, with several coming with top-tier features provide more value for money.
Plans
The Starter plan is the ideal choice for anyone starting and includes a basic spread of resources, modest storage space for one website, and mediocre initial security. It's best used if you have only an essential beginner website and want to grow it slowly as you learn the ropes. Network Solutions doesn't outline whether a free Let's Encrypt SSL is supported with their site, and the lack of a free included domain is a downside to the entry-level plan – offered as standard across the industry.
As for the Essential plan, you'll get much higher storage, up to three hosted sites, Sitelock basic, and a domain name too. Ultimately, it's a good choice for freelancers looking to host a few client sites, or even a single site with a lot of content – taking advantage of the beefy 300GB disk space, which is more than you'd usually get for a plan at this price.
The Professional plan brings things together, offering unlimited hard disk space and unlimited email inboxes. This level of plan is better if you intend to build an online business and want to run multiple client websites. Including Sitelock Premium as well, you'll also benefit from faster page load speeds through its CDN (or Content Delivery Network).
Finally, the Professional Plus plan doesn't scale very well – when compared to the professional plan. Only including SSL certificate on-top of the included resources. At $21.62 a month, this plan is at the higher end of the price spectrum when compared to other hosts. You'll still only get ten websites, but the included SSL Certificate is a bonus – that said, it's only for one of your sites.
Purchasing a one-year contract grants you a reduced monthly bill for twelve months, whereas the monthly billing amounts are a bit higher. Thus, it's more economical to grab a yearly subscription if you want the most bang for your buck.
Top Features
Custom cPanel
Both the Shared and WordPress hosting plans use the proprietary Network Solutions control panel. This is different from the cPanel used by most other hosting companies in the industry. It's relatively user-friendly and comes with a step-by-step tutorial to help beginners get around the various controls and tabs. While cPanel is an excellent default choice for most, we feel that some will appreciate the Network Solutions custom interface.
Technical Setup Support
All of the shared hosting plans come with a trained setup specialist support, who can help you with FTP access, setting up firewalls, and transferring files from host to host. They're entirely complementary, and the on-demand customer support will prove invaluable for beginner users.
Windows & Linux Support
You'll also be able to choose between Windows or Linux depending on your preferences regardless of subscription plan. Network Solutions also supports PHP 7.0, PHPMyAdmin, MySQL, and Python across both operating systems.
Migration Support
Transferring your website from another hosting service to Network Solutions is quick and easy. The only downside is that it costs $9.99 if you also want to bring your domain name with you. While this is a low price for the service, it's commonly offered from other hosts free.
Included Website Builder
All hosting plans can also take advantage of the Network Solutions website builder. It's an excellent solution with thousands of templates on hand. They also provide you with a generous library of stock images to help you customize your site and make it appropriately flashy for first-time visitors. Even better, you can use the demo video on the website to figure out how the website builder works. It's one of the more user-friendly features we've seen.
The website builder lets you add blogs or upload videos with ease. It even incorporates basic SEO features, which can help your website rise in the Google rankings. You can pretty easily customize the templates available, and you can quickly make them more attractive by using a little digital elbow grease.
Automatic Site Backups
Network Solutions does provide automatic backups of your websites for each of the last 14 days, but it doesn't come with any manual controls, and the snapshot of your site may not be the one you need to recover data or save many hours of work. It's a good barebones backup feature, but not as in-depth or user-friendly as we'd like. For more reliable site backups, you'd want to opt-in for the CodeGuard add-on offered at checkout.
Final Thoughts
Network Solutions' shared hosting plans offer a decent spread of features. While several freebies that other hosting providers offer are only present as paid add-ons. Their premium plans are great value for money for resellers and individuals. However, some may consider the plans to lack enough scalability to push them past some of the top hosting companies offers.
In this Network Solutions review, I'll cover all provider's main aspects like pricing, ease of use, performance, security, and customer support.
Network Solutions is best known as one of the oldest domain registrars. It has been around for more than 40 years. However, it's only natural that after so many years the company has branched out to other fields too.
Now Network Solutions offer a wide range of website-related services like website security packages, website builder, and email hosting. However, the most notable one is its shared cloud hosting.
Now talking about hosting services, many providers' reviews and Network Solutions ratings are pretty mixed. This is exactly what got me curious to try this provider myself.
For this Network Solutions review, I got to the bottom of it all and analyzed all there is when it comes to pricing, ease of use, performance, security, support, and more. Let's get to it.
Network Solutions Pros and Cons
Pros
Include a free website builder
All plans come with free business LLC formation
Very reliable with 99.98% uptime
Offers many different billing periods
Cons
Premium prices
Free SSL only with the priciest plan
Outdated WordPress version
Network Solutions pricing & plans
Network Solutions' pricing is on the higher side. For instance, prices for its most popular hosting solution, cloud-based shared hosting, start from $5.69/mo. In addition to shared cloud hosting, the provider also offers WordPress hosting and a website builder.
Network Solutions easy to use?
Network Solutions is easy enough to use, even though it isn't as user-friendly as its competitors. The provider uses its own dashboard and control panel for hosting management. Both the dashboard and control panel are rather outdated but get the job done. WordPress installation is also easy, but you don't get the latest version.
This is what Network Solutions' main dashboard looks like:
It looks a tad bit old-fashioned but it's clean and organized. You have your menu on your left, with access to things like domain names, email, and more. But, most importantly, you can access the control panel under the Hosting Packages tab. This is where all the hosting management tools are at.
Network Solutions control panel
Network Solutions utilizes its proprietary control panel. It isn't as sleek as some of the more modern panels or as intuitive as cPanel, but it does house the tools and features you need to run your site.
This is what it looks like: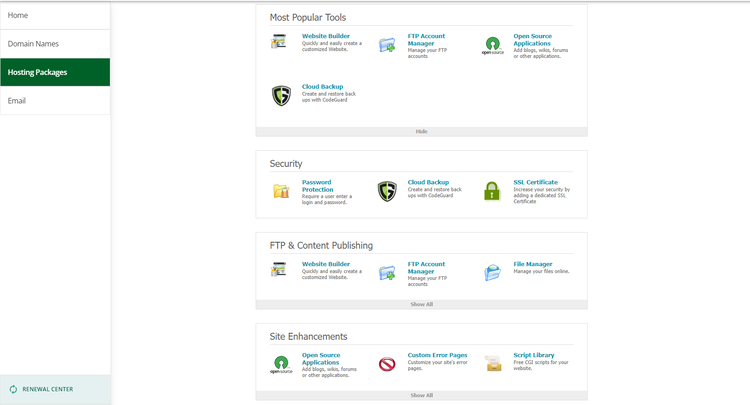 Looking at it, the interface is quite outdated. However, there shouldn't be too much trouble navigating it even for a rookie.
Here are a few things you'll need the panel for:
App installation. You'll need to use the one-click Network Solutions app installer to add WordPress and other applications to your site. It's labeled as Open Source Applications under the Site Enhancements section.
Email. Before receiving your emails, you'll first need to set up a mailbox with a name and password. There's nothing complex and you just need to follow the onscreen prompts.
Domains. You can manage the all-things domain on the panel fairly easily. This includes pointing a domain name, assigning a domain name, adding a subdomain, and more.
Website builder. Scroll right down to FTP & Content Publishing and you'll find the website builder. This could be a helpful tool if you want to quickly and easily get a website up. But, fair warning, the builder is very basic.
Let's go ahead and try one of these features: Network Solutions hosting WordPress installation.
Network Solutions WordPress management
WordPress installation with Network Solutions is very easy and straightforward with its 1-click installer. However, the WordPress version offered is one from years ago, which can cause security and performance issues.
If you're a beginner worried about the technicalities of installing WordPress on your site, there's no reason for that. Network Solutions' WordPress installation process is every bit as straightforward as those offered by other services.
Head to its one-click app installer (Open Source Applications), search for WordPress, and click Add Now. And, you're all done.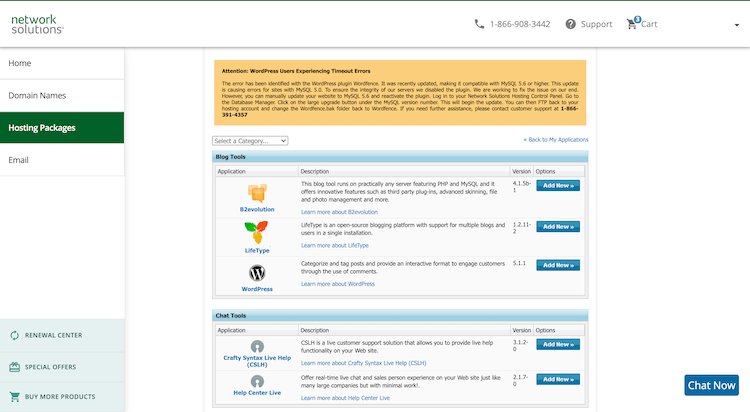 But, I do want to point out that the host offers only 1 version of WordPress, and it's a fairly outdated 5.1.1 one. It was released back in March of 2019, and since then there have been dozens of releases.
It might not sound like a big deal but outdated WordPress is actually a massive headache. For starters, it can seriously affect your site's performance as well as compatibility with themes and plugins. Besides that, it also poses a security risk and leaves your site vulnerable to hackers, bugs, and other threats.
The only consolation is that Network Solutions uses a fairly recent 7.4 PHP version. While it isn't the latest one, it's still pretty up to date.
In a nutshell, Network Solutions is pretty easy to use. However, don't expect cutting-edge interfaces, as both its dashboard and control panel are rather dated and could be more user-friendly. The only serious handicap is its use of a near-defunct WordPress version.
Network Solutions performance
As for performance, Network Solutions is a mix of highs and lows. To start with, the provider is very reliable in terms of uptime. Yet, on the other side of the coin, its server responsiveness is disappointing, its speed is below average, and its ability to handle a surge in traffic is poor.
Network Solutions uptime and response time
The first test I did was to gauge Network Solutions' reliability and response time with a 2-week observation.
In that time, the test site had 2 outages that resulted in 3m of downtime. This worked out to an impressive 99.98% uptime. A significantly better result than the official 99.9% uptime guarantee.
But, this is where it all went downhill. Network Solutions' average response time was 4.43s, which is over 7x slower than the market average time of 600ms.
While this could be written off as a one-time maintenance issue, it seems that this is a common practice for Network Solutions. Simply put, slow response time is a given here.
All in all, the provider is very trustworthy when talking about uptime. However, its response time is almost guaranteed to be slow.
Network Solutions website speed
For this Network Solutions review, I tested the website load speed on an empty and fully-built WordPress site. Unfortunately, the test results showed that the host is not very fast in this field either.
Now to get a better understanding of the test results, here are 2 main measures that I evaluated:
Largest Contentful Paint (LCP) – this is one of the main metrics that Google takes into account when ranking websites on its search result page. Ideally, the LCP should be under 600ms for a blank WordPress site and under 2.5s for a built one.
Fully Loaded Time – this is the time in which the site has fully loaded. To increase user satisfaction and lower the potentially increased bounce rates, this time should be under 3 seconds.
Now starting with an empty site, I tested it across 3 different locations: The US, the UK, and India.
All 3 locations' LCP took longer than 600ms and required 1.6s, 1.9s, and 1.5s. A bummer, for sure.
Another thing worth noting here is that Network Solutions doesn't let you choose a server location. And, its support team isn't all that forthcoming with where its data centers are located either.
But, from these results, one could tentatively deduce that my site is hosted somewhere in Asia. This would make sense as the LCP for Mumbai took the least amount of time.
Next up, I tested a fully built WordPress site, and this time the LCP took 3.3s. Again, not the worst thing out there, but definitely well above the recommended max 2.5s.
Now talking about the Fully Loaded Time, it took 4.7s. That's not very ideal as long load time might significantly increase bounce-off rates.
In short, Network Solutions showed below-average speed results. The host has won't land a spot among the fastest web hosting solutions any time soon.
Network Solutions stress testing
As the final showdown, I've put Network Solutions through a stress test to see how well the provider can handle traffic on the site.
In an ideal situation, the blue line (response time) should be as flat as possible, and the red line (failed requests) should not appear on the screen. This will signal that the server is powerful enough to handle increased traffic surges.
For the first try, I sent 50 virtual users (VUs) to my site. In case you're wondering, continuous 50VUs on the site would equal around 50,000 monthly visitors. That puts a lot of pressure on the server, which, as a result, might slow down or even crash.
And, as expected, 50 VUs proved to be too much for the server. It slowed down and ultimately failed.
While it's no surprise that 50VUs is too much, I still want to know how much isn't. For that reason, I've cut the VUs by 5 until I reached the first pass.
Now, according to the test, Network Solutions passed with 10 VUs.
Yet, in reality, the website was actually down and every single request has failed.
This being said, the host proved that even low-volume traffic on the site is a big task to manage. This suggests that it is best suited for very small sites.
To sum it up, Network Solution was very reliable with great uptime. But, its server responsiveness, website speed, and traffic-handling ability were well below average.
Security: is Network Solutions secure?
In terms of security, Network Solutions' protection leaves much to be desired. The entry-plan is pretty much unprotected. However, the other 3 plans do get SiteLock malware scanning and removal. Meanwhile, an SSL certificate is only offered in the Premium plan. Everything else comes for extra pay.
Here's what you can expect in terms of security:
SiteLock is included in Network Solutions' all plans, except the entry one. The Essential plan gets only malware scanning, while the other 2 plans get SiteLock Premium. SiteLock Premium comes with daily malware scans for up to 500 pages, daily vulnerability scans, SiteLock Trust Seal on your site, and automatic removal of malware.
An SSL certificate that encrypts all the data to and from your server is included only in the Premium plan. Otherwise, the provider offers many SSL certificates, with prices starting at $50.00/yr. It's a shame that this must-have is free only for the most expensive plan. Typically, SSL is included in most (if not all) plans as it's the bare minimum.
That's all that Network Solutions offer for free. However, the provider does offer paid security add-ons like CodeGuard.
CodeGuard's plans range from $5.00/mo to $239.00/mo, and all include things like daily automatic backups, daily monitoring, one-click restore, and two-factor authentication. Additionally, you can also choose to include on-demand backup, vulnerability scanning, IP logging, and more. And that's that. So if security is something you value, you might want to check out our list of secure web hosting providers.
All things considered, Network Solutions' security protection is extremely minimum. Many basic security measures like an SSL, firewall or automated backups are missing.
Will Network Solutions support help me?
Network Solutions offer 3 customer support channels for help: live chat, phone, and ticketing system. All 3 are only available between 7 am to 12 am EST Monday to Friday. Besides that, the provider also has a knowledge base if you want to get some help ASAP.
For this Network Solutions review, I tried its live chat, and I must note that the live chat isn't available 24/7, even though the provider claims "its agents are available at all times". If you're facing a serious issue, this is going to be a headache.
Once I finally got connected with an agent, I've asked about my website IP address, only for a miscommunication to happen. While I was talking about the server, the agent was talking about the domain.
The conversation went on for about 30 minutes without a resolution and, then, the agent just disappeared and never came back.
Funny enough, the next time I started the chat, I found the answer on the previous chat. So, the system is a bit laggy.
If you don't have much patience, my advice is to head to its knowledge base. Here, you'll find articles and guides that could potentially answer your question.
However, the provider has lumped all of its articles without much adherence to labels. So, you'll find an article on Network Solutions domain pricing between a guide to Network Solutions email hosting and an article on troubleshooting tips for its website builder.
Beyond that, most of the articles tend to only skim the surface. You won't find too much information. However, the articles are sufficient enough for a quick fix.
Overall, Network Solutions' support could be improved. The lack of 24/7 support and a pretty jumbled-up knowledge base are not very helpful.
Network Solutions review: the final verdict
My thoughts on the provider after this Network Solutions review are that it has its ups and downs. It has its strong points but they're largely overwhelmed by its shortfalls.
| | | |
| --- | --- | --- |
| Feature | | Hosting for small and personal projects |
| Pricing | | Network Solutions comes with more premium prices, starting at $5.69/mo. Considering its limited resources and features, the prices could be lower. |
| Ease of use | | It pairs its proprietary dashboard with its custom control panel. Its basic dashboard and clunky interface are rather outdated but they get the job done. |
| Performance | | The provider is very reliable with 99.98% uptime. But, its website speed, server responsiveness, and ability to handle traffic could be much better. |
| Security | | The provider offers only SiteLock and SSL certificates for free and only to certain plans, leaving its entry-plan largely unprotected. Other security measures are available for extra pay. |
| Support | | Its customer service team is only available during business hours via live chat, phone, and email. In addition to the 3 channels, the provider also has a very basic knowledge base. |
Who do I recommend Network Solutions to?
All in all, Network Solutions is a premium-priced hosting provider. Yet, the resources and features you get are pretty basic. Therefore, I'd recommend this host to those who wish to build a small and simplistic website.
Network Solutions FAQs
Does Network Solutions still exist?
Yes, Network Solutions still exist. Since its 2011 sale to Web.com, the company has been part of Newfold Digital's portfolio – alongside Bluehost, HostGator, iPage, and more.
Is Network Solutions legit?
Yes, Network Solutions is legit. The company has been incorporated since 2003 and has its headquarters at Herndon, Virginia and Jacksonville, Florida in North America.
Is Network Solutions email safe?
Yes, Network Solutions email is safe if you opt for one of its paid email products. They come with various security measures like safe unsubscribe, click-time anti-phishing, and lazy expunge.
Why is Network Solutions so expensive?
Network Solutions is expensive due to a couple of reasons. First, it's an old and trustworthy company with its own brand equity, which means you're paying for the brand. More so, the provider sells cloud-based shared hosting, rather than just shared hosting, which tends to be pricier.
Is Network Solutions VPS still available?
No, Network Solutions VPS is no longer available. The provider's only hosting options are now limited to cloud-based shared and WordPress plans.
Disclaimer: ReviewerBlog is an affiliated partner of Network Solutions,If you click a merchant link and buy a product or service on their website, we may earn the commission by the merchant.