Hotels.com focuses on hotels, giving you extensive sorting features, affordable prices and plenty of support options to help you book a dream room.
Hotels.com is easy to use and provides plenty of options to find the best rooms around the world, no matter what your preferences are.
Like with many things, you get what you pay for when it comes to staying in a hotel. Websites like Hotels.com are the perfect loophole in this rule, and they can help you find classy rooms at two-star prices. We put the best hotel booking sites to the test and searched for three-star rooms in seven popular destinations. After searching, we averaged the prices of the first ten results and compared services. Four of the seven cities on Hotels.com's search results were cheaper than the overall average.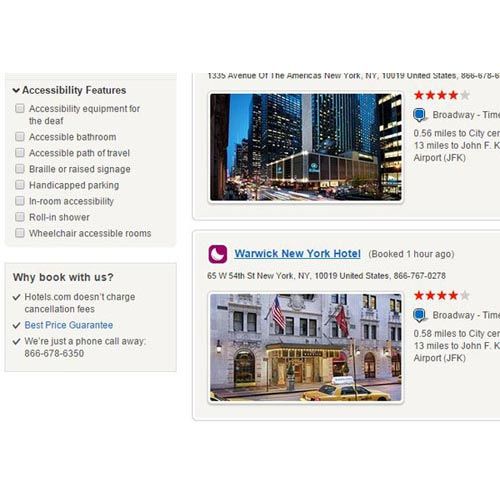 The right hotel can make or break a vacation. The best hotel booking services allow you to filter amenities that fit your needs and make your stay more comfortable. Hotels.com allows you to filter rooms by the standard categories like amenities, price, star rating, distance and accessibility features. For special occasions, you can filter hotel rooms by types or themes like spa, romantic or family friendly. Further filters allow you to sort hotels with a list of 20 different amenities such as spas, free Wi-Fi, meeting rooms, pet friendly and airport transfers. One especially useful feature is the ability to change preferences for dates and locations without going back to the home page.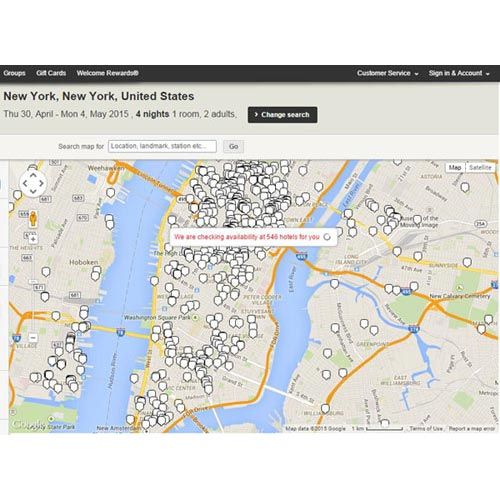 If your hotel stay is part of a destination vacation, you can find a hotel near your attraction with two different methods. Destinations like theme parks, shopping centers or museums often appear under the Landmarks category. For example, you can find hotels near landmarks in New York by filtering using the Empire State Building, Broadway or MetLife Stadium. You can also search for hotels based on neighborhoods, a convenient feature if you're visiting friends or family in the area. Filtering searches with this feature ensures you're close to what you came for. If you're a frequent traveler, you may be part of a loyalty program with specific hotel chains, and Hotels.com gives you the option to search for hotels by their names.
Once you find a hotel that interests you, you want to browse through the hotel profile to learn its finer details. The hotel profile page displays the most important information at the top. Without even scrolling, you can see images of the hotel and room, star rating, a map of the city with the hotel marked and customer reviews. In addition to Hotels.com reviews, you can also view TripAdvisor reviews and ratings. From the same page, you can share, email or save the hotels that interest you most.
Hotels.com lists multiple rooms available in the hotel on the profile page as well. This is a good feature if you plan to book multiple rooms or simply want to see your options. Often, this is where you can choose from double-bed rooms or opt for the comfortable king-size option. In the individual room descriptions, you can explore the hotel's featured amenities, like Wi-Fi, dining options and occupancy.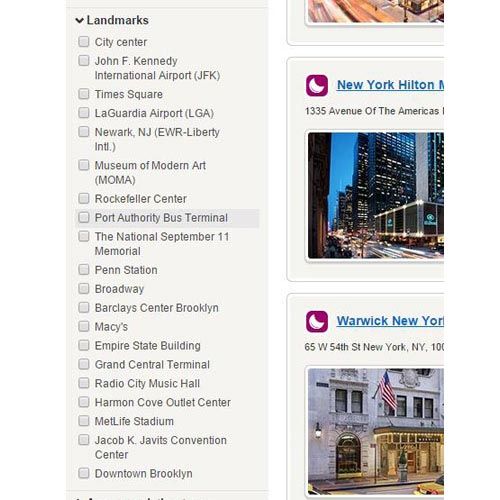 Reservation Process
One interesting feature of Hotels.com is that you can opt to pay online or pay at the hotel. Online payment is best for foreign travel because you can use your local currency or use a Hotels.com gift card. If you're a frequent traveler, this method earns Welcome Rewards, the loyalty program from the site. Paying in person for the hotel has its advantages too. Opting to pay for a particularly expensive hotel later allows you to save up for any extra expenses or luxuries. However, if you take this option, you'll have to pay in the hotel's local currency, a possible problem if you aren't travelling domestically. It only takes a few moments to book a hotel on this site. All you need to do is provide standard information such as your name, room preferences and card information. Hotels.com takes credit and debit cards, PayPal, Google Wallet, and gift cards.
As the website's name suggests, Hotels.com books mainly hotels. However, you can also make reservations for vacation packages. You aren't able to book flights or rental cars, but you can find deals for most international vacations under $2,000.
Booking Help
When you have questions, the Customer Service tab at the top of the page provides options to view your reservations, see the FAQs, contact support, provide feedback or review a hotel. The FAQs and Contact Us options under this tab lead to the same page. While the sections are related, it can be confusing if you simply want to talk to a rep. The FAQs page is divided into categories such as About Welcome Rewards, Hotel Booking, Package & Flight Booking and Account Settings. You can also help others by giving site feedback and reviewing the hotels you found through Hotels.com. Contact info for reaching a Hotels.com rep isn't obvious beyond the sales number at the top of the page. However, the Contact Us tab at the bottom of each FAQ article provides access to live chat or you can request a callback if you want a rep to reach you.