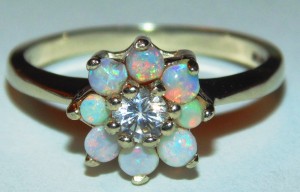 Precious opal may seem to contain every color in the rainbow, depending on which angle you look at it. This color-changing phenomenon, known as iridescence or color play, has captivated imaginations for centuries. Thanks to its flashing colors, often resembling the flecks in irises, it has been thought to bring good luck and heal to eye ailments. Other cultures associate it with bad luck and the evil eye. Not surprisingly, perhaps, it's been employed in Rorschach-type tests in psychology.
Opal, made of hydrated or hardened silica gel, is 5 to 30 percent water, which means the stone may eventually dry out, causing it to lose its iridescence and crack. Iridescence is created by the structure of the stone, wherein tiny, tightly packed silica spheres diffract light. The bigger and more orderly these spheres, the more color the opal appears to contain.
An amorphous stone, opal is formed in the cavities of sedimentary rocks such as ironstone and sandstone. It also creates veins in igneous rocks, is found in stalagmites or stalactites in caves, and works as a petrifying agent, replacing wood, shell, and bones in fossils. Before the 19th century, Czechoslovakia was the primary source of precious opal, but these days it's Australia. Opal is also mined in Brazil, Ethiopia, Honduras, Indonesia, Japan, Mexico, Peru, Russia, southern Africa, and in Nevada and Idaho in the United States.
Being a soft, fragile stone, opal is easy to damage and difficult to work with. Nonetheless, jewelers find its enchanting color difficult to resist. Opal is often cut into cabochons with free-form shapes that best show off the color play within. These unique shapes inspire much creativity in the jewelry design for necklaces, rings, and bracelets. Opal may be opaque to translucent to transparent. It comes in a wide range of base colors, and generally has a vitreous luster.
There are both precious and non-precious types of opal. Perhaps the most well-known of the precious is called white opal, which has a light-colored based such as white or cream and intense color play. These opals may appear washed out without a closed-back bezel setting, which bring out their iridescence.
Even more rare and desirable, though, is black opal, which has a higher carat price than white. Black opal is actually a dark-colored opal, which can be gray, blue, green, or gray-black. Less dark is the precious jelly or semiblack opal, which has a lighter base in similar colors, and may have an amber color body that creates a stunning blue-purple iridescence.
Especially rare forms of precious opals include harlequin opals (transparent to translucent opals with mosiac-like patches of color), crystal opals (completely transparent and glasslike, with exquisite color play); Ethiopian opal (golden honey body color and stunning iridescence); and opal cat's eyes (a rare phenomenon in opal).
Sometimes the matrix rock, or mother rock, like ironstone or sandstone creates bands or inclusions inside the opal. Some opal is cut to highlight such inclusions, but boulder opal is cut so the stronger matrix stone is only on the back of the cabochon, making the piece both more resilient and cheaper to purchase. Andean opal is another popular stone because of its turquoise color, usually opaque. It is believed that Andean opal will lose its color when exposed to air, so the stone is often "fixed" with a glue-like coating.
Fire opal is usually transparent and lacks the color play of other opals. It ranges in color from yellow to orange to red, with red being the most desirable. Fire opals, unlike precious opal, is often faceted and less expensive.
Common, or "potch," opals come in three basic varieties: Honey opal, which has no color play and is often used in bead form; prase opal, which is a pretty green color thanks to the presence of nickel and has a cloudy look similar to that of chrysoprase; and seascape opal, which is a blue-green color, often with dendritic inclusions.
In medieval times, the opal was thought to bring great luck, possessing all the virtues of the various gemstones, thanks to the color play. It was believed that if you wrapped an opal stone in a fresh bay leaf, it could make you invisible. However, in Victorian times, the 1829 novel "Anne of Geierstein," by Sir Walter Scott made the opal disreputable, described as a talisman that turned to colorless stone when touched by holy water—an event that killed the wearer. After his novel was published, the opal was believed to be a symbol of bad luck and death, and sales in Europe diminished.
Even in the early 20th century, fear and suspicion of the stone lingered, particularly with Russians, who thought the stone embodied the evil eye. That is perhaps why the opal appears in so few of the great jewelry collections of the 20th century.
The rebellious Art Nouveau artisans, though, rejected Victorian conventions and embraced the "organic" look of opal cabochons, which worked well with their insect motifs and elaborate enamel work.
Opals, being soft and subdued, are nearly the opposite of diamonds, with their hardness, brilliance, and fire. Yet these two stones complement each other well, particularly when a large opal cabochon is set within a protective ring of small, faceted diamonds.