What is M and M Direct
MandMDirect.com is a website that is passionate about selling the best products at the best prices to their customers. They specialize in selling clothing not only for men but also for women and children who are in need. You can find shirts, swimwear, dresses, hoodies, jackets and much more at the website. People can also find well-known brands here such as Reebok, Levi's and Timberland. According to the MandMDirect reviews before, they are also one of the cheapest sellers of top quality items online.
28 Day Return Policy
Cheap Men's Clothing Online
Regular Discounts & Deals
One-Time Styles Being Offered

MandM Direct Sportswear
Reviewed by Jackie Page-Streeton
After putting on weight recently I've decided to get back into exercise so when I had the opportunity to review an outfit from MandM Direct, the online clothing store that offers a wide range of clothing for men, women and children from top brands at vastly reduced prices, naturally I chose a gym outfit.
The bottoms I chose were Adidas climate workout leggings which I found comfortable and not in the least bit restrictive which is great for some of the classes I do, the bottoms can definitely withhold flexibility although I'm not sure I can!
To compliment my trousers I chose a brightly coloured Adidas vest top which was fairly long in length which is perfect for keeping me cool during a workout whilst being long enough to cover my lumps and bumps so I don't need to feel so self-conscious.
In addition to my trousers and top I also gained a light grey hooded sweatshirt which is ideal for my journeys to and from the gym. Again it is quite long in length hiding a multitude of sins!
Last but not least were the socks, I don't know about anybody else but I tend to suffer terribly with blisters when my trainers rub the back of my heels, especially when I'm on the treadmill or out for a run regardless of whether I wear thin or thick socks but MandM Direct do proper running socks which means you can do all manner of exercising and keep your feet free of blisters and so far so good.
Overall I found that delivery was swift and all fitted lovely. I am delighted with my new gym outfit and the prices are very reasonable. I've already had a little browse on MandM's website to see what else I can buy for when all this exercise pays off!
Top quality brands at prices that will suit all pockets!

Shop MandMDirect Reviews
I jumped when I was given the chance to review the new stock at MandMDirect, and I thought you might be interested to know how the order went.
My wish list was a bit random because there's so much to choose from on their site, so I picked out a few items and let the promoters choose the final three items for me. Lucky me – my casual footwear wardrobe has been given the perfect refresh.
If you haven't used this retailer before, they are an online shop with a big warehouse full of lots of discounted branded goods, especially sportswear and casual clothing. The brands in stock include Ugg, Ted Baker, Nike, Diesel, Adidas, Levis, Hunter, and many others. The stock tends to move fast due to the prices, and once it's gone it's gone.
Product reviews
First up, I tried a pair of ankle boots, picking the Board Angels Women's Short Boots in taupe. These had an RRP of £49.99, and were reduced to £22.99, saving £27.00. They've gone into the Easter sale today and have been further reduced to just £18.39.
The site has Feefo reviews on all the pages, so it's easy to find out what other customers thought about any item you're thinking about purchasing. These had 19 reviews, all of which said the boots were true to size, comfortable and great value. I have to agree, as the boots look and feel just right, and the versatile taupe / brown shade is a nice change from wintery black.
PG tip: Although ankle boots are technically out of season – and therefore cheaper – now we're in Spring/Summer mode, let's be realistic. British weather can be cold, rainy and generally rubbish, so ankle boots are still a worthwhile purchase. In warm weather they're still a festival staple. Buying ankle boots around about now will save you some money, and you'll still get plenty of use out of your purchase.
Next I selected a pair of Duffs Junior Revert Lace Up Shoes in charcoal. They had an RRP of £39.99 and were reduced to £19.99, saving £20.00. They're reduced further in the Easter sale today and are currently £15.99. The Feefo reviews on this brand suggested going up a size from my usual one, so I remembered to order a size bigger, and got these in a UK5. The name 'charcoal' is a bit odd, but when they arrived the suede skate shoes were exactly the same colour that's displayed on the website, so that's down to the manufacturer rather than the retailer.
They looked small in the box, but fitted beautifully with no need to break them in, and they were comfortable with a surprisingly good amount of arch support. The box also contained a spare set of laces in a different colour which is a really nice touch. I love these shoes and will be wearing them teamed with my favourite khakis and utility trousers.
PG tip: If you're an adult with smallish feet, you might find that 'junior', 'kids' or 'teen' shoes will fit you, but you might have to go up half a size or so sometimes (and be careful not to buy 'infant' sizes by mistake). Shoes for kids don't have VAT on them, so they're cheaper.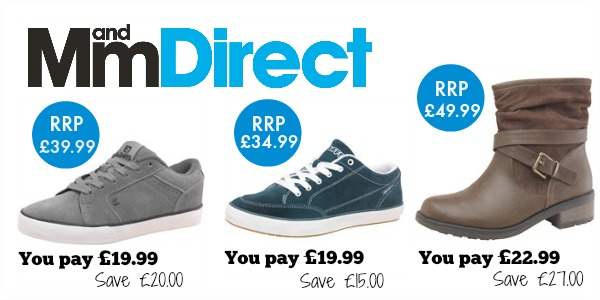 Finally, I chose a pair of Duffs Junior Strombolie II Shoes in slate. These are a different style of skater shoe with contrast stitching. They had an RRP of £34.99, and were reduced to £19.99, saving £15.00 (not in Easter sale).
Again, the Feefo reviews suggested buying a larger size than usual. The shoes are a gorgeous shade of blue, almost navy with a hint of teal/petrol, and they also come with a different coloured pair of laces in the box. I also found these to be a comfortable fit with good shock absorption. They look fantastic with jeans so I'll be wearing these a lot on lazy weekends.
One small point to note about this company is that you have to pay some money towards returns, but many people will consider it an acceptable risk when combined with the low prices.
To sum up: I found lots of great casual and fitness clothing deals on the site, and I'm very happy with everything I ordered, which was all exactly as described and a good fit. I'd be happy to recommend MandMDirect to bargain hunters