2020 – Best Software for Clean Your Mac
Version 4.6.2, 8 April 2020
Added:
New ways of detecting viruses and malware within Malware Removal
Suggestions in CleanMyMac X Assistant are now based on a machine learning model
Freeing up RAM right from the notification when your Mac's running out of memory
Improved:
Detection and removal of Steam app resources
A guide for granting Full Disk Access became simpler and more intuitive
Fixed:
Full Disk Access window position in full-screen mode
Crash on scanning items in the Privacy module
Another case when CleanMyMac X Menu icon was invisible in the status bar
CleanMyMac X has a range of new apps to keep your Mac in top shape. It comes with apps for hard drive management, an uninstaller, web browsing history and cookies, a wizard to clean up unused applications, and a file shredder for quick and permanent deletion of files, make taking care of your Mac easy.
Below is an example of CleanMyMac X smart scan results.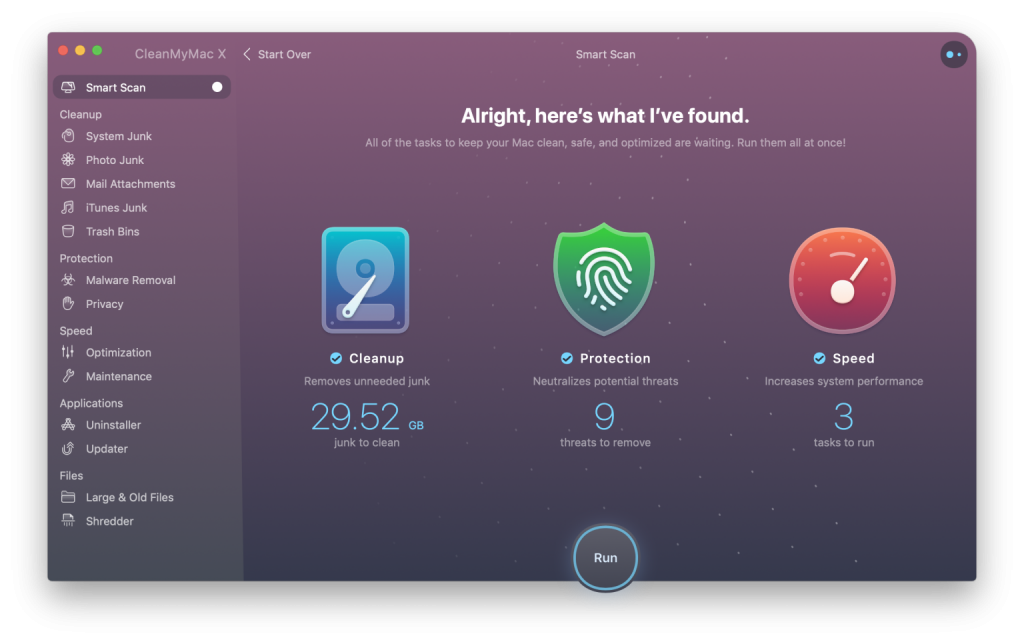 In just a minute, it has found 3.89 GB of system junk, no malware or any threat, and recommended 3 tasks to run to speed up the Mac.
When you have the CleanMyMac X on your laptop, the logo will appear on your menu bar to conveniently show you the overall activity of your system, as shown below.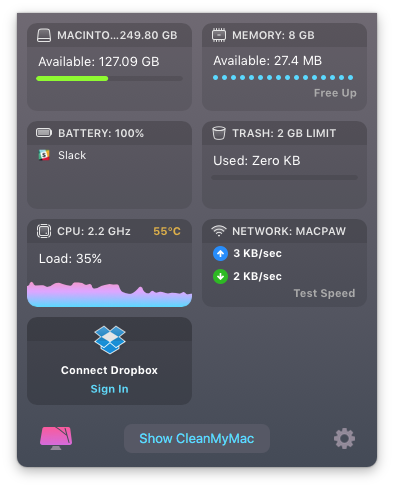 Here is what other users say about using CleanMyMac X…
"I've been using my MacBook Pro for about 3 years and the SSD drive was almost full. Used #CleanMyMac by @macpaw and I cleared 106.53 GB!" – Tony Collander from Stockholm, Sweden
"What a massive improvement is #CleanMyMac from @MacPaw! Just cleaned 42.5gb of crap off my MacBook Pro." – Alan Lawton from Manchester, UK
"CleanMyMac is awesome, totally worth the money. My mac's running silk smooth right now." – Gao Mengbo from Suzhuo
Now, let us dig deeper into the CleanMyMac X review after using it.
CleanMyMac X Revies – 2020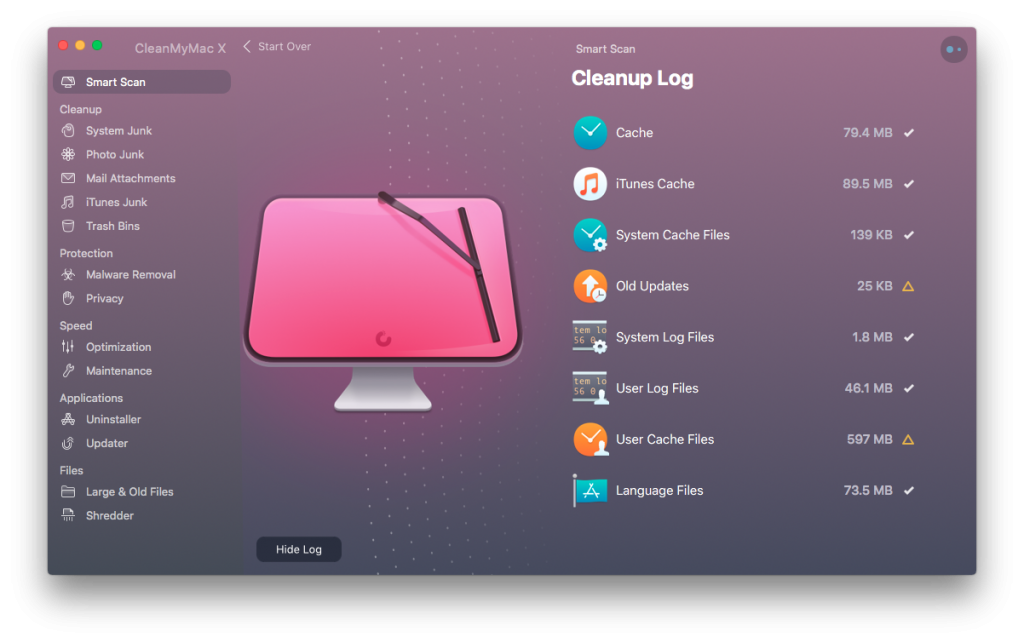 CleanMyMac X is beginner- and user-friendly.
If you are not a tech-savvy person, CleanMyMac X interface can be a good option.
Upon installing this app, you will be redirected to its main interface – no more, no less. All of the options are shown there.
No fancy manuals or anything. Just choose among the options you want to run on your system such as Cleanup, Protection, or Speed. Or you can even run those three together by choosing Smart Scan.
Pretty easy, isn't it?
CleanMyMac X has faster scanning speeds.
The Smart Scan feature is a gamechanger. This will do a thorough scan of your system in just a minute or two. Personally, I was amazed by how fast it scanned my Mac.
CleanMyMac X cleans up gigabytes of system junk.
After the scanning, CleanMyMac X is capable of removing this system junk and unloading it from your disk space.
Surprisingly, the clean up takes minimal time, too. Of course, the entire process may take longer depending on how much junk you want removed from your system. But overall, this is one of the fastest Mac cleaners I've tried.
CleanMyMac X speeds up your Mac.
For someone who owns an old Mac, you will surely experience the smooth transition after cleaning up your disk space. CleanMyMac X will also suggest tasks that, when run, can enhance your Mac speed and performance.
However, given all of these pros of using CleanMyMac X, you can't fully enjoy it without unlocking its full version and that means paying with a substantial amount for a software that can do everything you need out of it. If you want to check the prices, click here.
If you think that it's too expensive, there's always their trial version you can try out and decide if it's worth the money.
CleanMyMac X vs CleanMyMac 3
As MacPaw puts it, CleanMyMac X is "the ultimate cleaner for your Mac". Compared to its preceding versions, a lot of new features have been added to this 2018's CleanMyMac X and these are the following:
It now removes malware.
It speeds up your Mac using new tools.
It updates applications on your Mac.
It finds system junk almost in every place; and
Using Assistant, it gives you personalized cleanup tips.
These are some of the apparent changes that the older versions of CleanMyMac do not possess. And did I mention that everything's speedy, too? Because it cleans 3x faster than the CleanMyMac 3!
Frequently Asked Questions
Yes, it is. CleanMyMac has served Mac users for ten (10) consecutive years, is notarized by Apple, and possesses a Safety Database that prevents wrong cleanup selection and keeps all user data safe.
No. In order to make use of all its features, you must acquire its license or opt for subscription and for that, you must pay. However, CleanMyMac X offers free trial while thinking about purchasing it.
What macOS versions does CleanMyMac X support?
CleanMyMac X runs on macOS 10.10 and higher.
More of the FAQ's here.
Final Words
Indeed, Mac cleaners are put to the world for a reason – to help Mac users declutter their files and keep their Mac safe and in good running condition. If you're currently looking for a sign whether to download a Mac cleaner software or not, this review may be it. After all, based on my experience with the software, it's worth the try.
CleanMyMac X is just one of the few Mac cleaners that are up to the mark. It's easy to use, effective in maintaining the health of your Mac, and a supportive booster for your computer.
But, as much as it is highly reliable, it is not at all free. You can download the trial version here so you can assess it yourself and make up your mind if it's worth the spend.