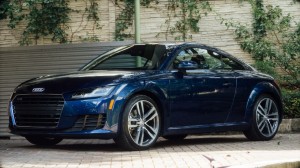 "We're going to do some laps, but this isn't a track car. If I hear anyone complaining about brake fade or lap times I'm not going to be happy." So went the pep talk from Audi leading up to our time with the company's new TT. And while we got several laps—at the Circuit of the Americas no less, before the Lone Star Le Mans races—there are few things we'd rather do with a new car than get to know it on a world-class circuit. The prospect of our first track time this year only came in second on our list of "reasons we want to drive the new Audi TT." Rather, we were really excited to try out the car's UI, which the company calls "Virtual Cockpit."
Replacing all a car's dials and gauges with a single TFT screen isn't new, but the TT is the first car we've driven to start really pushing the idea. It works in conjunction with Audi's MMI infotainment system—which is really quite good now—letting you do cool things like displaying Google Maps full-screen with overlays for important info from the car. Ambitious UI experiments don't always succeed, but after several hundred miles the TT's clever dash thoroughly impressed us. Oh, and the rest of the car wasn't too bad either. Like the nice man from Audi said, it's not a track car. Style takes priority over speed, but that's no bad thing if done properly.
Looking good has always been the TT's reason for being. It first appeared in 1995 as a concept car, wowing the crowds at that year's Frankfurt auto show. Three years later the Mk 1 TT went into production, keeping almost all of the concept's good looks. Underneath it made good use of Volkswagen Group's parts bin, something that's always left the car (and the subsequent Mk 2) with accusations of being a "Golf in drag." These days those kinds of insults are somewhat meaningless. Sure, both TT and Golf use VW's Modularer Querbaukasten (MQB) platform, but so do eight other cars; that's the entire point of developing MQB. This chassis is a mix of steel for the bits that undergo the most stress and extruded aluminum. The body panels are also mostly aluminum, too, which has helped make the third generation TT 110 lbs (50kg) lighter than the outgoing car.
The exterior styling is an evolution of the first TT's design, now featuring more hard angles. It's literally an edgy interpretation of the classic TT, although there are a few R8 styling cues here and there as well. Signature TT design touches are present and correct: the aluminum fuel filler door, the double-bubble silhouette, the large clamshell hood, and fastback rear hatch. The original TT did without a spoiler at first, requiring a recall to fit one (following costly lawsuits) after early owners found that aerodynamic shape generated lift over the rear at speed. Here, there's a retractable spoiler that rises at speed, which does the car's appearance many favors. Overall, it is, to our eyes, an extremely attractive car to look at; not a bad thing in this market segment.
Inside, things are even better. We've said this before, so at the risk of sounding like a stuck record, there really is no volume car maker better at interiors than Audi right now. Again, this was evident back with the original TT and its famous baseball glove seats. You sit low in the car, hugged well by the leather seats (with a frightening amount of electric adjustment). Large turbine-shaped air vents stud the dashboard. Each has a small LCD display at its center, a bit like a Nest thermostat. There are a few toggle switches on the dash (for changing the driving mode, turning on the hazard lights, and turning off the parking sensors and traction control), but almost everything else is handled either with the MMI jogwheel or its mirrored controls on the multifunction steering wheel.
A retina display for the road: The clever new 2016 Audi TT reviewed