Spocket Review 2022: The Best Dropshipping App?
The right dropshipping supplier makes all the difference when it comes to operating a successful drop shipping store, and Spocket's marketplace is made up of the best of the best.
To find a high-quality Spocket supplier that is held to a strict set of standards so you can stock your online store with some of the best dropshipping products available, you're going to want to read through this Spocket review to discover why they're one of the best dropshipping marketplaces out there.
Fast shipping times are essential when dropshipping. Spocket was one of the first dropshipping solutions to focus exclusively on US and EU-based suppliers. Spocket was also created specifically for dropshippers, offering unique features such as custom shipping invoices.
However, with so many other options to choose from, how do you know if Spocket is the right software for you? Well, here you will find a comprehensive review of the Spocket platform including it's pros and cons. Hopefully this guide will help you to decide if it's the solution you need.
Review Summary
Overall Rating: 4.8 stars • Excellent ⭐✅
Spocket is a revolutionary dropshipping marketplace and automation solution featuring hundreds of suppliers in the US, UK and Europe, as well as real-time inventory syncing and 1-click ordering.
Spocket also features seamless integration with multiple online store builders including Shopify, BigCommerce, Squarespace and WooCommerce. With over 10,000 global users and years of experience, Spocket has earned a solid reputation as a reliable and proven dropshipping platform.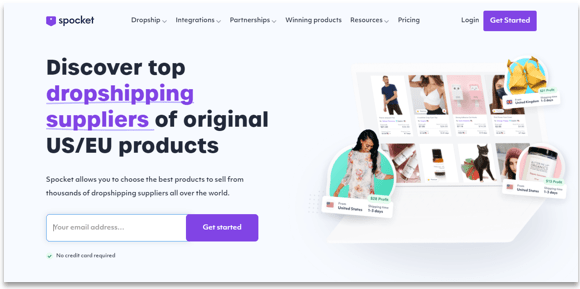 Top Features
All-in-one marketplace, sourcing platform and automation solution
Millions of low-cost products shipped from suppliers in the US/EU
Fully automated price, stock and inventory monitoring & updating
Import and push any of the products to your online store in minutes
Compatible with multiple ecommerce platforms including Shopify
Innovative Chrome extension for importing items from AliExpress
Curated list of top-selling products ready to import to your store
What is Spocket?
Spocket is an innovative, all-in-one dropshipping solution for sourcing, listing and auto managing dropship products on your ecommerce store.
Compatible with 5 of the most popular online store builders including Shopify, BigCommerce and WooCommerce, Spocket is considered a game-changer in the dropshipping industry, trusted by over 60,000 entrepreneurs from across the globe and growing consistently each day.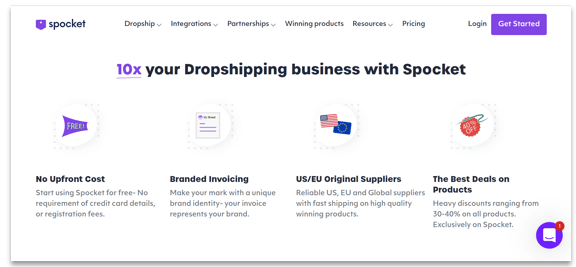 Unlike standard dropshipping solutions which usually work independently from suppliers, Spocket connects with suppliers in a more direct way, allowing them to list their products for sale on the Spocket platform.
Much like eBay but exclusively for business to business trading on a dropship basis, Spocket is revolutionising the ecommerce industry with its forward thinking and clear mission to become the original and best dropshipping marketplace.
Features & Benefits
From a growing network of EU/US based suppliers to super-fast shipping times, streamlined order processing and automatic inventory updates, Spocket has all the features you need to build a sustainable, profitable and efficient dropshipping store.
Simply select products and push them to your online store in a minutes, while Spocket automatically manages stock and prices in the background. You focus on building your business while Spocket takes care of the rest. It's one of the only true all-in-one solutions on the market.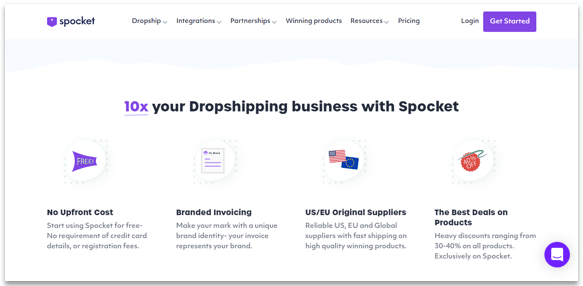 Huge network of US/UK/EU based dropshipping suppliers
Seamless integration with Shopify, WooCommerce and more
Fast local shipping with tracking info and branded invoices
Import hundreds of products to your online store in minutes
Real-time inventory management and one-click order fulfilment
All-in-one dashboard for manging listings and customer orders
Order samples to test shipping times and product quality
No fees for suppliers with lowest trade prices guaranteed
Low-cost monthly plans with 14-day free trial period
Pros & Cons
Spocket excels in features and usability, but that doesn't mean it's flawless. In fact, Spocket has a number of disadvantages which render it unsuitable for a lot of ecommerce sellers.
From a limited number of UK/EU suppliers to having no option to contact suppliers directly, as well as a lack of compatibility with third party marketplaces such as eBay and Amazon, Spocket is mostly suited to US-based sellers who are looking to dropship through an online store.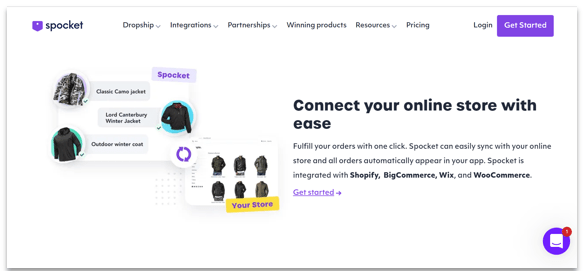 Pros
Huge range of EU/UK/US shipped products
Quickly push products to your ecommerce store
Automated, real-time inventory updates
Instant one-click order processing & fulfilment
No fees for suppliers and lowest prices guaranteed
Order samples to test shipping times & quality
Fast shipping with reliable tracking information
Manage your entire business from one location
Cons
Can't communicate with suppliers directly
Supplier names and business info hidden
Spocket support can be slow at times
Not compatible with eBay or Amazon
Often poor quality product descriptions
Customer returns are hard to manage
Compatible Suppliers
Spocket has hundreds of leading dropshipping suppliers signed up to its platform, most of which are based in the US with a growing collection in Europe and Canada.
Furthermore, Spocket is growing at a super-fast rate with more suppliers being constantly added. Therefore, you can be sure to find suitable products in just about any category or niche.
One of the biggest benefits to using Spocket is that many of the suppliers are China-based companies with global distribution warehouses in the US, UK and Europe. Therefore, the products are often very low-cost with high profit margins to be made.
United States (700)
Canada (50)
United Kingdom (50)
Europe (10+)
Compatible Selling Platforms
Spocket is compatible with some of the biggest ecommerce store building platforms including Shopify, WooCommerce, BigCommerce, Ecwid and Wix. Therefore, users have ample choice and flexibility when it comes to building a store. The only disadvantage is that Spocket is not currently compatible with online marketplaces such as eBay or Amazon.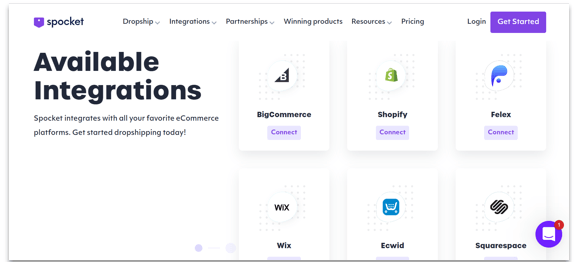 However, with the use of an additional third-party plugin or app such as multi-channel selling software, your store products can be quickly pushed to eBay and Amazon in the few clicks of a mouse.
Pricing & Billing
It's free to join Spocket and browse the millions of products available for dropshipping. The premium plans start from only $29.99/month and include full access to all features and benefits. This includes the ability to directly import any of the products to your store in minutes.
In addition, there is a 14-day free trial with all premium plans. Therefore, you can try Spocket for 2 weeks, without having to pay anything upfront. You can also secure massive discounts by paying for your membership yearly. Currently, subscriptions ae paid with PayPal or credit/debit card.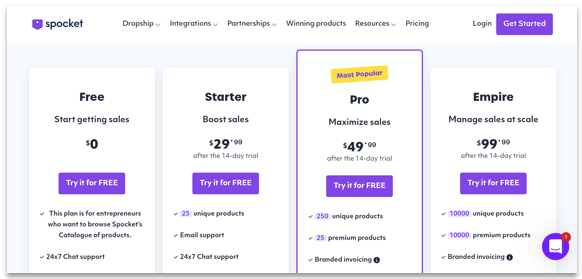 Browse Marketplace – FREE
Starter – 25 Listings – $29.99/month
Pro – 250 Listings – $49.99/month
Empire – 10,000 Listings – $99.99/month
Pricing Overview
While the price for 25 products stands at $29.99/month, the $99.99 empire plan allows for a massive 10,000 products as well as 10,000 premium products, making it the best choice in terms of value and potential. Thankfully, the 14-day free trial offers plenty of time to determine which plan would be most suitable for your needs.