Performance
Our primary data comes from AV-Test, an independent testing lab that evaluated Bitdefender and 20 other PC antivirus programs in controlled lab conditions and protocols in August 2015. The lab installed the software on PCs running Windows 7 and let each product run and routinely update its protection by communicating with its threat database. AV-Test also certified Bitdefender on Windows 8.1 in its June 2015 antivirus tests. No tests are available for Windows 10 yet.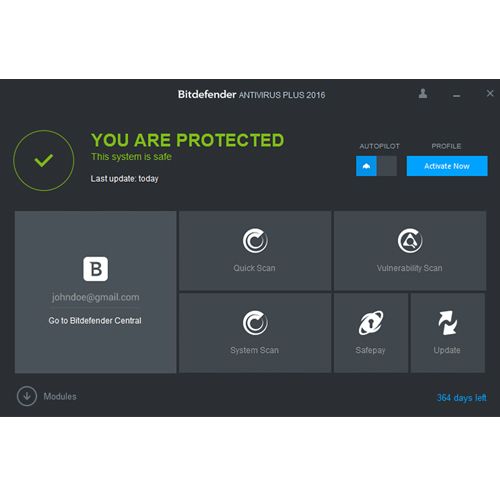 Bitdefender beat or met the highest scores in three sets of tests: protection, performance and usability. The protection tests check effectiveness against known malware such as viruses, worms and Trojan horses. AV-Test used 20,094 samples of malware, the majority of which were harvested by AV-Test during the four weeks previous to the test. Bitdefender detected 100 percent of these widespread malevolent programs.
While known malware goes in a threat database for easy detection, zero-day malware is harder to detect because it is unknown to the antivirus industry. To detect this, Bitdefender examines files that are suspiciously similar to files known to be malicious to see if they behave in potentially malicious ways. Bitdefender detected all of AV-Test's 165 samples of zero-day malware, performing better than the industry average of 98 percent.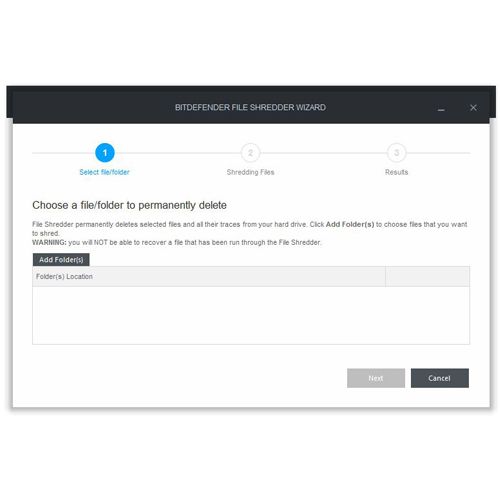 AV-Test's performance tests measure the effect of antivirus software on computer speed while visiting websites, downloading applications, installing and running applications, and copying data files. Bitdefender did not noticeably slow its host computer during each of these activities, compared with the industry average of a three second slowdown.
The AV-Test usability test checks how accurately each antivirus program distinguishes between safe and unsafe files. An antivirus program with false positives – benign content that is wrongly flagged as malicious – can encourage a user to turn the software off or ignore its warnings. Bitdefender performed nearly flawlessly with a single false detection of legitimate software as malware and no other false positives in any additional context.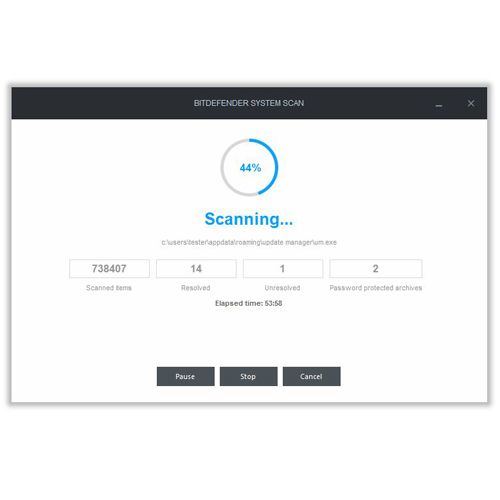 In our in-house tests, we examined Bitdefender's resource usage during full scans and found that it had a minor effect on the system resources of our test computer, earning an A- grade as compared to other antivirus software in our review. We looked at the numbers of clicks it takes from the software's home screen to activate full and quick scans and found that you only need one click to activate each, and it is the only tested virus protection software to do so.
Features
Even though Bitdefender Antivirus Plus performs well, no program can stop every potential threat. Bitdefender is among the applications that provide a rescue mode. This automatically reboots the computer into a mode that exposes the problem and lets you remove it with a tool from Bitdefender's support site. This is useful if a rootkit attaches itself to the registry of the Windows operating system and hides itself while taking advantage of privileged access to the system.
Bitdefender cooperates with Windows by monitoring system settings that could be unsafe and warning you if Windows requires security patches. Keeping system patches up to date reduces the likelihood that attacks can prevail. In addition to monitoring potential operating system vulnerabilities, Bitdefender's vulnerability scanner also alerts you in the case of missing or outdated software. Bitdefender's Autopilot resolves issues without alerts and pop-ups that require your input.
A few other security features add convenience. For example, a USB immunizer blocks potential malware on flash drives, and a desktop security widget lets you drag and drop files for quick scan checks. To further increase the safety of online transactions, the software includes a dedicated browser that helps protect against fraud. Bitdefender supplements its antivirus capabilities with some privacy protections that are uncommon among antivirus products.
The software warns of dangerous results in Google and Bing searches and blocks access to infected links. It tracks and blocks access to websites with reputations for scamming and credit card phishing. Bitdefender can also protect you on social networks by monitoring your privacy settings and scanning links from Facebook friends. Additional privacy tools include a file shredder and a personal data filter to prevent information such as Social Security numbers from leaving your PC.
Bitdefender Antivirus' online dashboard lets you remotely manage the application. A weekly security report lists resolved issues, app optimizations and how much usable storage remains on your computer. Bitdefender also temporarily suspends pop-ups that might interfere or slow down full screen games and video.
Help & Support
Bitdefender offers product help on its support center site, covering useful topics and providing clear explanations. The support site also hosts malware and rootkit removal utilities. Bitdefender responds to customer support inquiries by live chat, phone and email 24/7. Few other antivirus companies in our review offer this level of customer service. In testing, Bitdefender required a restart for both installation and uninstallation, so its score is slightly lower than the average in this category.
Bitdefender Antivirus Plus 2016 Review