If you think about it, you'll realize that watches have been the first ever wearable gadgets. They were also the first ones to become multifunctional, so we can call even regular watches gadgets. Today we'll talk about time-proven classic mechanic watches. Although even the funkiest smart watches are sold quite well (we'll leave them for the geeks), they can't overthrow classic watches, which remain the most popular and the best sold ones in 2015.
Nowadays there are three clear trends in watch fashion:
"I'm the athlete",
"I'm the cool dude"
"Nope, I'm a serious and respectable guy".
Best Selling Sports Men's Watches under $100: Casio
What do you think a bestselling watch should look like? Do you think it should have a massive clock face and a golden band? It's nothing like that! These are sports Casio watches that rock these days! The products range from Casio Men's MRW200H-1BV Black Resin for ~$15.96 to the solar-powered Casio Men's GWM5610-1 G-Shock for ~$90.60. They are considered to be the most popular and best sold watches today.
Look what Casio Men's GWM5610-1 G-Shock Solar Watch can do! Its battery stays up to 10 months on full charge (without further exposure to light), it is 200M Water Resistant, and it can show world time of 29 time zones (you can choose one of 48 cities + UTC)! I wouldn't even mind paying ~$90 for this watch!
We won't describe every single model launched by Casio, as there are too many of those. You can pick your own perfect watch on Amazon in the Casio Watches category. However, we couldn't resist covering one legendary Casio watch!
G-Shock Men's G100-1BV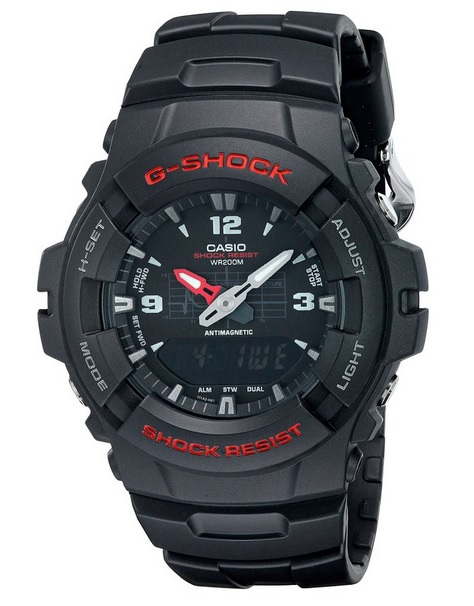 G-Shock is a mixture of technological and sports design, it's got a futuristic flair. This futuristic style will cost you about 100 bucks, although G-Shock can be found on sale for ~$56.
What do you get for this money? You'll get a rubber screen and a rubber band (which contribute to the durability of the watch), a built-in compass, a calendar, a timer, illumination, magnetic resistance, and the biggest perk is that the watch is waterproof. This watch will suit even the swimmers and the divers. According to the description, they can be plunged as deep as 200 meters! This is why we nominate G-Shock as the sportiest watch of all that we will cover today.
Another interesting fact is that this is the old model in our rating. Unlike other models, G-Shock was launched on the market back in 2011. Remaining popular for 4 consecutive years truly means something.
Price: ~$56 Check the current price
U.S. Polo Assn. Sport Men's US9061 Watch with Black Rubber Strap Watch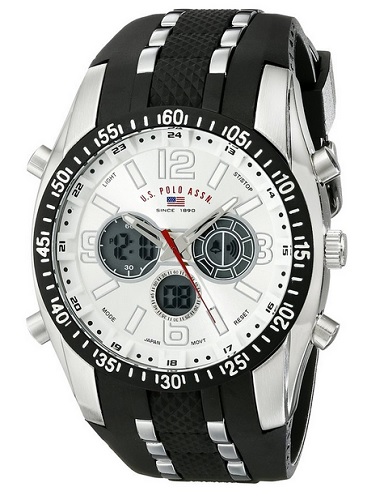 This U.S. Polo watch has an unusual design: the icons and the background are white, and it's only the strap that is black. That's why it's not easy to focus your eyesight and figure out the actual time. Despite this, U.S. Polo US9061 Watch is incredibly popular with the youth. How come? Perhaps, they like its functionality. The watch has a built-in alarm clock, illumination, a timer, a calendar and is waterproof at 30 meters' depth. You can also take a post-workout shower or dive a bit while wearing it. In addition it looks expensive and sporty.
Price: ~$22
Military Men's Watches in 2015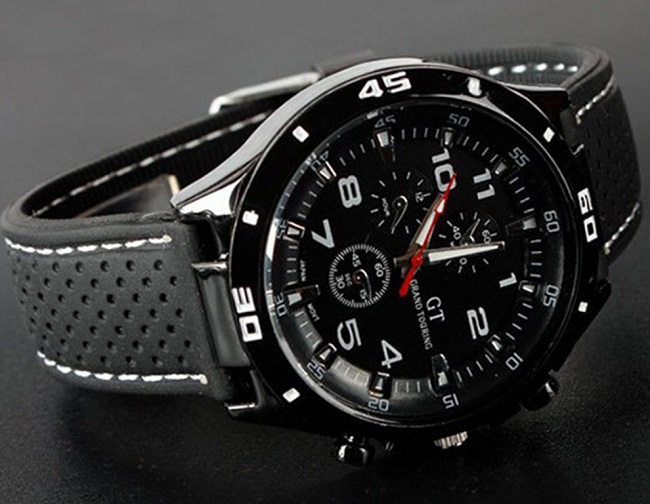 Any guy wants to be cool, he wants to be a military man, a pilot or an aviator, that's why military-style watches are trendy now. 2 really cool watches are available on Amazon and are sold very well there.
Russian Skeleton Automatic Watches for Men Silver Stainless Steel Wrist Watch which was obviously made in China used to be in the Amazon top not so long ago. Its open mechanism and aggressive design (the watch looks more like brass knuckles than a skeleton) are really impressive. Nevertheless, it is not said to be waterproof, a slightest shock leads to a complete breakdown, and it shows nothing but the time. Even their competitive price of ~$15.45 couldn't save them from being ousted from Amazon best sellers.
Today they are replaced by similar models of better quality. They may not be as durable as Casio ones, but they are incredibly popular this year.
Cool Men's Racer Military Pilot Aviator Army Silicone Sports Watch
The manufacturer gives an honest warning that the three circles inside are not functional and are just decoration. This doesn't stop anyone from buying the watch for them or as a gift, since anyone wants to feel like a real cool guy, a brave military pilot. The price of only ~$4.43 makes it possible.
Top 10 Best Selling Men's Watches in 2015