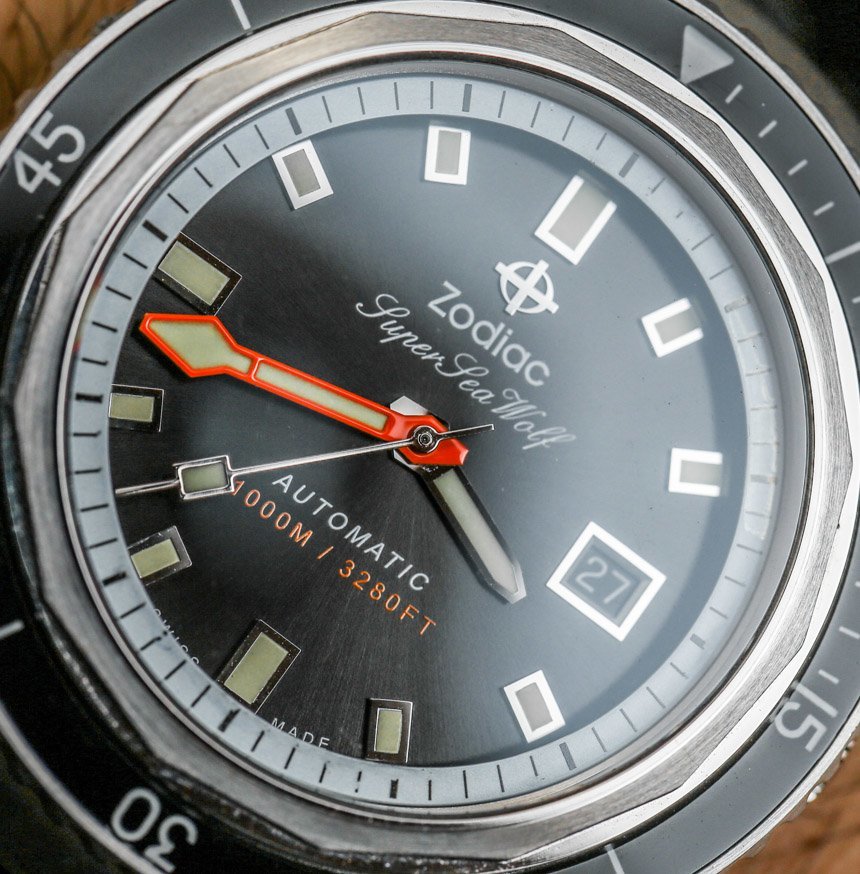 Historically, the Zodiac Super Sea Wolf was the more robust version of the Sea Wolf dive watch. As Zodiac continues to flesh out its vintage-inspired "Heritage collection," the newest entrant as of 2015 is the new Zodiac Super Sea Wolf 68 which joins the also-new Sea Wolf. Note that while each of these watches is based on the design of actual historic Zodiac watches and each matches their original looks very closely, the Sea Wolf and Zodiac Super Sea Wolf 68 actually look very different, and pretty much only share in common the fact that they are both dive watches and have similar names.
While the contemporary Sea Wolf is meant to be a fashionable dive watch for sport or casual purposes, the Zodiac Super Sea Wolf 68 (this is reference ZO9501) is more of a traditional sport watch that could easily be taken diving. While the Sea Wolf watches are water resistant to 200 meters, the Zodiac Super Sea Wolf 68 is water resistant to 1000 meters, making it a much more durable model. I also want to add that despite the fact the case is water resistant to 1000 meters, it does wear with a relatively slim profile given the case design.
The 44mm-wide tonneau-shaped case is something you'll see from many other 1970s-era sport watches and shows up again today in many modern divers. It's a very functional and distinctive look that, for me, says "submersible" much more than dive watches that have more traditional round cases with lugs. Part of the case's thin profile appearance comes from the fact that the case tapers on the rear with a bubble-style back. This means that while you can't feel it on the wrist, the caseback extends back the lugs at least a few millimeters.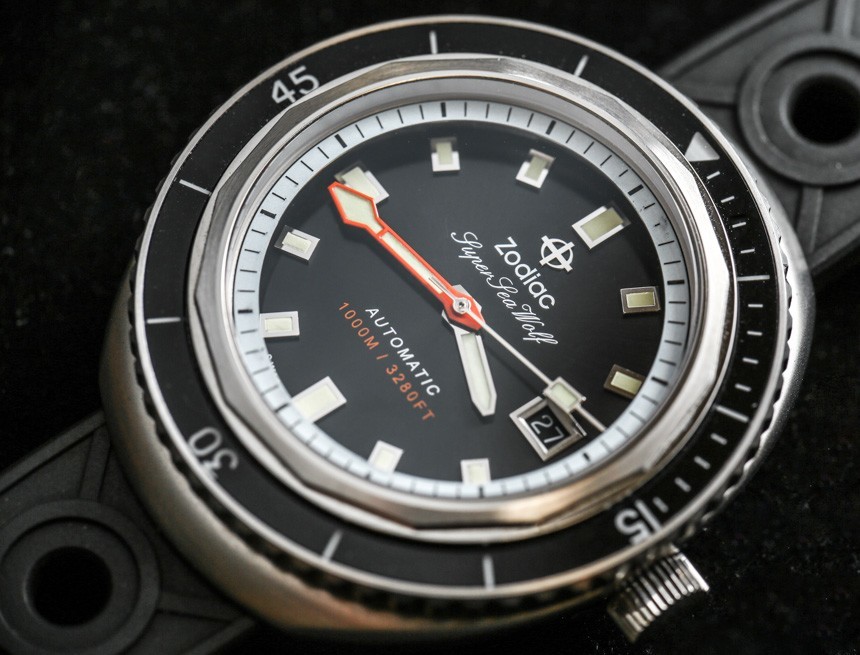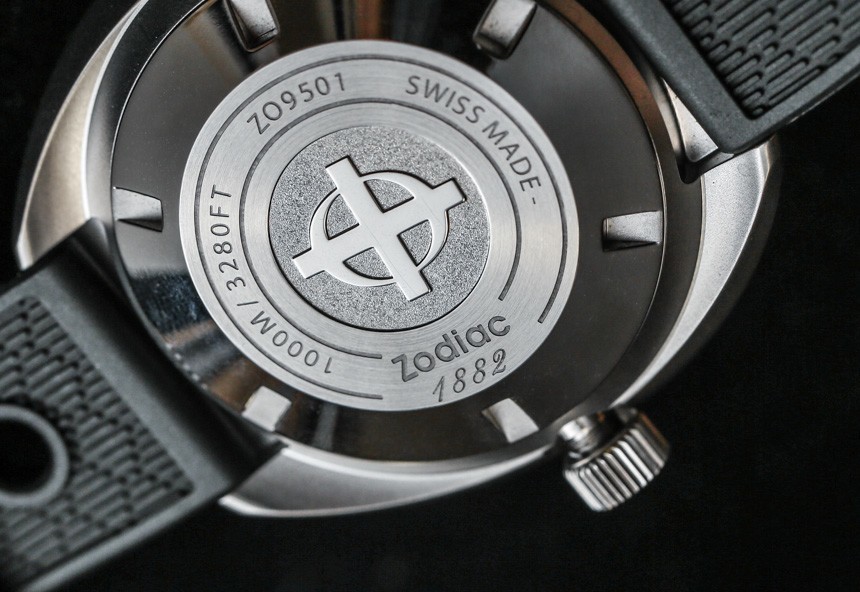 Like other Zodiac Heritage collection timepieces, the case finishing and construction is extremely good for the price. It is something that feels "mass produced" (versus hand-finished), but in the best way possible, with very precise polishes and details. Much of the case is actually satin-finished with polished elements around the dial and bezel – as well as the caseback.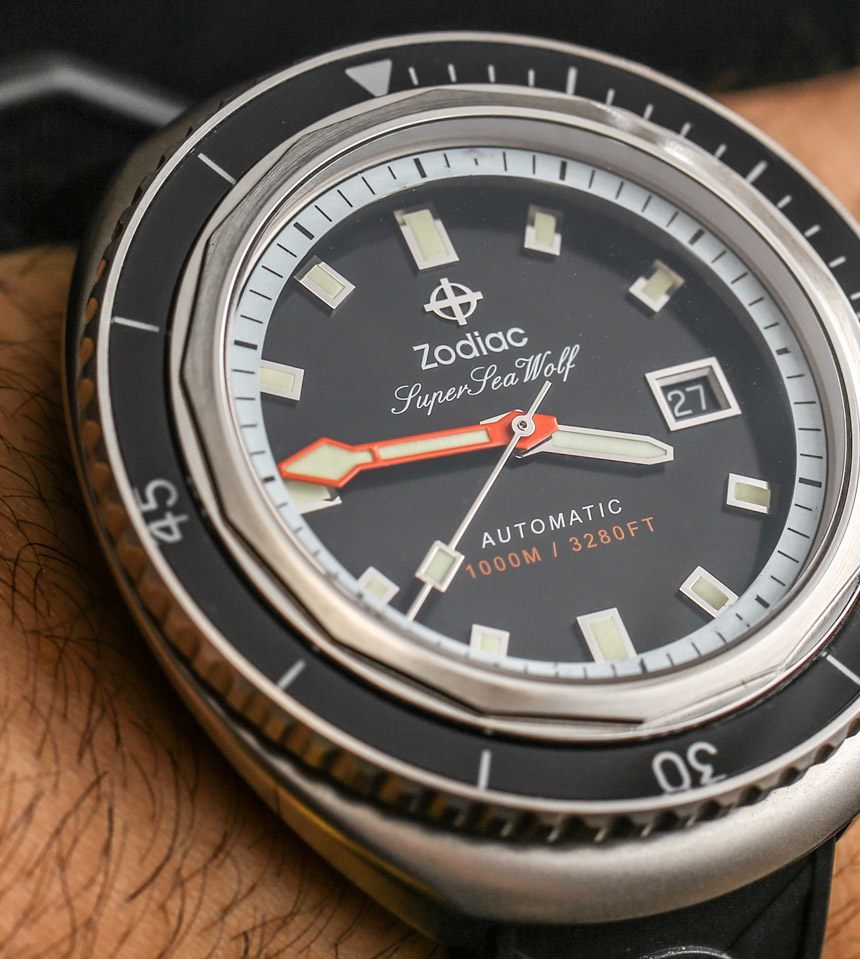 Some of the Zodiac Super Sea Wolf 68's most interesting case design elements are actually around the bezel and dial. Look, for instance, at the actual screwed down bezel (that has an outer rotating bezel). It doesn't even line up with the dial elements which shows that it is a very real, screwed-down element. This might irritate some of our more OCD-inclined watch lover friends, but for me, it is both unique and cool. More so, the way this bezel is designed, I wouldn't be surprised if some owners took a while to even notice it.
Zodiac designed the rotating bezel with a mineral crystal overlay over a printed black background. The bezel looks nice and also has a "safety" system to prevent it from accidentally turning. To turn the uni-directional bezel, you need to press down on it and then turn it to feel those solid 60 clicks.
Over the dial is a sapphire crystal, which looks down into the deeply set dial. In order to minimize the visual depth of the dial, Zodiac designed a floating chapter ring which is actually in light blue on this model. The blue looks a lot more prominent in Zodiac's marketing pictures than it does on the actual watch. Further down, you have a nicely polished black dial and applied hour markers with polished edges and lume filling.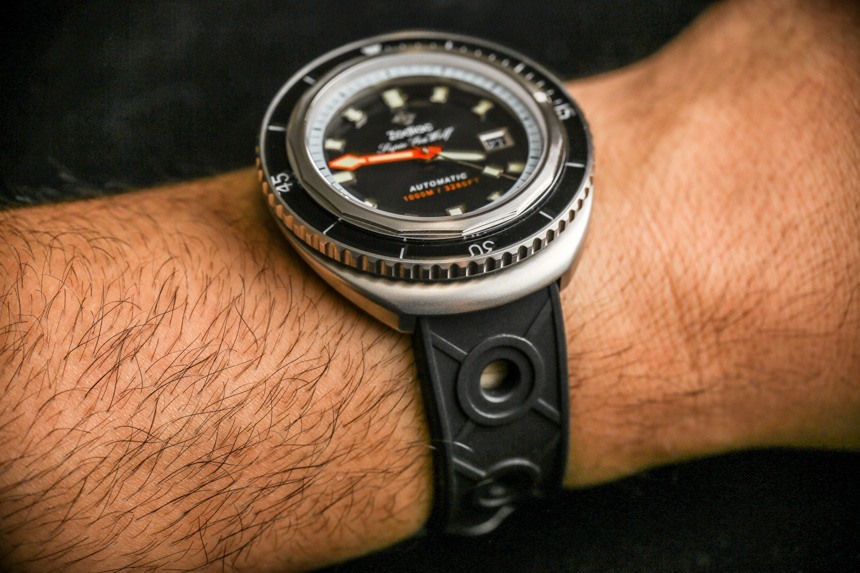 Being a serious dive watch, you also have the orange colored minute hand. I usually don't like orange minute hands on dive watches, but here I like the added color as I think it is done well given the overall composition of colors and finishes. Just take a look at all the various dial details so that you can appreciate the meticulous attention to getting it right that I feel Zodiac put into the dials of the Zodiac Super Sea Wolf 68 collection watches. You might not like the designs, but I hope that everyone can appreciate the detailing is very good – certainly stellar for the price.
Inside the Zodiac Super Sea Wolf 68 is Fossil Group's in-house-made STP1-11 automatic movement. This is the same mechanical movement that you'll find in most other current mechanical Zodiac Heritage watches. Swiss-Made, the movement is similar in performance and function to an ETA 2824 and has the time and date operating at 4Hz with about two days of power reserve. There is one limited edition version of the Zodiac Super Sea Wolf 68 that has a COSC Chronometer certified movement. I believe that watch (despite the added certification) uses the same movement.
On the wrist, the 50mm-long and 44mm-wide Zodiac Super Sea Wolf 68 case happens to look very sharp. I love how it appears when you look straight-on at the dial. I just feel that the colors, materials, and finishes go really well together. It does have the feel, in my opinion, of a higher-end watch. With that said, Zodiac is certainly in a position with their ownership by a mega group to offer the same level of watch as more expensive competitors at a lower price.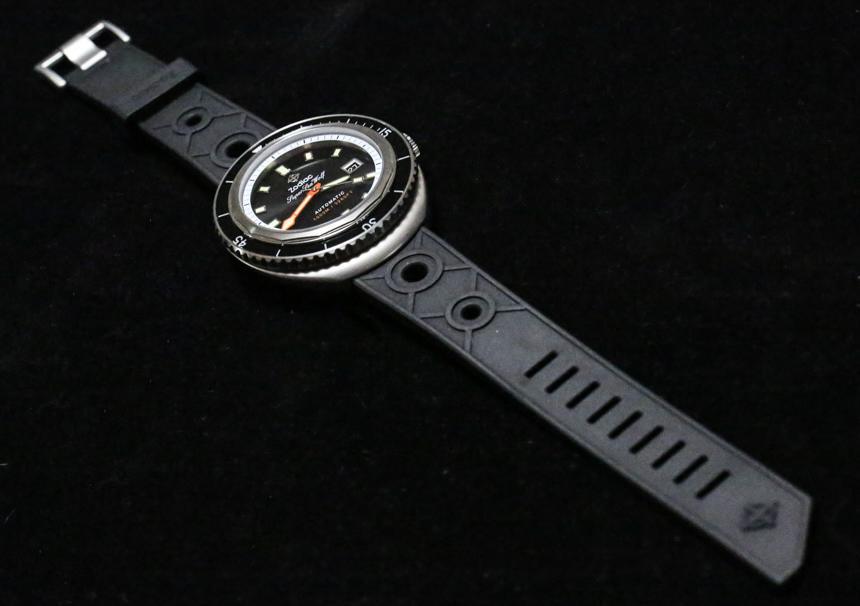 Attached to the reference ZO9501 version of the Zodiac Super Sea Wolf 68 is a vanilla-scented rubber strap with portholes. It looks like a combination between some of Breitling's and Isofrane's rubber straps. It wears comfortably and has a lot of grip, meaning that it doesn't slip around on the wrist. In addition to this black rubber strap option are other versions of the Zodiac Super Sea Wolf 68 that come on a mesh metal "Milanese" strap which is really nice. Zodiac designed their own that includes some links to size it properly, as well as a diver's extension in the folding deployant clasp. While I do think that the strap is a more functional choice for the Zodiac Super Sea Wolf 68, the Milanese bracelet is a cool looking option from a fashionable perspective. It also happens to be rather comfy in the scheme of Milanese bracelets.
Those looking for a very specific type of vintage-style dive watch with this type of tonneau-style case at a reasonable price will really love the Zodiac Super Sea Wolf 68 dive watch collection. Those who have never tried out a case design like this might also be pleasantly surprised. I will, however, note that this is very much a sports watch, so I wouldn't try to get away with wearing a Zodiac Super Sea Wolf 68 while donning a suit like you could the standard Zodiac Sea Wolf.
Yet another great value and good watch from the Zodiac Heritage collection, the Zodiac Super Sea Wolf 68 on a strap (like this ZO9501 with the black dial) is priced at $1,395, and on the bracelet with the blue dial (ref. ZO9502) is $1,595. The limited edition of 82 pieces ZO9500 COSC Chronometer has a slightly unique black dial and comes with both the rubber strap and mesh metal bracelet for $1,995. zodiacwatches.com
Necessary Data
>Brand: Zodiac
>Model: Super Sea Wolf 68
>Price: $1,195
>Size: 44mm
>Would reviewer personally wear it: Yes.
>Friend we'd recommend it to first: Lovers of tonneau-style case dive watches looking for a great value and look with a vintage spirit.
>Best characteristic of watch: Superlative fit and finishing among similarly-priced watches. Unique flavor with familiar feel for modern dive watches. Slimmer wearing profile.
>Worst characteristic of watch: Satin-finished buckle feels a bit bland. Inner screw-down bezel lacks perfect symmetrical alignment which might irritate some people.
Zodiac Super Sea Wolf 68 Watch Review