Key Features: Intel Z170 chipset; Intel LGA 1151 socket; SupremeFX 2015 audio with Realtek ALC 1150 codec; EPU power saving features; TPU auto overclocking chip; USB 3.1 with Type-C; Three PCIe x16 slots; 1 x M.2 SSD slotManufacturer: Asus
What is the Asus Maximus VIII Hero?
The Maximus VIII Hero is Asus' top-of-the-range gaming motherboard based on Intel's Z170 chipset. Ideal for partnering with one of Intel's high-end Skylake K CPUs, it packs in plenty of overclocking potential and extra features, without costing the earth.
Priced at around £170, it's at the upper end of the Z170 motherboard spectrum. However, considering most are priced between £100 and £180, it's not a huge stretch to go from a mid-range board to a higher end one such the Maximus VIII Hero.
This board lacks any single killer feature to set it apart, instead relying on each of its components being a step up from more entry-level models. Overall this leads to better overclocking, power management, fan control, audio, storage options and more. The result is a board that should be ideal for those looking to build a quality gaming rig with which they'll do regular tinkering and upgrading, but that won't be pushed to the absolute overclocking limits.
Asus Maximus VIII Hero – Design and Features
The Maximus VIII Hero is a great-looking board. Asus has opted to go low-key, with the predominantly black and grey theme accented by only a hint of red.
In addition, the black PCB has an attractive matte finish, the components all feeling of a certain quality and the reinforcing plates on the back giving the board reassuring solidity.
The only letdown is the large plastic shroud that covers the power circuitry and IO ports. This is now a common occurrence on the latest high-end boards, since it covers up the shiny tops of the IO ports. However, it doesn't serve any practical purpose and in my opinion it isn't entirely successful as an aesthetic addition – although it certainly beats the bright-white equivalent on the Asus Z170-A.
Otherwise, the Maximus VIII Hero ticks all the boxes thanks to near-flawless layout. Just about every header, connection and other physical feature has been placed round the edge of the motherboard and so is accessible even when the system is loaded up.
Power, reset and CMOS clear buttons run along the bottom edge, alongside the front-panel and USB headers. Personally, I prefer the placement of the power and reset buttons to be in the top-right corner, since they're less likely to be blocked by expansion cards.
Along the right side are the six SATA and two SATA Express storage connections, all of which are right-angled and so face towards where your drives are likely to sit.
Also in this region is the M.2 SSD slot, which sits below the south bridge. This spot is more likely to be accessible than in-between the two x16 PCI-E slots, where many motherboard manufacturers put it, although if you're using two large graphics cards then the second one will probably still be in the way.
A second M.2 slot would have been a nice addition, as you get on the MSI Z170-Gaming 7, but with SSD capacities getting so large now, it's certainly far from a necessity.
The area around the CPU socket has been kept clear, so cooler installation is fairly easy. Also, all the fan headers are easy to access: there are a couple in-between the graphics card and CPU, and three four-pin headers in a row along the top edge (one of which is allocated for use with a water-pump). It's a really intuitive and tidy way to manage all the cooling requirements for the top half of your case.
Some of the more standard – but no less welcome – features are the easy-access release clips on the trio of x16 PCI Express slots. These make removing your graphics cards much easier than the small sprung versions found on some boards.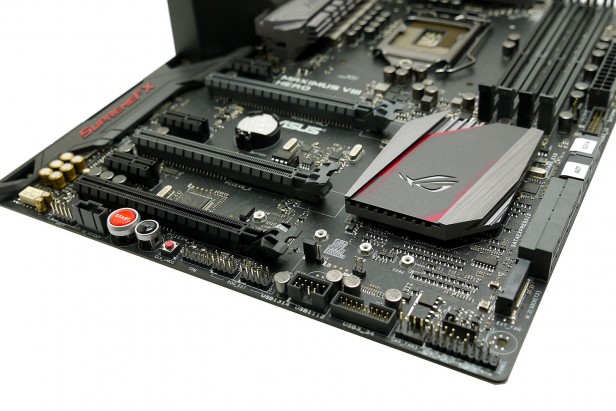 Likewise, the Q-DIMM RAM slots have a clip only on one side, which means you won't have a situation where your graphics card gets in the way of opening the set of clips next to it.
Included in the box is a front-panel header go-between that can be used to keep all your case's header cables together, allowing them to be attached and removed from the motherboard in one go. There's also a CPU installation tool to help prevent damage to the delicate mounting pins, an SLI connector, six SATA cables and a black rear I/O cover.
Speaking of rear I/O, this motherboard has a decent selection of ports, although it's nothing out of the ordinary. You get four USB 2.0, two USB 3.0 and two USB 3.1 ports, with one of the latter being of the new Type-C style. There are also headers for four more USB 2.0 and four more USB 3.0 ports.
Joining the above is a PS2 port for connecting legacy devices such as old keyboards and mice, a BIOS flashing button, HDMI and DisplayPort connections for the onboard graphics of the Intel processors, a gigabit Ethernet port and six audio ports.
Asus is proud of the audio solution on this board – and with good reason. It's based around the quality Realtek ALC 1150 codec and then Asus adds an ESS ES9023P DAC, a Texas Instruments R4580 headphone amplifier, an NEC UD2-4 5NU de-pop relay, Nichicon audio capacitors and a dedicated clock. That should all add up to a cleaner, more detailed and generally more pleasing sound than more basic offerings.
This board's one nod to the more gimmicky side of high-end motherboards is an embedded RGB LED in the south bridge heatsink. It lets you add coloured light to your system and is controlled via the included software. It's a fun little addition.
On a more practical note, you have Asus' two performance-enhancing processors: the TPU and EPU. The former is a dedicated chip that essentially provides an auto-overclocking function that's literally a one-click operation. Similarly, the EPU deals with power consumption analysis and aims to provide power savings where it can.
Asus Maximus VIII Hero review