Each of us understands the notion of "comfortable gaming" in a different manner. Some value sitting in an adjustable gaming armchair, others prefer collapsing on the sofa with some occasional gaming, shooting and napping before taking up a battle again. Others are even fine with playing while sitting on the floor. If you're the type of gamer who is lazy and values comfort, then this review will be most useful to you.
You can't do without some useful gadgets if you want some calm and remote gaming. The mouse is the most important thing, of course. Having a well-adjusted device which fits your hand nicely and doesn't have any slip-ups is a key to success. Obviously, the mouse should be wireless, otherwise remote gaming will become hell. I've already explained how to pick such a product, I recommend you turn to the best wireless gaming mouse review.
As for today, we'll focus on a device which is as important as the mouse – a wireless keyboard. Today, for this review, I've chosen three excellent models from $34 to $70. Once you pick any of them, you'll understand that you can reach the stars of the gaming world.
I do have to point out, though, that wireless is not perfect in terms of giving its best performance. There's a slight delight, the battery gets low on charge, the signal may conflict with other devices you have. That's why if you opt for pinpoint accuracy and smooth operation of the keyboard, you'd better turn to our Best Mechanical Gaming Keyboards 2015 review.
If your priority is having a good rest after school or work and playing a couple of fights or screw up the game play in Dota while sitting on the couch, then keep on reading and be inspired by my advice.
Ivation Wireless Letter Illuminated Large Print Full Size Multimedia Computer Keyboard
If I had to describe this keyboard with one sentence, I'd say that this is a good choice for beginners. Wireless operation is carried out at the expense of the transmitter operating at 2.4GHz – the standard frequency for such devices. It is this "standard" that can cause problems, such as device conflict. The manufacturers aim to take this into account, they designed their own codes and use their own channels, but the issues nevertheless occur – especially if you've decided to buy 2 identical keyboards at the same time for you and, say, your girlfriend. Trouble is inevitable, in that case, so bear this peculiarity in mind.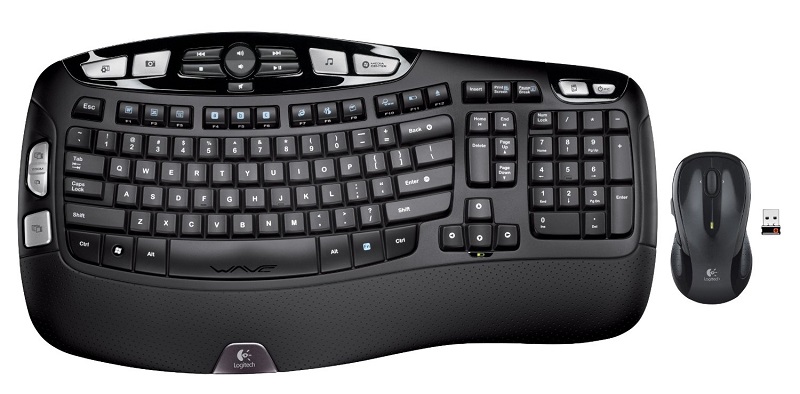 The exterior of Ivation Large Print Keyboard is undistinguished. The layout is standard; the keys are covered with rubber which leaves a nice feeling after touching them. Don't expect abundant backlighting as the gadget only functions with a single blue illumination.
There is a nice perk for environment fans, though. The standard setting for turning off the backlighting is 30 seconds idle. In order to turn it back on you can hover your hand over the gadget or press a random key. Ctrl+F12 combination sets the backlighting to constant mode. You won't have to spend money on batteries either as the keyboard has its own battery and can be charged via USB.
The icons on the keys look unfamiliar because the manufacturer chose to stretch each of the icons over the whole key. This looks unusual as the icons are enormous, but many might like this.
Making a conclusion I should say that this keyboard is very cheap – both figurally and literally. The cut-rate price (~$34) is the reason behind the level of quality of the used materials which leave much to be desired. This is a good starter kit, but you won't be using it for long.
Its pros are:
Low price + Large icons + Low energy consumption
Its con is:
Logitech Wireless Wave Combo Mk550
This keyboard represents the same price segment as the previous model: it costs about ~$46. But this product seems much more interesting to me due to many reasons.
The first reason is the manufacturer. Logitech is known not only for the high-quality assembly of its gadgets but also for an outstanding design. Everything is done as if the company manufactured it for itself, the devices are thoroughly thought over.
First of all, this is a combo-set rather than a mere keyboard. This is really convenient as the devices are guaranteed to not conflict with each other: the manufacturer took care of this, and so it would be a great idea to offer this as a gift to a beginner gamer. Let's take a closer look at the devices, there are many wonderful things there too.
We might as well begin with the mouse, which is practical, comfortable and wireless. There's not much more to say about it, as I've noticed nothing remarkable. It fits the hand well, you can grip it with both with your fingers and your palm, the fans of "nail gripping" won't be comfortable though. The working distance is the same as that of the keyboard – it is up to 10 meters. Now that everything about the mouse is clear let's turn to the keyboard.
Its shape is the first thing that catches the eye. The taste of the engineers is rather… peculiar. The waves are aimed at perfecting the ergonomics. The break in the center and bent edges may not be the latest trend in keyboard design, but according to Amazon customers' reviews, many like it. The hands and wrists don't get tired of this position even during lengthy night raids. The extended panel near the space bar for your wrists is covered with rubber, much like that on the sides of the mouse.
Another benefit of Logitech Wireless Wave Combo is the nice sensation you get when you feel that both the keyboard and the mouse are made of identical materials. The large multimedia panel and the highlighting of standard functions will be more useful for regular usage of your PC as they are not really needed when gaming.
128-bit encryption also comes in handy as it will serve as protection from different kinds of scamming malware. This set is great for its price. You also won't have to spend much on the batteries, as the manufacturer guarantees that the working time of the built-in keyboard and mouse battery is up to 3 and 2 years respectively.
Its pros are:
Combo-set + Ergonomics + Low price ($46) Check the current price
Its con is:
Mad Catz S.T.R.I.K.E.M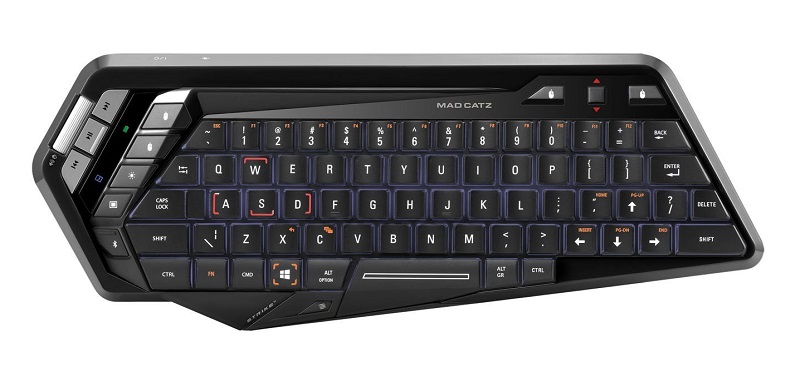 Now this is a very unusual and cool thing. It's even hard to call it a gaming keyboard – it is more of a multi-purpose panel. Let's start from the very beginning so that we don't confuse anything.
The first remarkable thing about this is Mad Catz STRIKEM size. It takes up 40% less space than a regular gaming keyboard. This would be essential if there's not much space on your table or if you don't want to carry around a large device when moving around your room. The second remarkable thing is its versatility. You'll be able to connect this wonderful device to anything in your house that supports Bluetooth 3.0.
Since this keyboard can be used not only for gaming, but also for surfing the web anywhere, it can serve as a mouse. There are two sets of keys which function as a regular left and right button, and there is a sensor panel for moving around the cursor. These features cannot be used when gaming… Well, actually, they could be, but it's really inconvenient.
Due to urge to save space some keys (specifically the tab and backspace) are annoyingly shrunk, and the space bar takes up too much space: it starts right where I'm used to placing my left wrist. That's my opinion though. The manufacturers made sure that this model could be easily transported, and it is supplied with the brand case. There's a certain choice of colour as the model is available in red, white and black, but its price is $70.
Its pros are:
Versatility + Conciseness
Its con is:
The best wireless gaming keyboards in 2015