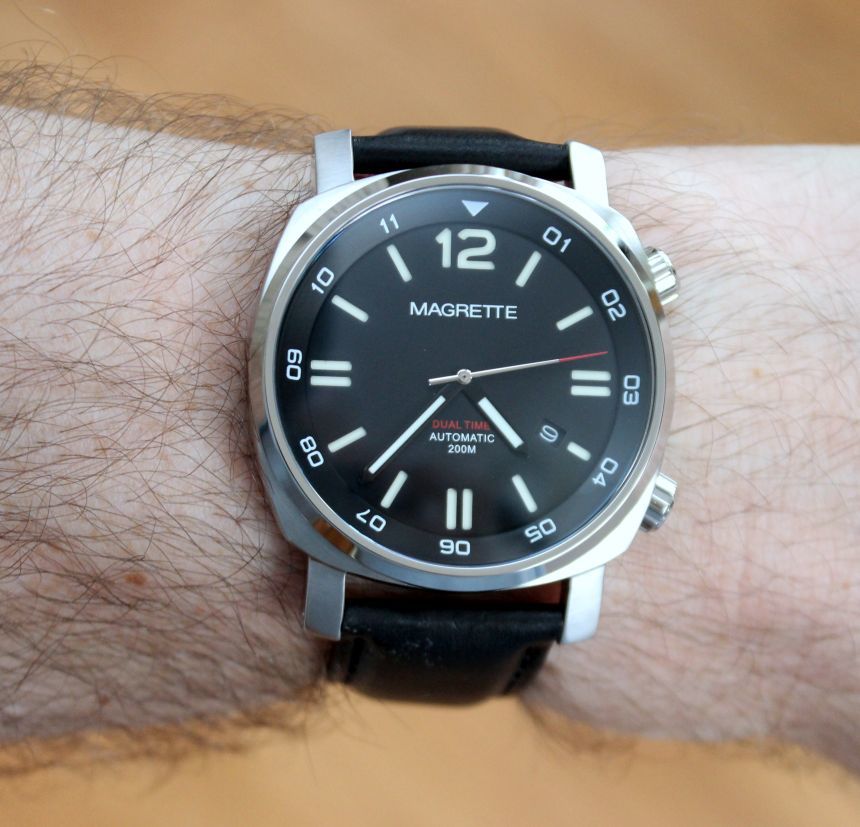 When it comes to watches that track more than one timezone, you have a variety of options. Most commonly, this will take the form of a GMT hand, and those looking for more complexity in their movements may opt for one of the varieties of world timers that are available. If you want something a bit simpler (say, you are only out of your home timezone a few times per year), then there is indeed a much simpler option available – a bezel that denotes the secondary time zone. While this many times shows up on GMT watches as a way of tracking the second (or even a third) time zone, they can work quite well with the humble three-hander, and that is precisely what we have in the Magrette Dual Time.
Before we get into the review, I want to share a little personal back story for this watch. Or, more precisely, the predecessor of this watch. For, you see, back before I was writing about watches, I simply admired most from afar, and had a few to my name. Then, there was that special day when a small pine box arrived from New Zealand, containing my very first automatic watch – the Magrette Regattare 2011. Even to this day, the 2011 holds a special place for me, in large part due to how much I wore it (and still do). When the Magrette Dual Time was announced, I could not help but see it as, if not a brother, at least a cousin to the 2011.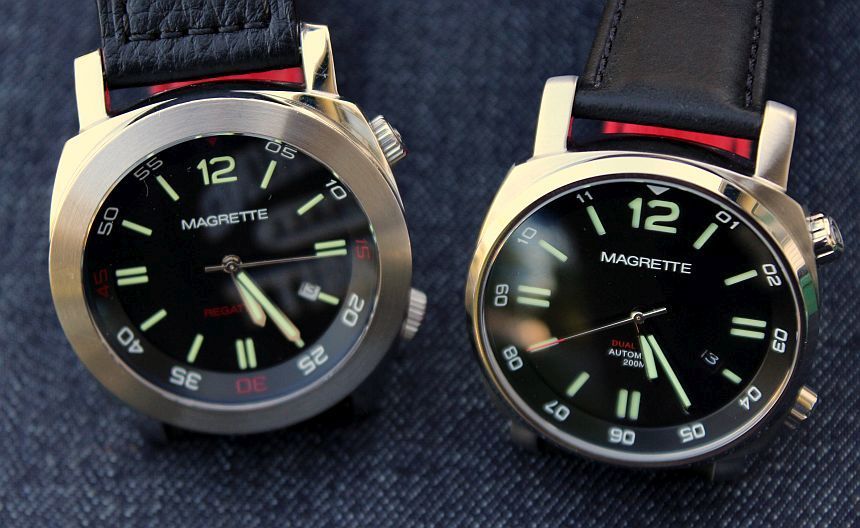 As you can see, there are more than a few similarities between the two watches. The biggest change to the Magrette Dual Time is its smaller size. It comes in a more compact 42mm diameter (compared with the 44mm Magrette Regattare 2011), and measures in at only 12mm thick (almost 15mm for the 2011). As you might imagine, this smaller case size translates to a lighter watch; the Magrette Dual Time comes in at 94g (2011: 130g) on a leather strap. Speaking of that 22mm strap – let's take a moment to note that Magrette has brought back its classic (I'd say it was a signature of the brand for a while) black strap with a red backing.
This is something that I really enjoy with my 2011, and was rather pleased to see it come back on the Magrette Dual Time, as some intervening models (even those with black straps) did not offer the contrast lining. It's a small detail, and one that the only owner will really know about, but it makes a big difference. There is also an all-new "signature" buckle that has a bit of an Art Deco feel for me (though I will admit to preferring the original signed thumbnail the brand offered on the 2011).
As the case is more compact on the Magrette Dual Time, this means some changes were needed to the alternating finishes applied to the case. They are still there, but we now have the bezel being fully polished, and what little you have of the flat top of the cushion case is then brushed, as are the sides and the lugs, with the dual crowns giving us a bit more of a polished flash. Since I brought those up, let's talk about the crowns a bit. Both are of a screw-down variety, and the lower one (at 4 o'clock) is what is used to manually wind the Miyota 9015 movement (if needed) as well as for setting the time and date (note the color-matched date wheel, an improvement over the 2011). What of the upper crown? That, dear reader, is how you set the second time zone.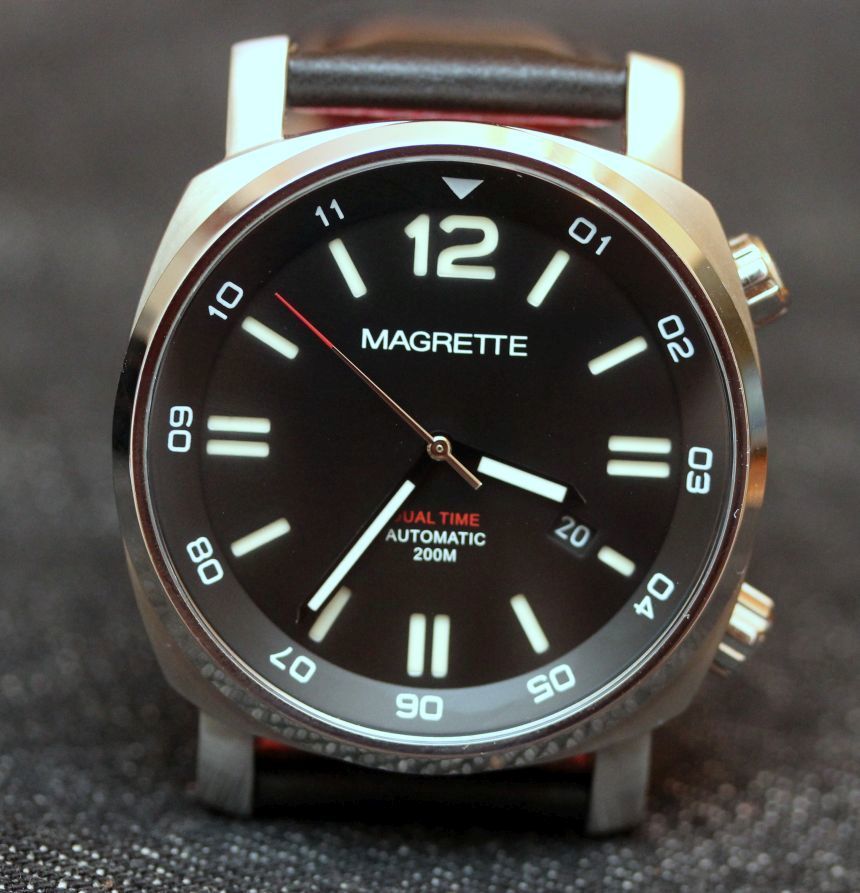 This crown interacts with the inner bezel that takes the place of a rehaut or chapter ring on the Magrette Dual Time. When it comes to something like setting a second time zone, this sort of implementation makes sense, as you cannot accidentally bump things out of alignment. Once you rotate the bezel around (there are no clicks, so you can it it for 1/2 hour offsets if needed), you screw down the crown and things are locked into place. What I like the most about how Magrette has used the internal bezel is that it reduces the bulk (both visual and actual) on the top side of the watch, while giving a good transition from the case bezel to the dial.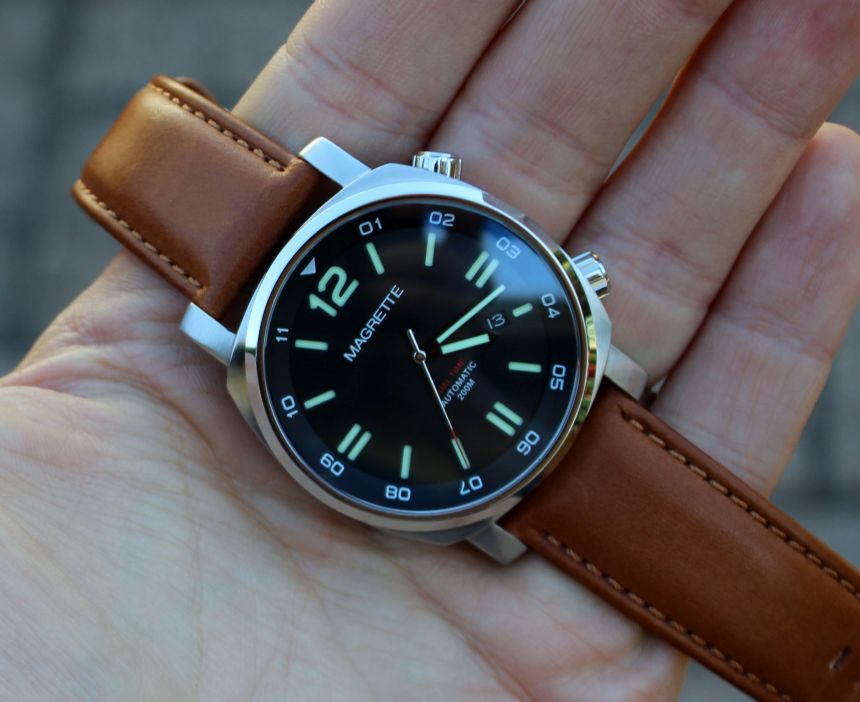 The dial on the Magrette Dual Time is where we see some changes as well. The basic layout is unchanged, as are the shape of the stick indices and the font used for the 12. What is new here on the Magrette Dual Time is that the dial is of a sandwich variety, rather than having things printed onto the dial. While this gives some welcome dimensionality to the dial itself, it also means that plenty of SuperLuminova (either C3 or Vintage Radium) can be applied on the lower layer, ensuring a nice, bright glow in the dark. The handset features the same lume, and has a polished PVD finish that allows the hands to blend in to the dial, with readability kept up via the painted-on lume.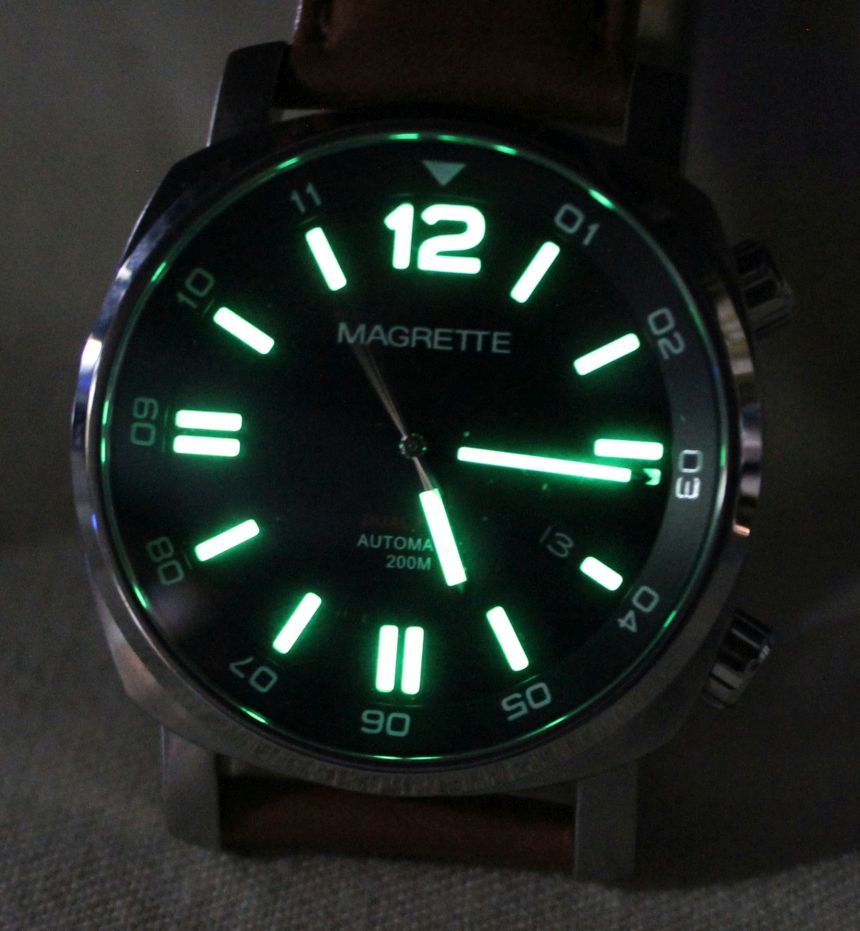 As should be no surprise to anyone who's read this far, wearing the Magrette Dual Time in day-to-day scenarios was enjoyable. I appreciate the more compact case and reduced weight immensely, and found that I had no issues telling the time, day or night. I would not mind seeing the lume strip on the hour hand a touch longer, but the hands themselves are appropriately sized to the dial (it's just tougher to see those edges with the color blending to the dial itself). It is worth noting that, when you view the watch in the dark, things are spot on in terms of sizing, with no issues telling the hands apart. Along with the ease of wearability, the Magrette Dual Time is a flexible watch in terms of pairings. On the included black leather strap, it can be a somewhat dressier piece; pair it to a brown strap, and it works just as well with your khakis and jeans. So, as with the Regattare 2011, I feel that the Magrette Dual Time is really a solid every-day sort of watch, and can go from jeans to a suit without an issue.
I do want to call out that, for all my comparisons between the Magrette Dual Time and Regattare 2011 (see below for a full chart), it looks like we will be seeing the a reissue of the 2011 in this new, more compact case, sometime next year. So, if you find yourself liking this new style, but more in the mood for an elapsed time on your bezel (rather than dual time zones), then you will want to keep an eye out for the new Magrette Regattare 2011. It is expected to be available early next year, with pre-orders going on now.
That's the future, though, and for now, it's the Magrette Dual Time that is available. If you want to pick up the same black dial in a stainless case that we reviewed, you'll need to bring $575 to the table (plus another $35 for international shipping). If you instead find yourself preferring some of the more colorful dials Magrette has had on other models, you can opt for either a brown or a green dial Magrette Dual Time (both of which are set in a PVD case) for a price of $605 plus shipping. There is a fourth model in the mix, a white dial in the steel case, but that is currently out of stock. Whatever the color combination, I would have no hesitation recommending the Magrette Dual Time. Along with my own personal watch, I have had a number of their watches cross my desk, and they have all been solidly built, offering a great combination of style, function, and value. In my opinion, this new cushion case is a great step for the brand, and gives a great option for those who like the style of case but had been holding out for something more compact. magrette.com
Necessary Data
>Brand: Magrette
>Model: Dual Time
>Price: $575 – 605
>Would reviewer personally wear it: Yes. While it would not dethrone the 2011 (given its sentimentality), this is a great watch to wear regularly.
>Friend we'd recommend it to first: You missed out on the 2011 when it was first offered, and find yourself preferring a second time zone to elapsed time.
>Worst characteristic of watch: This is grasping at straws, but I'd point to the buckle. It is just a bit too large.
>Best characteristic of watch: How compact it manages to be, while still retaining that cushion case Magrette heritage.
Magrette Dual Time Watch Review