CyberLink PowerDirector 14 Ultimate Review
Pricing and Installation
You can try out the software with a 30-day downloadable trial version that adds brand watermarks. Editions range from the limited $69.99 Deluxe to the Director Suite 3 bundle ($249.99) which bundles audio, color, and photo software as well as NewBlue Video Essential 7 effects. You can now also buy this as a subscription for $49.99 for three months or $99.99 per year. I tested the $129.99 Ultimate edition.
Installing the program takes up nearly a gigabyte of your hard drive, so be sure to use a machine with room to spare. And have some time, too: It took about 12 minutes to install the program on my 3.4GHz quad-core PC with 8GB RAM and an Nvidia Quadra 2000 graphics adapter, running Windows 10. The installer no longer tries to add extra unrelated apps alongside the video editor, which makes me happy.
Interface
Cyberlink continues to modernize the user interface. This time it's even simpler, though it's not quite as unintimidating as that of Adobe Premiere Elements. PowerDirector maintains the traditional source and preview split panels on the top, with your track timeline along the whole width of the bottom of the screen. The storyboard view in this new version finally gets some functionality instead of just being clip thumbnails you can drag around. You can now drag transitions between clips, apply effects, and add audio clips without switching to timeline view. I also like the new buttons at the top for showing just video, just photos, or just audio in the source panel.
Four mode choices line up at the top: Capture, Edit, Produce, and Create Disc. The timeline is easy to customize and navigate, with a button for adding tracks. You're allowed up to 100! Sony Movie Studio£38.89 at Amazon limits you to 20, which is already probably more than most people need. By default, you get three pairs of video and audio tracks, as well as effects, title, voice, and music tracks. You can lock, disable/enable view, or rename tracks from the left track-info area, and you can even use drag and drop to move them up and down on the timeline. Zooming the timeline in and out is also a snap, either with Ctrl-Mouse wheel or a slider control.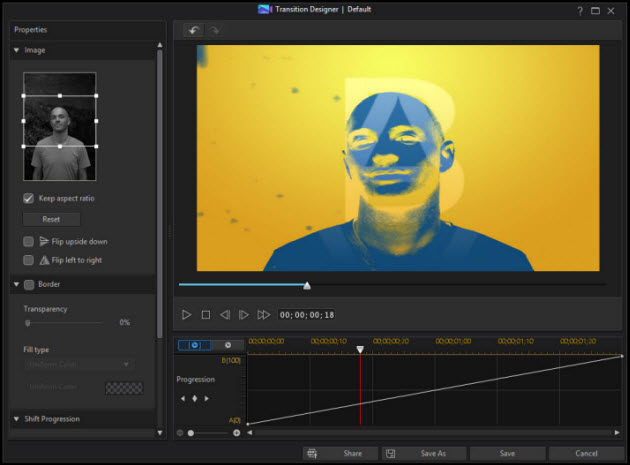 Basic Video Editing
PowerDirector makes it easy to fix lighting and color and to stabilize your video. The stabilization tool gives you the ability to fix rotational camera shake. There's also an enhanced-stabilization mode, which taxes your PC more. I am disappointed that the effect doesn't let you know when it's done, and preview playback occasionally halted, but the final result was excellent. The tool also lets you adjust the crop factor that stabilization introduces.
The trim tool allows precise control (down to the individual frame) with two sliders, and the multi-trim tool lets you mark several In and Out points on your clip—a useful tool for cutting out the chaff.
You use PowerDirector's unique and intuitive selection cursor to split video and delete sections. Fix/Enhance options also include video denoise, audio denoise, and enhancements to punch up color and sharpness. You can independently adjust the brightness, contrast, hue, saturation, sharpness, and white balance.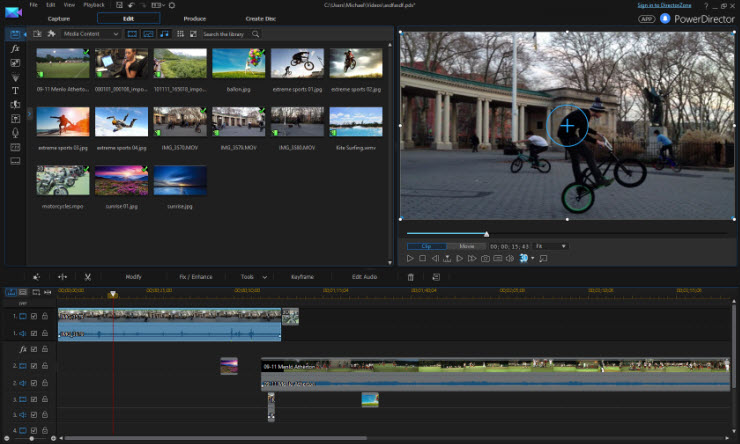 Assisted Movie Making
One of the best things to come to home video editors in recent years was pioneered by Apple with the Trailers feature of the Mac's included iMovie app. Adobe recently added a similar tool, Premiere Elements's Video Story feature. With either of these, you fill templates in with video and photo content that meets the needs of a spot in the production, such as Group shot, close-up, or Action shot. These are elaborated with transitions and background music that match your chosen theme. PowerDirector 14 adds a similar tool, Express Project, which you can enter directly from the program startup panel.
Express Project joins another similar tool, the Magic Movie Wizard, which takes you through five steps: importing source content, adjusting that content, previewing, and producing. You get four Styles to choose from, including Memory Field, Original, Fast Motion, and Slow Motion, but you can download 22 more from DirectorZone.com, Cyberlink's Web resource site. Unlike the iMovie tool, PowerDirector requires you to add your own background music—there are no canned scores in the wizard or for Express Projects.
There are five Express Projects available for download, including Action, Extreme, Round the World, Adventure, Anniversary, and Love. An Express Project only requires two steps: Dragging an Opening, Middle, and Ending onto the timeline, and filling the resulting clip tracks with your media. It's nowhere near as intuitive or clear as Apple iTunes' Trailers feature or Adobe Premiere Elements' Video Story feature. But it does offer guidance in crafting a digital movie, it is actually more customizable, and the results look pretty cool.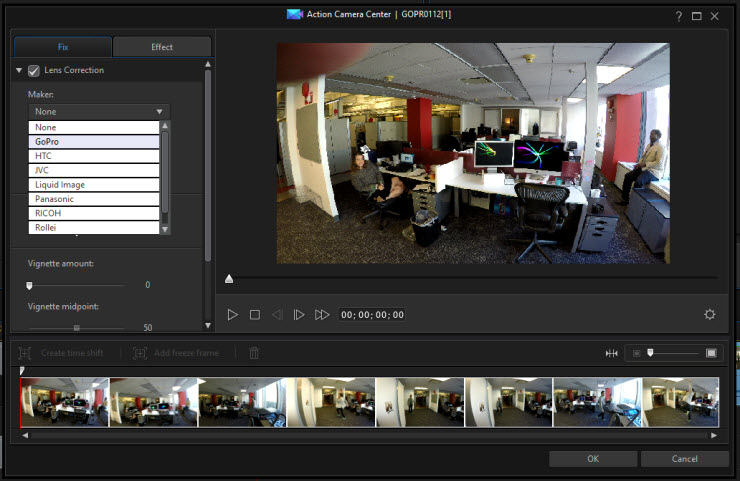 Action Camera Tools
PowerDirector can of course import and edit footage from GoPro cameras as well as from other action cameras from the likes of Sony, Kodak, and Ion. But new for version 14 is a dedicated Action Camera Center under the Tools menu item that appears when you select a clip. This offers things like camera-profile-based corrections for fisheye distortion, vignette, camera shake, and color. It also includes effects favored by action cam users, such as freeze-frame and time-shifts like slowdowns, speedups, and replays.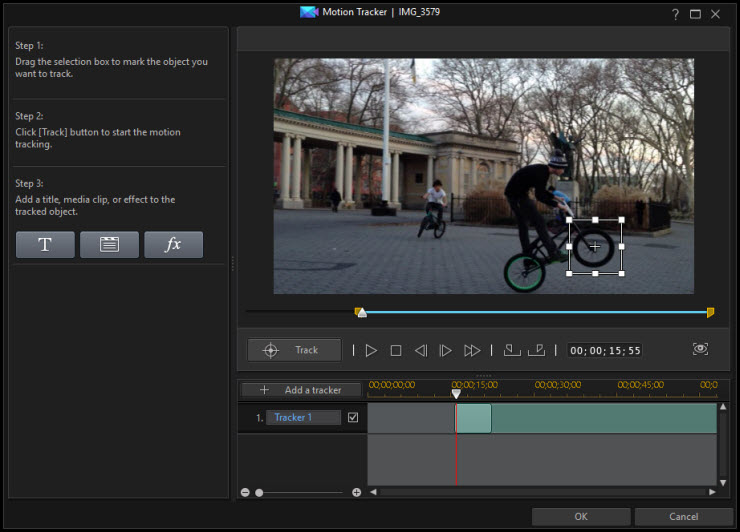 Action Camera in PowerDirector
The fisheye fix has an advantage over GoPro's own video editor in that it cuts off less of the edge of the screen, and in my test shot it distorted faces less than the GoPro software. Stabilization isn't an option in the stock GoPro software, and CyberLink now offers enhanced stabilization and the ability to fix camera rotation for a smoother look. But keep in mind that this can take a while. In testing, a 1080i GoPro clip that that 2 minutes 48 seconds long took over 20 minutes to produce with enhanced stabilization enabled. An option to shut down the computer when processing is done is a plus for large projects. I found a quirk in the hardware acceleration for Nvidia graphics cards, where you have to downgrade the driver version for hardware acceleration to work. This cut the producing time down slightly.
The enhanced stabilization did a nice job of smoothing out bumpy shots, but I still occasionally saw some warping—a common artifact of stabilization technology.
The Effect tab of Action Camera Center is where you find the highly in-demand Replay, Speed, and Freeze Frame tools. The first offers buttons for replay and reverse, and speed effects. You choose how long a piece of the clip the effect should be applied to, and from check boxes you can choose Ease in and Ease out options. The tool lets you easily create fun effects that are prized by skateboarders, surfers, and other fun lovers.
Another tangentially action-cam related new capability is the ability to import and edit clips shot at a high frame rate, like the 120fps and 240fps. I imported a sample of the latter from an iPhone 6, and when I dragged it into my timeline, I got a warning box telling me the framerate differed from that of my project, but Settings only offered a maximum of 60fps for a project. A CyberLink contact informed me that the limit only applied to the timeline view, and assured me that 240fps content is preserved at output time. Adding a slo-mo effect to my test clip turned a hand clap into a terrifying bass thump. Unfortunately, I did manage to crash PowerDirector while working with this demanding content type.
Motion Tracking
Competing video consumer video editing packages like and Adobe Premiere Elements have offered motion tracking for a couple years. This technique lets an object, text, or effect follow around something moving in your video. You pick the Motion Tracker choice from the same Tools menu as the Action Camera, after selecting a clip in the timeline. The tool makes tracking an object and adding a title, effect, or even another media clip a simple three-step process. You start by positioning a target box on the object you want tracked, then press the Track button, which runs through the video while following your boxed object. And then you choose what you want to follow the tracked object.
Unfortunately, the tracker lost track of my subject's face when he turned around, but this is a common limitation in such tools. I fixed this pretty easily by stopping the tracking, realigning the box, and starting tracking again. It's easier to get a track correct than in Corel VideoStudio$79.99 at Dell, but that program does a better job of following objects in difficult settings, for example if they passed behind a pole. Adobe Premiere Elements' motion tracking also lost track of a skateboarder in my test footage when he passed behind a pole.
Motion Track in PowerDirector
For attaching text to motion-tracked objects in PowerDirector, you get a good choice of many fonts, colors, and sizes, and you can rotate the text with a handle. One thing I'd like to be able to add, however, is a speech bubble, something offered by Adobe and Corel.
Content Aware Editing
PowerDirector can analyze your clip for people, zooming, panning, speech, motion, and shaky video. This enables you to select or reject areas of interest or boringness. Premiere Elements has a tool that lets you manually pick your favorite moments, but it's not automated like PowerDirector's. The Edit using Content Aware Editing right-click choice processes a clip, and then it shows a dialog with tracks for each of the detected events, such as Zoom, Pan, Faces, Speech, Shaky video, poor lighting, and more. Clicking on any of the detected clip segments lets you easily select or deselect that portion of the clip for use in your project.
Multicam Designer
With so many people shooting events simultaneously with their HD camera phones, multicam is no longer just for professionals. PowerDirector allows a up to 100 multicam tracks, but what this really means is that you can sync that many tracks by audio in the main timeline. The actual multicam-switching interface still just has four video sources.
For synchronization you get a choice of Audio Analysis (the best choice for amateurs), Manual, Timecodes, File Created Time, and Markers on Clips. When I used Audio Analysis, my two clips synced perfectly. The program lets you choose which track's audio should be used, or you can import a separate audio track. Hitting Record played all angles synchronized, letting me switch among them. The tool creates sub-clips labeled 1 to 4 for the camera angles, with adjustable split points.
When you're done cutting, the clip sequence appears on the regular timeline. Subclips are in separate tracks, but you can't adjust the cut points there without losing footage and messing up the synchronization. The multicam designer itself lets you adjust these. Thankfully, you can also reopen a multicam sequence in the designer after you've sent it to the timeline. In all, it's a well-done and powerful tool.
Near-Pro-level Video Editing
If you're into keyframe editing (which allows precise control over when effects begin and end based on exact frames you choose) PowerDirector is there for you. It offers picture-in-picture (PiP), overlays, motion, cropping, and time codes. All effects and adjustments can be pegged to keyframes. You get over 100 transitions and special effects to choose from, including ten from NewBlue. And now the app lets you install third-party effect plug-ins from Pixelan and ProDAD.
Transitions are easy to add, and the program can decide what material before and after to use when you drop this kind of effect to a join line between clips. A search box lets you find a specific type, like Page Curl. And you can even create custom transitions using your images with the Alpha set of transitions, which rely on masking and transparency. It's fun making a transition out of a friend's head, as shown below.
CyberLink PowerDirector Custom Transition
PowerDirector's chroma-key tool lets you shoot someone with a single-color background, usually green, and create the effect of him or her being in an exotic scene by choosing a different background. Controls for tolerance of saturation, luminance, and edge sharpness let you create more-precise masks, and even in the default mode I noticed none of the green halo I sometimes see around test subjects in other programs.
The program offers preset PiP grids—2 by 2 up to 10 by 10—and your clip tracks snap to fill the resulting spaces. The PiP Designer window makes creating PiP movies simpler than in any competing app. And none of the competition can preview these types of movies without stop-and-start jerky playback.
4K Editing
PowerDirector supports 4K video content. The software supports XAVC-S standard of 4K and HD videos used in Sony cameras and camcorders. This joins support for Canon 1DC, JVC HMQ-10, and GoPro Hero3 4K content.
In editing Go Pro 4K footage, performance is better than I'd expected, though adding some of the more complex transitions slows preview playback. Being first with 4K capability is a real feather in CyberLink's cap, but much of the competition, such as Corel VideoStudio, now supports 4K.
Editing 3D Video
Unlike Premiere Elements, PowerDirector can import, edit, display, and produce 3D video. It can even attempt to convert 2D content to 3D. It supports various 3D systems, including anaglyph (red/cyan glasses), 3D-ready HDTVs, and popular video and photo 3D formats. I downloaded several 3D samples, including high-definition content, and PowerDirector had no problem displaying it. Once you've got your 3D content in the program, you can add 3D transitions, particles and titles.
Audio
Audio tracks in the timeline by default show waveform lines, and you can turn up and down volume by grabbing and dragging them. The Audio Room, a simple track-volume mixer, features Normalize buttons for each track to even out clip sound levels. It's also easy to create voiceovers with the Voice-Over Recording Room, accessible from a tab sporting a microphone icon. CyberLink's WaveEditor is a separate included app that lets you correct distortion, equalize, generate reverb, and apply a few special effects. It also includes VST plug-in support for third-party effects.
PowerDVD 15 Review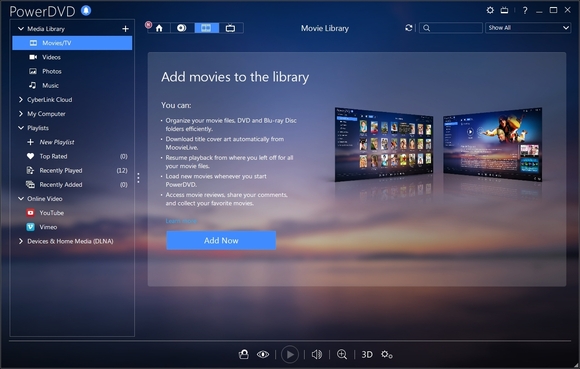 Chances are that if you purchased a computer with a Blu-ray drive, it shipped with a version of Cyberlink's PowerDVD. No free solution will play commercial Blu-ray discs, and vendors like to avoid user complaints when they can.
But PowerDVD also has another strength that will endear it to just about everyone—incredible-looking output. Cyberlink's TrueTheater effects bring old movies to life and make modern animated films, which generally look darn good to begin with, appear as if they were rendered at twice the resolution. It's not half-bad with mainstream movies either.
PowerDVD 15, released today, adds a small set of refinements and yet another trick to make video look better.
Interface and cataloging
PowerDVD is rendered in a riff on the Windows 8/Metro style, which works quite nicely with Windows 10, 8, and 7. It's easy to navigate the main window and major features, but options could be better organized and placed. While you're playing music, for instance, the EQ is readily available, but the effects are two dialogs deep. Also, because of the ultra-thin borders and dead-center alignment of stacked dialogs, it can be difficult to tell which elements belong to which. I clicked the wrong "close" button more than once.
On the other hand, Cyberlink has backed off on the automatic cataloging of files. In PowerDVD 14, this proceeded with reckless abandon, sometimes choking your system. PowerDVD also features a "cinema mode", aka a 10-foot interface; i.e., an interface that can be controlled with a remote control from a distance. To that end, Cyberlink provides both remote-control and playback apps for both Android and iOS.
The PowerDVD librarian is easy to use and offers a battery of cataloging features, but it's a quirky in spots. For instance, there's a main heading that says "playlists," but those are only for music files. As such, it should be under music. I'm being picky, but as I've already mentioned, there are other less-than-intuitively placed options, too.
Playback quality
PowerDVD 15 renders movies better than anything else available, and does so without the fuss other players require on the user's part, such as loading shaders (FX), tweaking contrast and saturation, and so on. The effect on older movies and animated movies is startling—and to be honest—addictive. There's even after-the-fact video stabilization for home movies.
Media Suite 13 Review

e PowerStarter launch menu where you click the media you want to deal with, or the action you want to perform, and you are taken to the place to carry out the task. The Media Library puts all shows and movies in the same place, even making sure that you continue watching your show where you left off. Photos are well-organized and you can use the face tagging technology to create groups of photos without having to look through them all.
Try Now
CyberLink has a number of useful tools for making disc burning simpler and your files easier to access. Power2Go 10 is an all-in-one solution for disc burning, providing a quick and simple solution – a drag and drop mechanism – for getting your data onto a disc. Advanced-level encryption keeps information safe once it has burned with encrypted file names.
Mount an ISO file on your PC so you can easily access the contents on demand – you are also able to grab files as if they were taken from a disc. InstantBurn 5 is another handy tool that allows you to use the optical burner as a hard drive. It operates in the background without the need for additional disc burning software. Organizational tools are good, too, with all the discs you burn automatically added to the Disc Manager so you can find files by running a quick search.
CyberLink Ultimate Review