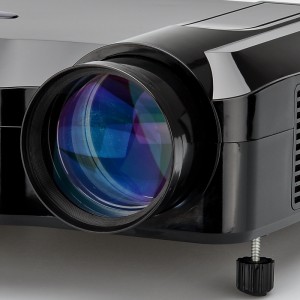 Which Kind Of Projector Should You Get?
There are two basic kinds of projectors: LCD and DLP. An LCD projector tends to be brighter and more capable in daylight settings. This is what you would mostly likely want in an office meeting or something similar.
If you're renting 1080p or better, an LCD will deliver spectacular image quality and are usually loaded with extra features that aren't on DLPs.
They're also the cheaper option.
LCDs also tend to have higher contrast, showing blacker blacks and whiter whites. One of the reasons that "home theater" LCDs have higher contrast is because the resting position of the liquid crystal is closed, meaning some measure of voltage is required to open it.
There are also fewer artifacts in LCD projectors, resulting in greater image stability. The sharper image comes from the pixel structure. Finally, LCDs are more efficient than DLPs and are more flexible when it comes to usage options.
The downside to LCDs is that the LCD panels can have a limited lifespan. As they age, LCD panels tend to degrade, resulting in diminished contrast and color quality.
Texas Instruments has done multiple tests on image degradation, showing that the lifespan of LCD displays is shorter than what most manufacturers are willing to admit. To add to this problem, LCD light engines aren't sealed and are susceptible to dust spots.
This isn't so much of a problem when viewing stills, but if you're showing full motion video, it may be very noticeable, especially when the dust is on the green channel.
DLPs don't suffer from the reliability issues that plague some LCD projectors. They produce a consistent color and have a lower total cost of ownership, even though they have a higher initial cost than LCDs.
The digital video performance is often superior to LCDs, and they are capable of displaying in full HD 1080p.
Unfortunately, not all DLPs are of the same quality. If you rent on the low end, you might not be all that impressed. Cheaper DLPs have a slower color wheel, and this may result in a "rainbow effect" – flashes of color that appear on screen, like rainbows.
Unlike LCDs, the light engine is sealed, so you won't get dust spots here. But, other components aren't, so dust can settle on the color wheel and affect image quality. Many DLPs have poor viewing angles, meaning you may have to be right in front of the projector in order to get an optimal viewing experience.
And, because most DLPs aren't compatible with zoom lenses, they're better suited to smaller environments.
A third type of projectorthat doesn't get much attention is the LED projector. This type of projector can be made into a DLP projector, but many are "liquid crystal on silicon" (LCoS). In these types of designs, the projector doesn't use a lamp. It uses LEDs.
Because of this, they tend to have a much longer life than traditional projectors, rated for 10,000 or 20,000 hours instead of the typical 1,000 or 5,000 hours.
The LED unit is designed to last the life of the projector without ever requiring servicing or replacement of the light source. It's a huge advantage over DLP and LCD because maintenance can be expensive. There's no warm up or cool down period because LEDs don't emit much heat and are very energy-efficient so they wont run up as much in electricity.
You should also consider connectivity as well as size and portability. There are many mini projector on the market these day that offer very compact designs and can even fit in your pocket. these may be suitable if you have to do a lot of traveling but generally lack the brightness of their bigger cousins.
Video Equipment at Your Fingertips: Top Pointers for Renting a Projector