What is an Elementor Page Builder? – A Brief Introduction
Elementor is one of the world's leading free WordPress page builder plugins launched in 2016. It provides limitless design options and advanced capabilities that haven't been seen on WordPress before.
It's regarded as an intuitive drag-and-drop editor. As you can simply drag and drop the available elements on your site. And, you can perform live editing to customize your pages visually. This means there's no requirement of entering a single line of code for customization.
You get an easy-to-use interface and powerful features to build your website quickly and easily. Using this plugin, your website will have a responsive and pixel-perfect design. 
Plus, the features are not just limited to website design. You'll also get to build a website that is fast and well-optimized.
Not to mention, Elementor has translated to over 50 different languages. And it also supports RTL (Right to Left) languages. Elementor is compatible with all popular WordPress themes.
To know more about the features of this plugin, let's jump into the next section of this Elementor review.
Major Features of Elementor
The free version of Elementor itself contains tons of features. And if you use the premium version, you'll get everything you may need for building a website.
Among them, we've made a list of most of its essential features. Let's go through them.
Pre-designed Templates and Blocks
The template library of Elementor consists of 300+ beautiful free and premium templates. They are carefully designed by professionals that suit every industry you can think of. So, you can easily insert and customize them to make your unique website.
Additionally, it also consists of pre-designed section templates (or blocks). So, you can also use the available blocks to build sections of your pages. Blocks consist of different categories such as testimonials, call to action buttons, about, and more.
Plus, you can save and reuse the templates on different pages. With a click, you're also able to export and import them on another website.
Elementor Have Multiple Widgets
There are 90+ free and premium widgets in Elementor. These widgets provide various design and layout options for you to use.
Apart from them, it also consists of widgets for marketing and WooCommerce purposes. Using them, you can create a complete online shopping experience on your eCommerce site.
Moreover, you're also able to easily customize them. This means you can use these widgets to create any kind of content you want on your site.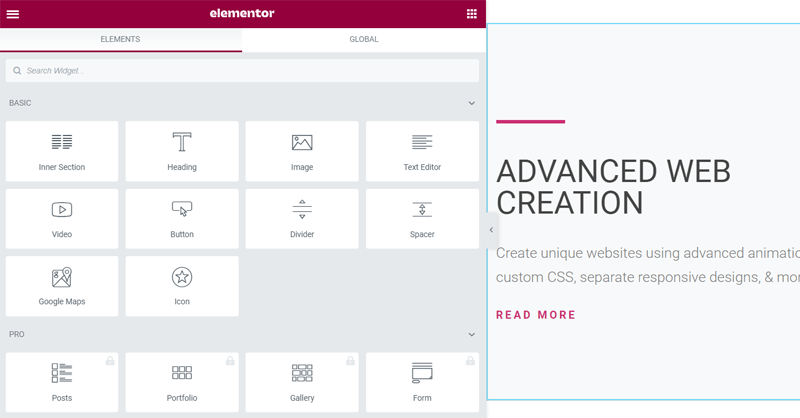 Elementor Theme Builder
To have full control over every aspect of your site in a single place, you can use the theme builder. It has the ability to build separate elements for different pages to the entire website as well. Moreover, you're also able to easily manage the website.
This also works well with the free Hello theme. It's a lightweight theme that provides optimal performance and blazing-fast speed. Plus, it consists of minimal styling yet provides maximum design features. Using the available pre-built templates, you can customize them to build your entire website. 
Furthermore, you can use your one layout design on multiple pages. Then you just need to simply customize and change the contents.
---
4.

 Popup Builder

Popup builder enables you to build pixel-perfect popups with advanced targeting options. With this drag-and-drop editor, you won't have to code but easily create custom popups. This will help your visitors to stay engaged on your site. 

Here, you can choose where you want to keep your popup. Plus, you're able to customize and show popups at an accurate time. So, you can also set the triggers for page load, scroll, click, etc. 

Furthermore, advanced settings also allow you to make your popups display as per different factors. Such as after a visitor views some pages, browses from a specific device, and more.
---
5.

 WooCommerce Builder

Elementor provides a platform to fully take control over your WooCommerce online store. Using this, you're able to design from a single product to archive page templates.

It also consists of every widget that you may need for building a product page. These widgets are well-optimized to provide a superfast shopping experience on your site.

Some of the amazing widgets are price table, price list, add to cart, categories, PayPal button, and more.
---
6.

 Easy Workflow

Elementor provides an easy workflow for its users. Some of the options enable you to carry out the activities in a simpler way. Such as there's a finder and a search bar to search the elements. You can also use hotkeys (or shortcut keys), redo and undo, autosave, and copy-paste options.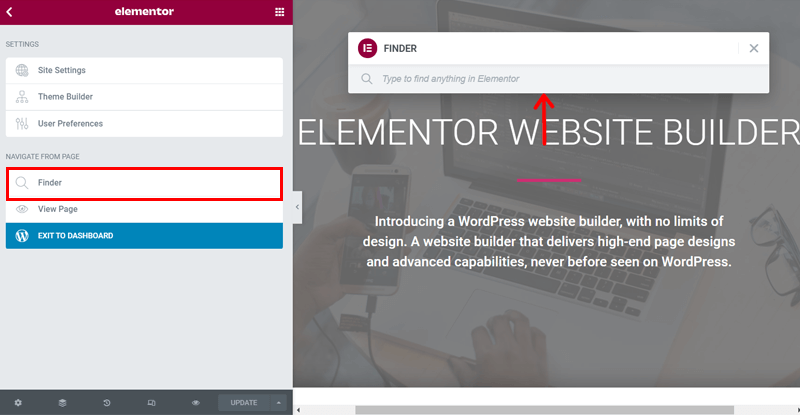 Apart from them, in-line editing also enables you to write your content easily from the front end. This makes creating a website a lot easier.
Plus, when using the global widget, you can also save your likable widget settings. This makes it easy to reuse the widgets on any page by simple drag-and-drop.
---
7.

 Design Options

There are tons of elements to stylize the designs of websites in Elementor. You can set global fonts, global colors, and global custom CSS. This allows you to save them once and apply them to any element or the entire website at once.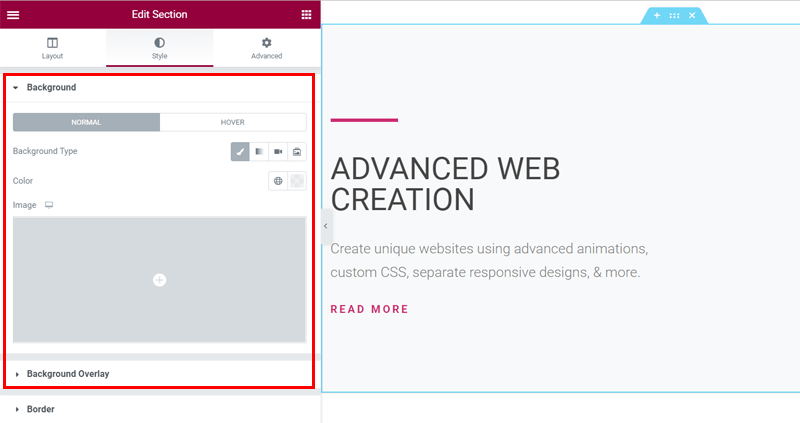 Additionally, there are various options to create beautiful backgrounds. It includes gradients, videos, overlay, slideshow, and more for background. You can also use a blend mode to mix backgrounds and background overlays for more attractive effects.
Apart from them, adding motion effects on different sections makes more user interaction with your site.
---
8.

 Flexible Forms

The premium version also consists of all the necessary form elements for a website. It includes contact forms, subscription forms, login forms, and more.

These forms can include custom messages and various field options. Such as advanced form fields (like file upload, date picker, etc.), hidden fields, and acceptance fields (for terms and conditions).

Plus, you can also decide what happens next after a visitor submits a form. You're able to send a confirmation email to your visitors after they submit a form. For that, there are options to create plain email text or use HTML styling for emails.
---
9.

 Easy Integration

Elementor provides easy integration to various other plugins and marketing platforms. Some of them include the support of email autoresponders. Such as Mailchimp, ActiveCampaign, GetResponse, ConvertKit, and more. Using them, you can get your visitors added to your subscriber's list.

Your forms can also be integrated with security verification services like ReCaptcha V3. This allows your legitimate visitors to only access the services of your website.

Moreover, it also supports the integration of Font Awesome 5 and custom icon libraries like Fontello. Using them, you get to use more icons. Adobe TypeKit is also another option where you can get awesome fonts in Elementor.
---
10.

 Social Media Support

Elementor also supports the integration of social media. You can easily add a share button to allow visitors to share your content on famous social media platforms. Plus, the social icons widget allows you to add social icons anywhere on your pages.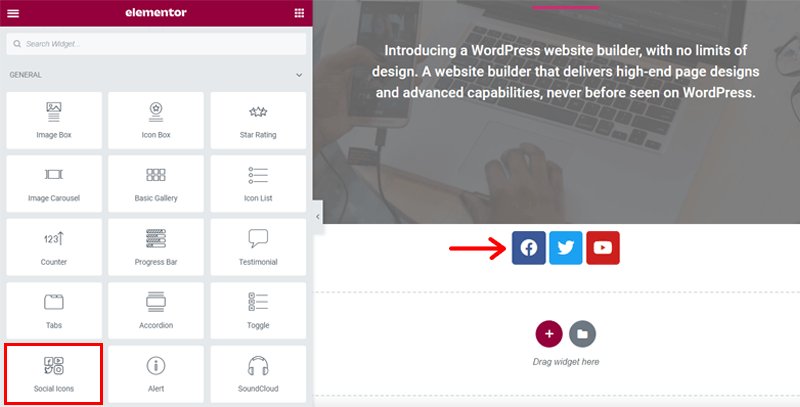 Your best lines or quotes from Twitter can also be shared on your site. This can be done by using a custom-designed blockquote box.
At last, embedding Facebook posts, videos, pages, and comments on your site is also possible. This enables you to increase your social media reach and get more attention from the audience.