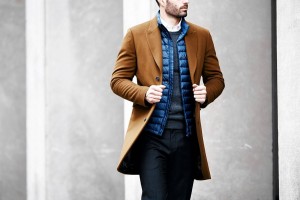 TO BUNDLE UP is not manly. Sure, that's a generalization, but it's undeniably true that many guys will simply grit their teeth through the cold—until things reach a dangerous point. (Foolishly losing a finger to frostbite isn't the height of masculinity, either.) They'll rely on just a wool muffler with a suit when the rest of the world has armed itself in proper coats. They'll make do with just an overcoat when everyone else has graduated to bulbous parkas.
But the advent of sleeker down jackets that are still as cozy-warm as their Michelin Man-size predecessors has made it possible to defy the cold without looking like a wimpy 5-year-old. When sandwiched between your sweater or suit and a beautifully tailored wool overcoat, these so-called "diet-down" jackets are a true sartorial win-win.
This fashion-meets-function layering technique has already earned dedicated fans. "With a topcoat or pea coat, the insulating factor is just not there," said Dominick Volini, 34, a partner in new fast-casual Manhattan restaurant Inday. And so, in deep winter, Mr. Volini wears his black Patagonia down sweater—really a jacket but so-named because it takes up no more room than a cardigan—under his trim navy Armor Lux pea coat.
Though a number of brands—from premium ones like Norse Projects to Japanese fast-fashioneer Uniqlo—now make a version of these pieces, Patagonia was among the first to crack the code in the early aughts. The company's design team, comprised heavily of climbers and hikers, was tired of bulky, overstuffed outerwear. So they decided to tackle the challenge of creating a lighter jacket without sacrificing warmth.
Patagonia designer Eric Rice found the answer, explained Kristo Torgersen, the company's global product line director of alpine and snow. Mr. Rice reduced the size of each individually quilted section on the lightweight nylon shell. He then plumped the smaller quilts with an 800 fill-power goose down whose big plumes provide warm with less density. And thus was born Patagonia's down sweater ($229), now available in a hooded version ($279) and a range of colors, from neons to neutrals.
From brand to brand, these jackets truthfully vary little, but consider color carefully. You can quite easily go the stealth route, choosing a shade that discreetly echoes your overcoat's hue. When you layer black under black or navy under navy, few people need be any the wiser that you're packing sporty nylon-and-feathers beneath that dashing cashmere-and-wool.
If you're feeling more adventurous, an acid green or cherry-red jacket can provide a satisfying hit of color on dismal December days. Play around a bit, especially when it comes to weekend ensembles. Try a camel coat with a kelly green or slate-grey puffer or a dark tweed topper with an olive nylon layer.
The lighter look of these jackets also makes them more attractive when worn alone. "It's a very different silhouette than the '90s North Face," said Brad Bennett, 34, a marketing consultant. "It's not like a Teenage Mutant Ninja Turtle shell." Mr. Bennett, who lives in the Hudson Valley in New York, and works in Manhattan, particularly appreciates the versatility. "If you're walking the dog, you just throw on a puffer and go," he said. "If you need to look nice, put a jacket on top. You can have that coziness and not look like a schlub."
And if it turns out that you don't need that layer at all? Many of these slender jackets come with a little matching pouch into which the jacket can be stowed. If you're keeping track at home, that's a win-win-win.
A Cool Way for Guys to Stay Warm This Winter