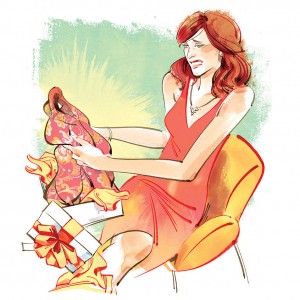 MICHAEL DAVIS adores his green chinos—about as much as you can love a pair of casual pants. "It's hard to find the right green, and they're the perfect color," he said. But the co-founder and chief creative officer of travel website Tablet would never have bought said pants for himself. The chinos were a gift from his wife, Preston, who runs the fashion blog Keep It Chic, and they're a testament to her gifting acumen.
When it comes to buying clothes and even accessories as presents, the pitfalls are many and the potential for failure looms large—but so does the potential for greatness. "If you're given something that's completely off your radar and it becomes your go-to piece," said Mr. Davis, "it's the gift that keeps on giving."
We've all received some stunningly off-the-mark garment come the holidays, but as the Davises show, choosing a successful fashion gift isn't entirely outside the realm of possibility.
Paying attention and filing away any gleaned tidbits can help a lot. In her case, Ms. Davis overheard her husband mention that he was tired of routine khakis and wanted to explore other colors. Similarly, Net-a-Porter vice president of global buying Sarah Rutson, not someone who's easy to impress in style terms, was delighted to receive a small, clear Anya Hindmarch beauty bag from a girlfriend who'd noticed that Ms. Rutson was using a Ziploc baggie when going through airport security. "I'm in and out of airports, but it's something I never got around to getting myself," said Ms. Rutson. "It was so thoughtful."
Most important, Ms. Rutson added, her needs were truly taken into consideration. "Often, people go, 'I know I would love this.' Well, we're totally different people," she said. "The most successful presents I've been given [came from people who] really thought about me." You can also tap the resources at a recipient's favorite store or e-commerce site. Net-a-Porter's personal stylists, for instance, are trained in asking nervous shoppers the right questions to suss out an impressive gift that won't be returned.
It obviously helps if the giftee is a regular in shops with a high standard of service, such as the Armoury, a New York men's store. Its sales associates often have recommendations for those who come in seeking gifts for the store's best clients, manager Jake Grantham said, from solid-stick Fox umbrellas to bespoke suits. "Wives will come and find a cloth they like and give that on Christmas day, then the gentleman will have it made with one of our tailors," he added. "That's a pretty special gift." (He also has likely-to-please-any-guy suggestions for this season, like monogrammed wallets from London-based leather brand Ettinger.)
And what does Mr. Grantham think of the deadly default men's fashion gift, the tie? He doesn't rule it out but suggested seeking out one that goes beyond the basics. "We have a bunch of different makers who offer things like seven-fold construction," he said, referring to neckties made of a single piece of fabric folded seven times that are known for their luxurious heft. "A seven-fold tie could never be accused of being a dad tie." And it ticks an important gifting box—true for both fashion presents and otherwise—by being the best possible version of something you know is useful.
That's probably the reason that plush, hand-knit cashmere sweaters by the Elder Statesman, for both men and women, sell particularly well during the holidays at Amagansett, N.Y. shop Tiina the Store. "I can't imagine anybody not wanting that gift," said owner Tiina Laakkonen.
Giving Clothing as Presents: A Failproof Guide