Need high-quality hair extensions… but you're too busy to find them yourself?
If so, you're in the right place.
Because in today's post I'm going to show you a popular hair brand on the Aliexpress – Queen Hair.
That way, you can find the best option for you.
Let's dive right in.
It's no secret that hair brands are HUGE.
And most of them make you confused.
(That's why I decided to compile a list of the complete hair vendors you need to know. But that's another story.)
As it turns out, there are many hair companies that sell low-quality products.
So I share my favorites – Queen Hair.
Remember:
Not every hair store with a queen in its name is the one we often talk and buy from.
As the more popular hair brand on AliExpress, many other stores are using Queen's brand name in a marketing way.
Now, it's time for the good stuff:
AliExpress Queen hair store's store No. is 605265. You can click the following link to visit it.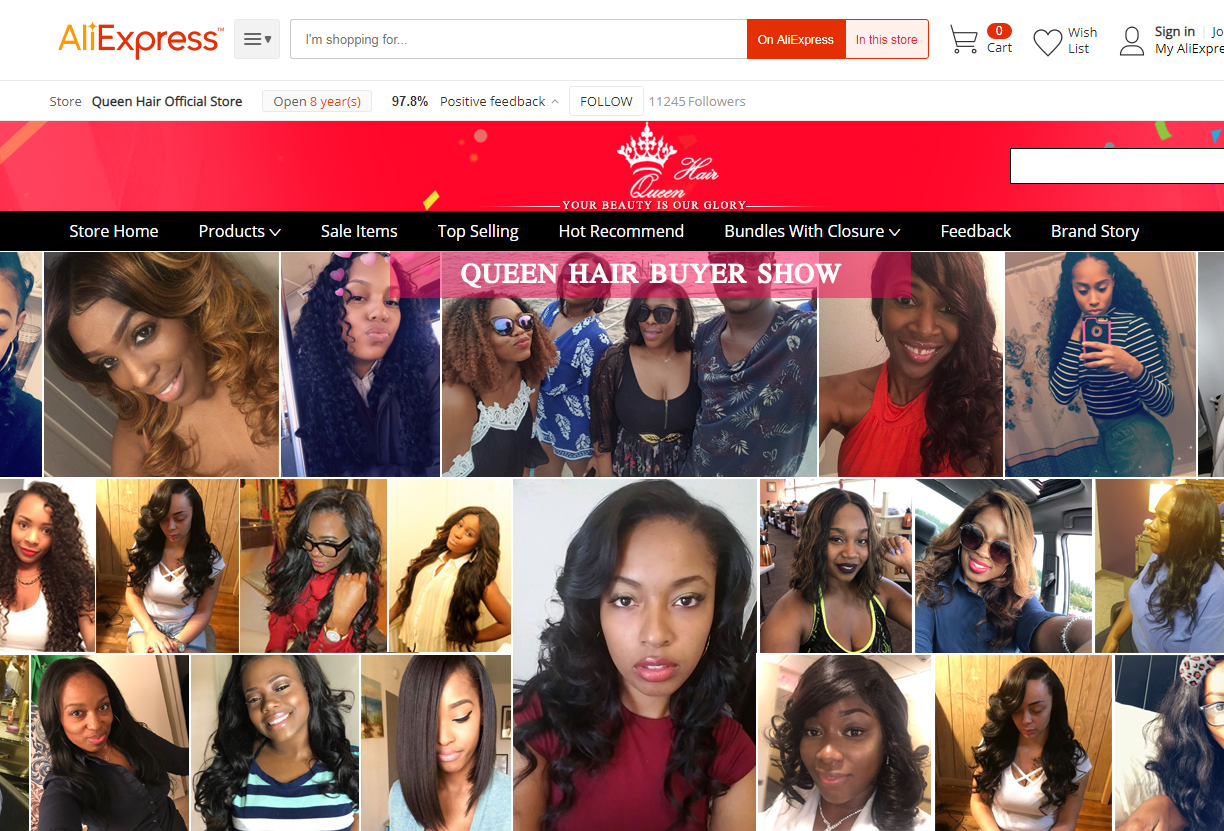 ALI Queen Hair Ltd is built on December 28, 2010, and specialized in the manufacture of virgin human hair, which never treated with harsh chemicals or color additives.
From its store feedback, we can see 98% of its customers are satisfied with its products and shipping service.
When choosing a hair vendor, there are many factors to consider, including the cost, shipping service, longevity, and quality. Also, look at the number of sales and where they are located(taxes), and reviews of other customers, plus consider the return and refund policy Sales of the service.
Against that background, let's take a closer look at Queen Hair.
Appearance 
There are websites out there that have beautiful pictures of their hair products and when you receive them, they aren't the same product…at all, color, style etc.
The good news:
Queen Hair's products looked identical to the pics on their website, but they didn't look as shiny as they do in the photos.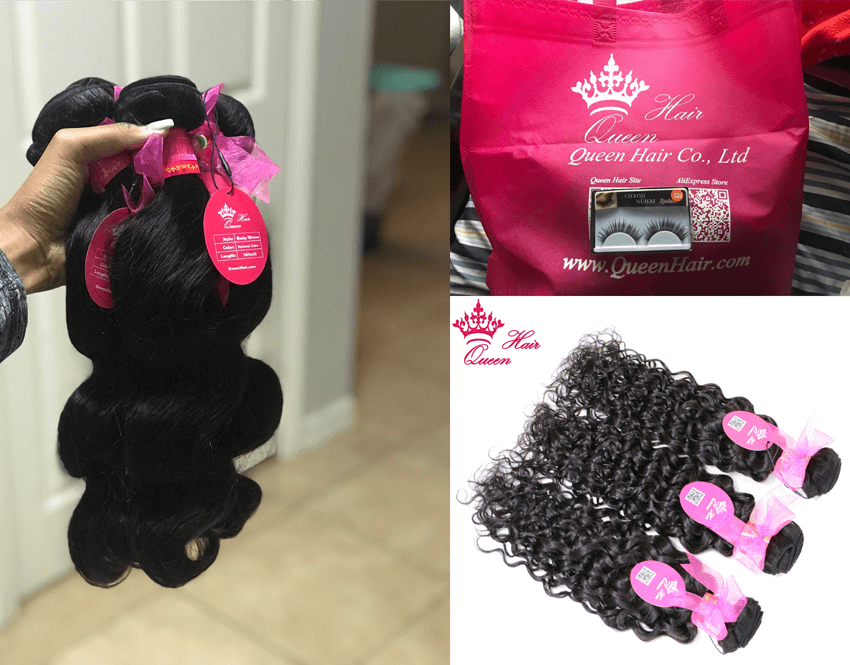 Hair from Queen is absolutely beautiful. The silky strands give a unique aura and natural appearance.
Even though the hair bundles didn't come packed in beautiful boxes, that's another story.
(As the old saying goes: "you get what you pay for").
Authenticity
ALI Queen Hair Ltd offers customers a wide range of different products to choose from, ranging from full lace wigs to a complete variety of weaves, frontals, and closures.
And they claim that it sells virgin hair extensions made of Peruvian, Brazilian, Malaysian, and Indian hair.
Unfortunately, it is ONLY a clever marketing tactic that makes the hair appear more exotic and desirable.
As it turns out, all Queen hair extensions are made of 100% human hair. You will never find a synthetic or animal fiber mixed in their hair.
Plus, their hair has cuticle layers facing the same direction from root to end. This ensures that the bundles behave exactly like your own hair.
Processing
Many suppliers use use poor quality, rejected or unauthentic hair to manufacture its extensions, weave and wigs. This means they strip the cuticle by soaking the hair in acid, chemically process it for texture, and color it with dyes.
Why?
There is this step in their production process to make hair look good.
And it's worth mentioning that the hair from Queen has not nearly been chemically processed or altered.
Because the company is using high quality, original human hair to manufacture its extensions.
Tangling and Shedding 
A common reason why your hair extensions tangle is the quality of hair.
Also, because of a combination of sweat, heat, and friction.
The hair from ALI Queen doesn't tangle much possibly because the manufacturer has used good grade Remy hair in its products.
Ali Queen company is now using a Machine Double Weft procedure to the products. This ensures minimal shedding.
Remember:
It's important to get into a good routine with your hair extensions from the start because good habits equal longer lasting extensions.
Life Expectancy
The lifespan of Queen's hair can range anywhere between 3 to 6 months or longer, depending on the general care they receive and how often they are worn.
Quick tip: 
The more you wash and heat style your weave hair, the shorter their lifespan will be, so try to keep washing and using products on your extensions to a minimum.
The important thing to remember is that your hair extensions don't have a natural hydration source like your own hair does, so keeping them moisturized and reducing dryness is crucial to prolonging their lifespan.
Cost
When it comes to the money, Queen hair extensions are priced fairly.
They offer good prices with return and refund. These bundles will absolutely be an investment.
The great thing is that they make sure their prices have enough range for everyone's personal budget.  You don't have to go broke in order to look and feel like a queen.
When you evaluate the price against the quality and performance of the hair extensions, you will be excited.
Shipping
Queen hair company have headquarter and manufacturing units in China.
But
They have partnered with some of the best parcel and courier companies to deliver products all over the world. You don't have to worry about any kind of damages during delivery as it is guaranteed.
Pros:
You can get some VERY high quality 100% human hair extensions. They are an investment that you are making yourself and how you look.
This hair can't cause severe skin irritation and scalp allergies.
The good thing to shout out about this store is their prices. Priced at an affordable range.
Their products look as lush as you have seen them in the pictures online.
When it comes to the life of Ali Queen hair extensions, you can expect your extensions to last you about for 3 to 6 months or longer.
Cons:
Their hair is mixed with several lengths. In fact, mixing hair is a step in the production process.
If you want to get single drawn hair from one donor, you might be disappointed. Though they claim a single donor, it is often untrue.
Conclusion
So this is the Aliexpress hair vendor that I recommend.
Overall, Ali Queen is definitely one of your best options.
Now I'd like to hear what you have to say:
What's your experience with using Ali Queen hair?
Good? Bad? Somewhere in between?
Either way, let me know by leaving a comment below right now.