Like coffee, tea is something I "got into" later in life. I was 25 when I enjoyed my first cup of coffee and although I enjoy weak iced coffee now and again I'm pretty caffeine sensitive and wouldn't call myself an avid coffee drinker. Tea and I have become friends slowly over the past couple of years. It wasn't really until I met Tiesta Tea that I realized the magic of tea and I gotta say that I definitely prefer loose-leaf tea over tea bags.
Tiesta was then founded on the basic principles of ease & accessibility to all. Dan & Patrick want tea to be an experience that revolutionizes people's everyday life. They believe that tea, which may be considered a luxury by most, should be a part of everyone's day.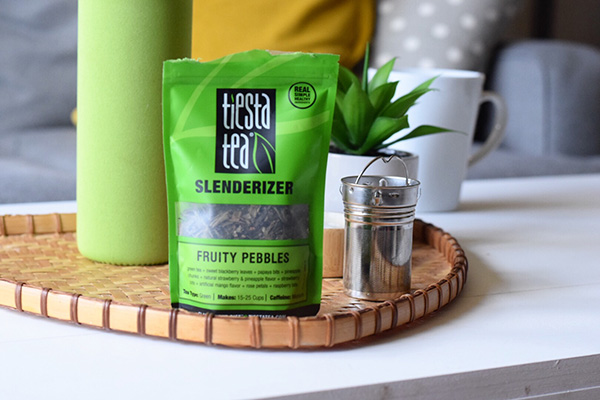 Did I mention that this post isn't sponsored? No? Okay, well this post isn't sponsored (but yo, hit me up Tiesta Tea!). Tiesta Tea is one of those things that I literally just love and consume every day. It's made in Chicago and you can find it at a lot of retailers (I buy mine locally at Hyvee) and also online through Amazon. Their Blueberry Wild Child is one of my favorite things. I love to brew it in my portable Pekoe Glass Tea Tumbler ($23.76) and put it in the fridge to chill before long drives or as my afternoon treat while working. However, the tea I'm going to introduce you to today is called Fruity Pebbles, it's one of their "slenderizer" teas and this is why I love it:
You know when you have a weekend where you relax on your "clean eating" and you have a few too many beers on Saturday and on Sunday you totally cave and let your husband order pizza for dinner and you *know* that on Monday morning the scale will be at least 3-4 pounds higher than it was on Friday? Those weekends happen to me like…every weekend and a nutritionist friend recently explained it to me: for each gram of carbohydrates you consume, your body holds on to 3 grams of water. Whoa! Totally explains where those weekend pounds can come from and explains why this might totally catch you off-guard if you're a person who usually does't consume a lot of carbs. I'm totally okay with the weekend gain—it's not actual fat, just water weight, and it comes off with a couple days of clean eating and hydrating. However, I'd love for it to come off faster, and I've found that drinking a big glass of Tiesta Tea's Fruity Pebbles Tea really helps cut this water weight and bloat almost overnight (really)!
I try to drink a mug of Fruity Pebbles Tea on Sunday night, and instead of seeing that 3 pound difference on the scale on Monday, it's much more likely to be 1 pound or less, and continuing to drink another cup of the tea on Monday usually gets rid of that water weight by Tuesday. It's a green tea, and it has kind of a bitter flavor. I'm convinced I can feel it cleansing the carbs and sugar out of my body the second I start drinking it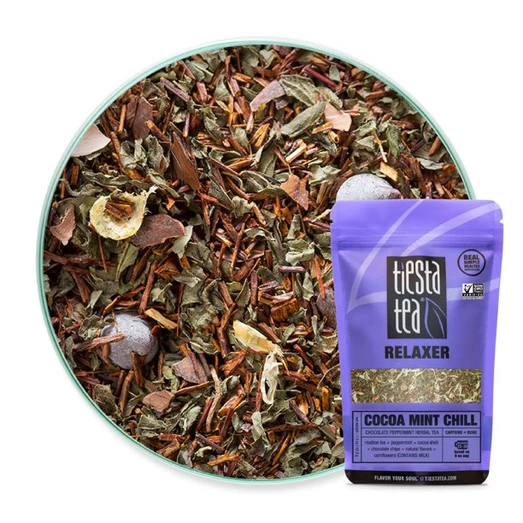 Cocoa Mint Chill tea taught me something. I was glad to leap into different ways of seeing things. Sometimes when you may not like to eat something, you might like it as a drink. In this case, I don't really like chocolate peppermint candy texture. Drinking the flavor, a whole different experience.

I got the feeling of a cozy fireplace, a cup of cocoa, and a blanket. It is really soothing and calming. It's a great fall drink. I would serve Cocoa Mint Chill at a Christmas party for sure!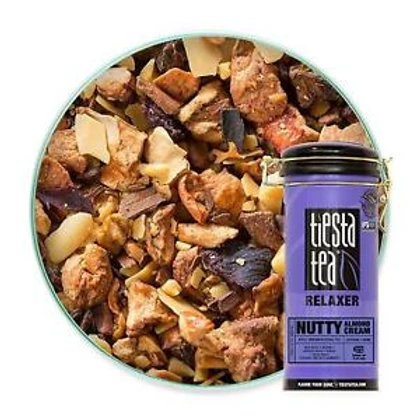 This tea is named perfectly. It is truly a nutty-flavored ride. You can smell and taste each layer. A hint of fruit, lots of nuts, and a slightly spicy finish. I had it hot and cold with agave in the cold and sweet cream in the hot. Both were great experiences. This is a great fall tea. I would drink it on a cold night or serve it at a winter dinner or Christmas party. Nutty Almond Cream should be served on the list of all things tea.
I have never been to Palm Beach, however, these teas' flavors give me a sense of it for sure. The boldness of the fruit and citrus is super refreshing. Upon smelling it, I decided to make iced tea. It seemed appropriate. I was right and not disappointed. I could keep this in the fridge all summer long. I would serve it for friends- and even would make a cocktail with a nice rum for punch. Palm Beach Punch is a great fruity tea for all types of tea lovers.