WHO IS DESIGNCUTS
In case you've not yet discovered this awesome website, here's a little background. DesignCuts is the ultimate resource for fonts, graphics, illustrations, tools and mockups— all the must-haves for a creative looking to build their business. What makes DesignCuts different, is that they sell collections of these creative assets in bundles at an extreme discount (90-99%). So instead of stocking up on 20 different font families for $3000+ you can snag them all for $29. Total. I've been using DesignCuts bundles for almost two years now, and I still can't wrap my mind around the savings.
If the bundles aren't your thing, and you'd rather purchase your resources one by one, you can tap into their Design Marketplace. Here, you can still find significant savings, and even create your own mini-bundle by pairing your purchase with another resource. The more items you buy, the more you save (up to five items, for a 50% discount).
HOW I USE THEM IN MY WORK
I'm a busy gal. I run two different websites, an online shop and I also freelance. At the end of the day (which for me is often midnight), there's just not enough time to create my own fonts, illustrations and graphics from scratch. I've recognized that my talents lie in designing, and not in fine art. I consider myself to be like a chef who sources the finest ingredients to create her meals, instead of growing those ingredients herself.
I depend on DesignCuts to provide me with the latest and greatest resources, so that I can create fabulous products. This includes new items to sell in my shop, along with free printable designs that I share on Elegance & Enchantment. But that's just half of it. I also use DesignCuts resources to create promotional items, email headers, blog graphics and marketing materials.
Without DesignCuts, I would either get way less done, or have way less money. Either way, they have become a resource that I cannot run my business without.
HOW THEY CAN HELP YOU ELEVATE YOUR BUSINESS
You're busy too! Even if you have the time and talents to hand letter your own fonts, or paint your own watercolor backgrounds, chances are you can't do it all. If you were to put a price tag on your time, what would it be? If it takes you 3-5 hours for you to get out your tools, create your artwork, digitize it, and clean up, it's got to be at least $150-$250. Wouldn't it be more efficient to purchase a $29 bundle that includes the font or graphic you need, plus a ton of extra resources you can use for a future project?
I'm not trying to discourage you from creating your own, unique artwork, but know where your talents lie. I tried hand lettering, and I'm terrible at it, so I'm sticking to using fonts created by people who are gifted in that area. If you've got the skills to paint your own backgrounds, but aren't the best at photography, you might consider taking advantage of a past deal like the Extensive Mockup Template bundle. This included a treasure trove of resources for presenting your products in a professional way.
RESOURCES FOR ALL
If you're wondering what types of bundles you can expect to find, here's a peek at some of my favorite deals from the last year that have since expired. Each bundle is only available for a limited time, so when you see something you love, don't wait to make your purchase!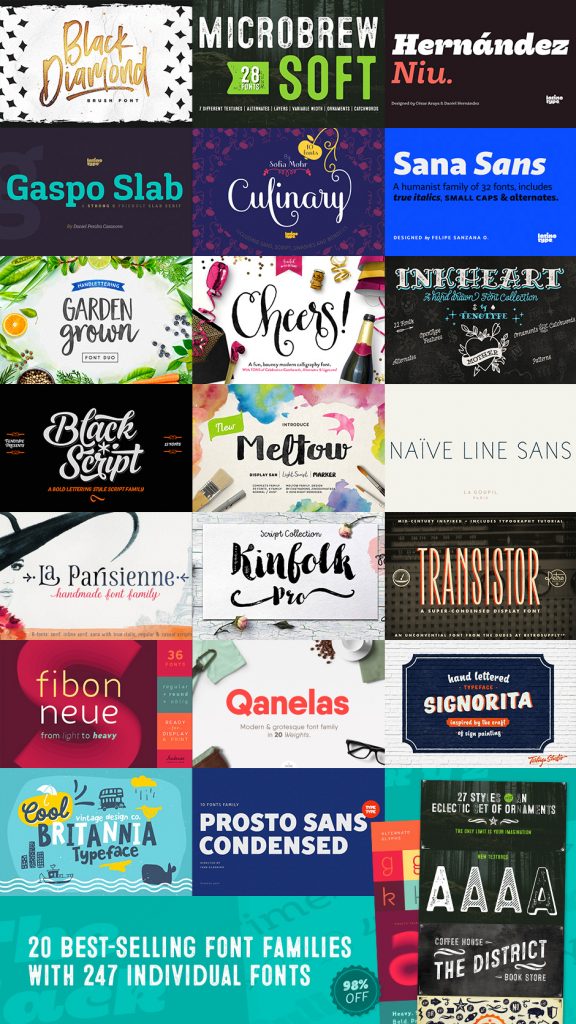 Design Cuts is an online market place for downloadable design resources. They gave me the opportunity of receiving a free copy of their current deal, The Inspiring Artistic Design Collection, in exchange for a review of this bundle. [UPDATE: This deal has expired – but some of the resources may be available separately in the Design Cuts marketplace.]
The collection costs $29 (or around £28 including VAT) which Design Cuts say is 99% off the full price of thousands of best selling design assets. Of course, a typical small business owner or blogger will have a particular style for their brand, so you may wonder whether the bundle is still good value for money even if you would only use a fraction of the resources.
I decided to see how someone might use assets from the collection if they had one of a couple of styles for their website. If your brand does not fall into one of these categories, then you'd need to look at the other items to see whether you feel that this bundle could be useful for you.
Gold
If you wanted to add some shiny golden touches to your website and marketing materials, then these are the particular items in the collection that are likely to catch your eye:
The Feminine Logo Creator by Worn Out Media, which includes gold and silver textures
Lights & Stars Clipart Backgrounds by MixPixBox
Golden Paint Transparent Background Textures by Jim Lepage
Glitter Washi Tape and Frames by Pattern Pop
Be Wild & Free Collection by So Nice (colour palette number 2)