Key Features: Wireless; 16,000 DPI 5G laser sensor; Click Force technology; 1,000Hz Ultrapolling; 1ms response time; Charging Dock; Chroma lighting; 9 reprogrammable buttonsManufacturer: Razer
What is the Razer Mamba 2015?
The Razer Mamba (2015) is the latest iteration of Razer's flagship wireless mouse.
Like previous Mamba models, this is one of the most expensive wireless gaming mice on the market today. But Razer justifies that hefty price tag with claims that the Mamba is "the world's most advanced gaming mouse".
Razer has made a number of improvements with the new Mamba, lowering response time, and adding Chrome lighting and Click Force technology.
But at a penny shy of £135, is this wallet-chunking peripheral good value for money?
Razer Mamba vs Mamba Tournament Edition – What's the difference?
Before I dive into the review, I should point out that the Razer Mamba 2015 has a closely-related sister device – the Razer Mamba Tournament Edition. While both mice are very similar, there are a few differences that should be noted.
Here's what separates the pair:
Price – Razer Mamba 2015 (£135), Razer Mamba TE (£80)
Connection – Razer Mamba 2015 (Wireless), Razer Mamba TE (Wired)
Weight – Razer Mamba 2015 (125g), Razer Mamba TE (133g)
Technology – Razer Mamba 2015 (Click Force), Razer Mamba TE (No Click Force)
Razer Mamba 2015 – Design & Ergonomics
Razer products are known for their premium packaging, and the Razer Mamba 2015 is no exception. The main box, which features a magnetic lid, stores a foam-lined aluminium container that holds the actual mouse. There's also a manual inside, which conceals a number of accessories – it's slick and well-curated.
The mouse itself has all the hallmarks of Razer fare – matte black coating, fierce curves and angles, and no shortage of buttons and light strips. It's a little heavy at 125 grams, but that sort of heft makes the Mamba feel premium, and gives it a good operating weight.
The top of the mouse is smooth and comfortable, while the sides are coated in grippy rubber that prevents slipping. The Mamba's spine has a gentle curve that makes it suitable for fans of both claw- and palm-grip. Do note: this mouse is asymmetrical, so lefties should consider the Ouroboros or Taipan instead.
There's also a charging dock included – no AA batteries here, folks – which sports similarly refined design. The dock also works as a great pedestal to show off your ludicrously expensive mouse, and will even mirror the Mamba's lighting – very swish.
There are nine independently programmable buttons – all of which are well-placed – on the Razer Mamba 2015, as well as a tilt-click scroll wheel. Also included is a 2.1-metre (7-foot) braided USB charging cable. This means you can still use the Mamba even if you forgot to charge it. Using the Mamba on a wired connection will also reduce latency, naturally.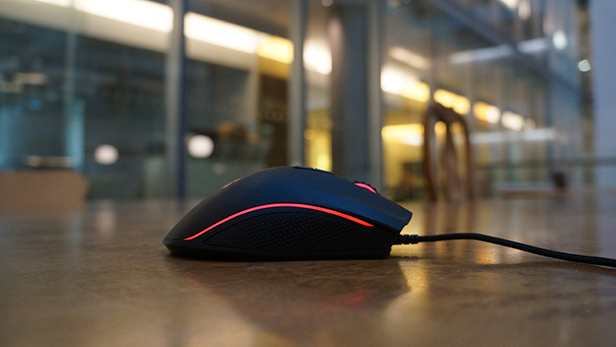 Razer Mamba 2015 – Features
One of the new additions to the Razer Mamba 2015 is Razer's new Click Force technology. In short, it lets you adjust how much force is needed to click the right and left buttons respectively. Supplied with the Mamba is a small screwdriver, which lets you modify a screw mechanism to one of 14 different "click feels". That sounds a bit vague, but what it means is that you can change the click actuation force from a lowly 45g right up to a stiff 95g.
I preferred the lower end, but some might prefer a tougher click. Razer does actually offer some recommendations, quoted as follows:
Click settings 1-3: approx. 45g to 50g
MOBA, RTS games that require light, sudden, or rapid clicking for quick action feedback.
Click settings 6-8: approx. 60g to 70g
MMORPG, Action/FPS (non-class specific) games that play well with a balanced click force for a variety of actions
Click settings 13-15: approx. 90g to 95g
Vehicular Combat (World of Tanks), Class-based Action/FPS (Sniper role) games that require distinct and controlled clicks
In short, this feature isn't exactly necessary, but it's this sort of excessive customisation that sets Razer's top-end wireless mouse apart from the rabble.
Razer Mamba 2015 – Software
One of Razer's biggest strengths is its comprehensive software suite, Razer Synapse, which spans across its entire range of peripherals.
A key addition to the Razer Mamba is Chroma lighting, software-controlled glow strips that can be managed using SYnapse's 'Chrome Configurator'. It works on the Mamba in much the same way as it does on other Chroma-enabled devices, albeit with the added benefit of also syncing to the Mamba's charging dock. There are 16.8 million colours on offer, as well as various glow patterns like "breathing" and "steady".
Otherwise, not much has changed with the new Mamba in terms of software. You can still set up gaming profiles, select DPI values to toggle between using the switcher buttons on top of the mouse, create button macros, and modify the Mamba's polling rate.
There's also the option to attach profiles to certain games. So if you load up League of Legends, for instance, you'll automatically get certain mouse settings that will be different to when you start playing Witcher 3.
The main drawback about Razer Synapse is that it's all cloud-based; there's no physical settings storage on the mouse. As such, if you want to go game at a friend's house, you'll need to install Synapse, log-in, and download your settings. It's not a killer flaw, but unnecessary faff that we'd hope Razer would've fixed by now.
Nevertheless, Razer Synapse is still one of the most refined gaming mouse software suites on the market today.
Razer Mamba 2015 – Performance
Razer didn't become one of the leading gaming peripheral vendors by chance; it's built up that reputation by peddling high-performance fare. The Razer Mamba is no exception to that tradition – this is seriously impressive kit.
Let's start with latency because, after all, that's often the main set-back with a wireless mouse. Razer has managed to reduce response time to just 1ms with the new Mamba – that's basically neglibile. It also offers a formidable 1,000Hz polling rate i.e. the mouse reports its position to the computer 1,000 times every second. Anything over 500Hz is plenty for professional gaming, so you'll have no issues with the Mamba.
It's also got Razer's new 5G sensor, which can track up to 1 DPI increments. That's a cut above the current industry standard of 50 DPI increments. What's more, the cut-off distance – how far you can lift the mouse from a surface before it stops tracking – can be set to as low as 0.1mm.
All of this translated to incredible tracking; I found absolutely no issues with motion recognition. Design bells and whistles are great, but if a gaming mouse struggles to accurately track your hand movements then it's dead in the water. The Razer Mamba 2015 has no such failings – this thing is seriously smooth.
Right, remember that 5G sensor I mentioned earlier? It's also got another big perk – a maximum DPI of 16,000. That's extremely sensitive, and will see your cursor shoot across high-resolution displays with a mere twitch of the mouse.
I didn't even come close to using 16,000 DPI, mainly because you'd need superhuman reflexes to manage such high sensitivity on a 1080p display. As a mere mortal, I generally use somewhere between 1,600 and 3,600.The only realistic usage for such a high-reaching DPI range is for 4K displays, due to the greater virtual "distance" the cursor needs to travel. But then, if you're the sort of gamer that's willing to splash £135 on mouse, there's a good chance you'll be rocking an Ultra HD display too.
Battery life is another important metric for wireless mice, and once again Razer doesn't disappoint. The Mamba 2015 is listed as offering 20-hours of battery life. I used the Mamba both wired and wirelessly over a few weeks – well over 20 hours of gaming – and never ran the battery all the way down. Realistically, it's very unlikely you'll spend 20 hours continuously gaming, and even then, you still have the option to connect the Mamba via USB for mid-play charging.
Razer Mamba 2015 – Games
The Razer Mamba is part of a lighter class of mouse that keeps faff to a minimum. With just nine buttons, you'll find best performance on games that don't require heavy use of a wide key range.
With that in mind, the Razer Mamba suits first-person shooters, MOBAs, and action titles well. Hotkey-heavy games like MMORPGs will benefit from a more comprehensive mouse like the Razer Naga, however.
Whatever the game, the Razer Mamba offers impressive tracking, a versatile design, and capable software – you'll see great performance on Call of Duty and World of Warcraft alike.
Should I buy the Razer Mamba 2015?
If your question is whether this mouse is better or worse than a wired rival, save your breath. The Razer Mamba 2015 has such tight performance that any difference is negligible, especially when you consider that the Mamba can also be used with a wired connection.
Really, the only difference is you're paying a lot more for the Mamba to feature wireless technology. If you like using your mouse at a distance occasionally, or without the burden of cables, it's £55 more expensive than the Mamba Tournament Edition, the wired equivalent. That's your call.
The Razer Mamba's real competitor is the Logitech G602, another formidable gaming mouse with strong design and reliable tracking.
But the Logitech G602 has a lower DPI range, higher (read: worse) response rate, and runs on AA batteries – no charging docks here. All in all, the Mamba is a better proposition, but the Logitech G602 only costs £60, which is £80 less.
With that in mind, the Razer Mamba is the wireless mouse of choice for someone for whom money is no object. You definitely don't need to fork out £140 for a quality mouse – the G602 is testament to that – but you won't find better elsewhere.
Unfortunately, I'm still not entirely convinced that the Razer Mamba's price tag is justified. I'd expect to pay around £100 for a mouse of this calibre; charging beyond that feels a little extortionate.
Verdict
This is the best wireless gaming mouse available to buy today; if money is no object then look no further.