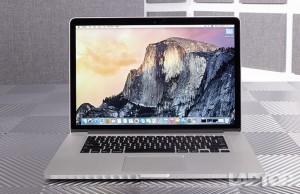 REVIEW
Apple's 15-inch MacBook Pro with Retina Display returns for 2015, this time with the power of the Force. This refreshed MacBook sports the company's innovative Force Touch trackpad, which can perform a host of pressure-sensitive commands. It also packs an optional AMD Radeon R9 R9 M370X GPU, which Apple says can deliver up to 80 times the graphics performance as last year's model.
Apart from those changes, you're getting the same speedy Core i7 processor, slim and sturdy design, and gorgeous Retina Display that come standard with Apple's professionally minded laptop. Is this MacBook Pro worth the upgrade?
Design
Second verse, same as the first: The latest 15-inch MacBook Pro with Retina Display is identical in design to last year's model, packing the same slim aluminum chassis and black-bordered display that have defined Apple's highest-end notebook for years.
The MacBook Pro continues to be one of the most seamless-looking notebooks in its category, with two subtle stereo speakers flanking the laptop's signature black chiclet keyboard. The MacBook's underside sports a set of barely noticeable vents on either side, with the iconic glowing Apple logo adorning the lid.
Measuring 14.13 x 9.73 x 0.71 inches and weighing 4.49 pounds, the MacBook Pro is pleasingly skinny and fairly easy to carry. Dell's latest XPS 15 (14.6 x 10 x 0.7~0.3 inches, 4.6 pounds) is just a bit heavier and taller than the Pro, while workstations such as the MSI WS60 (15.4 x 10.5 x 0.78 inches, 4.36 pounds) and HP ZBook 15u (14.8 x 10 x 0.84 inches, 4.23 pounds) are slightly lighter but have bigger footprints than Apple's notebook.
Display and Audio
There's a reason "Retina Display" is part of the MacBook Pro's full name. The laptop's gorgeous 15.4-inch, 2880 x 1800 screen impresses the second you pop it open, with app icons and images that burst with color, and text that practically looks handwritten.
The trailer for Star Wars: The Force Awakens looked vibrant and detailed on the Pro's Retina Display, from Finn's debris-covered face to the shiny, silver Stormtrooper armor of Captain Phasma.
The MacBook Pro's display registered a satisfying 303 nits on our brightness test, outshining the MSI WS60 (216 nits) and our 254-nit mainstream notebook average. However, the XPS 15 and ZBook 15u were both brighter, at 320 and 307 nits, respectively, as was the 2014 MacBook Pro (317 nits).
The MacBook Pro is capable of rendering 86 percent of the sRGB color gamut, offering better color representation than the MSI (78.1) and the 83-percent mainstream average, but not as good as the XPS 15 (88 percent) or the ZBook 15u (103 percent).
Still, Apple's notebook exhibited strong color accuracy, with a Delta E score of 2.11 (closer to 0 is better). That's far more accurate than the MSI (11.6) and XPS 15 (7.2) and better than the 2.84 average, though not quite as close to ideal as the ZBook's 1.68.
The MacBook's speakers are crisp, clear and loud enough to fill a small meeting room. The rocking bass, thumping horns and soaring vocals of Fall Out Boy's "Irresistible" came through cleanly, as did the iconic orchestral score that played during the Star Wars trailer.
Force Touch Trackpad
The 2015 MacBook Pro with Retina's biggest addition is its Force Touch trackpad, which is also featured on both the new 12-inch MacBook and the latest 13-inch Retina Pro. This new 4 x 3-inch trackpad doesn't actually physically click, instead using force sensors and haptic feedback to simulate the sensation.
One of Force Touch's main benefits is the ability to perform a Force click, which activates special functions when you press extra-hard on the pad. For example, Force clicking a link on a website lets you preview that page in a small window, while doing so on highlighted text will pop up a dictionary definition or Wikipedia entry.
MacBook Pro with Retina Display (2015) Review