The ability to extract decent images from recorded video isn't anything new, but that doesn't mean there isn't plenty of room for improvement in the speed of extraction or the quality of the final product. The Micro Four Thirds Lumix DMC G7, described by its manufacturer Panasonic as "revolutionary," includes a 4K Photo feature that enables you to pause any 4K Ultra HD video and single out any single frame in the equivalent of 8-megapixel quality.
The ability to capture practically any recorded moment in super snapshot quality isn't the only thing the G7 is good for, as evidenced by its ability to record high-resolution QFHQ 4K video. That translates to 3840 x 2160 resolution in 24 and 30 fps.
The G7 also packs three new photo shooting modes that further bolster its ability to capture 4K snapshots: 4K Burst Shooting, 4K Burst S/S (Start/Stop) and 4K Pre-burst. 4K Burst Shooting allows "almost unlimited shooting" at 30 fps. 4K Burst S/S (Start/Stop) mode takes continuous stills until you depress the shutter button. 4K Pre-burst takes 60 high-speed photographs. Each of these newly introduced modes produce 8-megapixel equivalent images.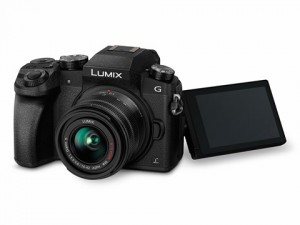 Under the hood, the G7 is powered by a 16-megapixel Digital Live MOS sensor and an ISO range up to 25,600. It's also got a Venus Engine image chip with a quad-core CPU that enables rapid signal processing.
The Panasonic Lumix DMC G7, which will reportedly also come with a 14-42mm lens, is scheduled to arrive on the market toward the middle of June with a price tag of roughly $800.
Panasonic's "Revolutionary" Lumix G7 Extracts 4K Photos from Any 4K Video