New for serious photographers is the Leica Q (Typ 116), a fixed lens compact camera with a 24MP CMOS sensor and a 28mm F1.7 Summilux lens. An improvement in versatility from the previously released Leica T, the Q combines conventional physical controls with a 3" touch-sensitive LCD screen that imbues the camera with functionality for newbies and vets alike.
Also added is an LCOS electronic viewfinder with high resolution equivalent to 3.68MP. Continuous burst shooting captures subjects at 10fps in full resolution, and video photography is recorded in 1080/60p HD with 30 and 60fps settings. The camera's ISO range is 100-50,000. Users can alternate between manual focus and AF, which Leica is calling the "fastest autofocus in the compact full-frame camera class." The Leica Q includes no built-in flash but it does include a hot shoe for flash unit mounting.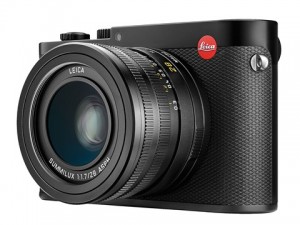 A seeming marriage of tradition and modern tech, the Q blends traditional aesthetic design with contemporary features like Wi-Fi, NFC, and apps that enable remote photography and instant social media sharing. The camera is also equipped with face detection, and the LCD is touch-focus enabled.
Released with a price tag of $4250, the Leica Q is available now.
Leica Q Blends Traditional Aesthetics with Touch LCD