Baby food blenders are becoming more and more popular with parents wanting to make healthy baby food at home without all of the added artificial preservatives and additives.
Making homemade baby food is a great way to control exactly what is going inside of your child and it can also be fun at the same time. There a lot of blender manufactures who are taking note and are now producing blenders for just for making baby food, they have done away with the normal countertop blender style and have made some baby friendly looking baby blenders which are smaller in size and fun to use.
In this review article we have picked out some of the best baby food blenders that will let you whip up delicious purees and tasty first meals for your baby, effortlessly.
Best Blenders for Making Baby Food – Our Top Picks
When choosing a baby food blender its best to pick out a machine from a reputable brand, at the end of the day you don't want to unintentionally harm your child by using a cheap blender to make their baby purees.
Below are some of the best blenders for baby food we could find, each of these will do a great job at making baby food puree.
Magic Bullet Baby Bullet Baby Care System
Magic Bullet have made a name for themselves for producing small compact personal blenders that are favorites among gym goers and smoothie fans. We actually did a detailed review of the Magic Bullet.
So yes these guys know how to make a great blender and with their latest product the Magic Bullet Baby Bullet Baby Care System it looks like they have come up with yet another winner.
The Magic Bullet Baby Bullet Baby Care System is a Baby food blender that is designed solely for making baby purées and first meals for your child. And there is no hiding that this blender is for baby and children with the colorful artworks and child friendly faces that adorn the baby blender.
Using the Baby Bullet you can make an entire week's worth of nutritional, healthy baby food in less than 5 minutes. The Baby Bullet comes with great "date dial storage cups" that are refrigerator friendly and allow you to keep track of your homemade baby food.
Along with the storage cups you also get in the box a tip proof tray which lets you easily store your finished baby foods without having to worry about them falling over or getting misplaced.
Also if you have made too much baby food the provided "easy pop batch tray" lets you store surplus baby food.
As far as we are concerned this is one of the best blenders to make baby food in the home, it looks great, it's easy to clean, and it's not too expensive, check out the best price here.
NUK Smoothie and Baby Food Maker
For those of your who are looking for a traditional looking blender that can also double up to make smoothies for you the NUK Smoothie and Baby Food Maker is a great duel blender option.
The NUK Baby food blender really makes preparing homemade baby purees as well as smoothies for the family easily. The NUK is a 20 piece set that comprise of 24oz baby food blender bowl and lid, 10oz smoothie sippy cup with lid, 6 food storage cups and lids in 3 different sizes (2 oz, 2.5 oz, 3 oz), plus the 250 watt ice crushing blender from Oster. Also included in the box is a delicious recipe booklet that has some great baby food recipes ideas.
All of the food storage cups and most of the removable parts of the Oster blender are microwave safe, dishwasher-safe, as well as freezer-safe to.
Like the Magic Bullet Baby Bullet above you also have the option to blend smoothies directly into the included sippy cup and you can blend fresh baby food in seconds in the blender bowl.
What we likes about this blender is that it will be used for more than just a baby blender, for example, as you child grows you can utilize the blender for healthy smoothies when they are no longer easting baby food. And of course any other family member who want hummus or if you want to blend your protein shakes, it really is a dual purpose blender that you will get a lot of use of than just making baby food. see soem real consumer reviews here.
BELLA Baby Rocket Blender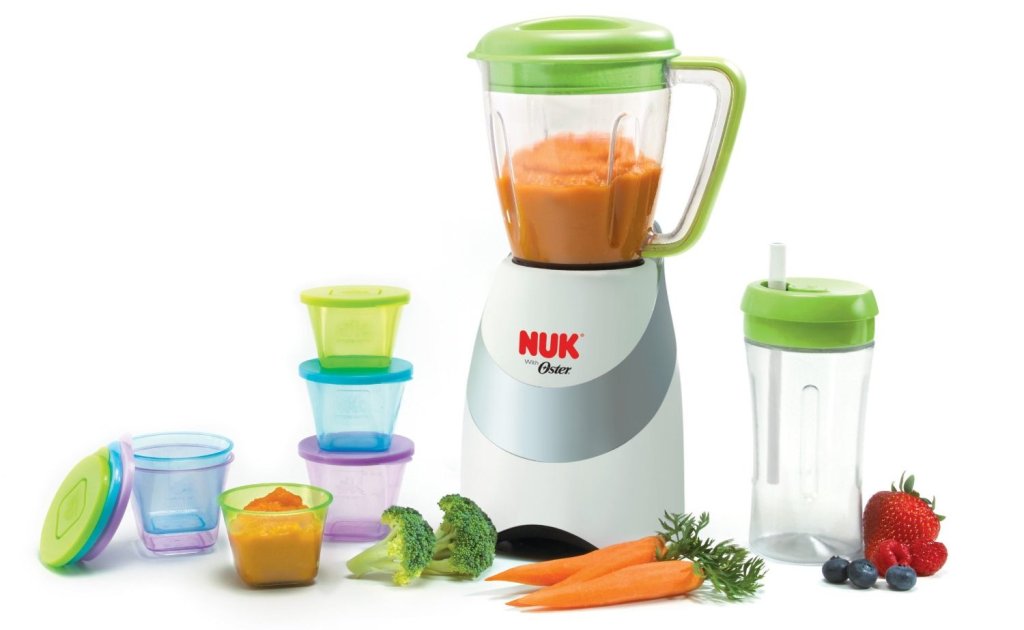 Our last favorite baby blender pick is the BELLA Baby Rocket Blender which can prepare healthy and fresh baby food in minutes.
Like the Magic Bullet Baby Bullet above the BELLA baby blender looks the part and each of the cups and blending jug are adorned with a friendly bear character. The unit is compact is size and can be stored easily or taken with you on the move, however this is not a battery operated blender so make sure you have a power outlet nearby if on the move.
This is a large 18 piece set that includes a blending cup with sipping spout, a batch bowl (with safety locking lid), three 2 oz. cups with lids, and an 8 oz. batch tray with an airtight lid.
All of the plastic components are safe to use and made of non-toxic BPA free plastic for your baby and can be washed in the dishwasher. The blender has enough power to puree, grind, and the blades let you choose the consistency of your foods.
When it comes to price this is the cheapest of the three baby food blenders we reviewed but is on par with the others in terms of quality, features, and functionality. If you are shopping on a smaller budget this blender for baby food is a great choice, check out the lasted price for the BELLA Baby Rocket Blender here.
Summing it up
There you have it three of our best blenders for making baby food; all of these will do a fantastic job and are very similar in what they can do. If you want a more versatile home blender the NUK Smoothie and Baby Food Maker might be the better choice. Happy shopping
Best Blender for Baby Food