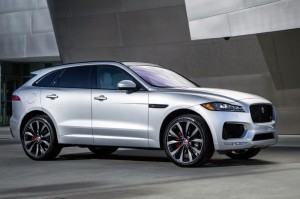 Jaguar Land Rover North America is about to break out of the box it has been in for the last 30 or so years. Given the state of Ford Motor Company's Lincoln brand in the premium/luxury space, one has to wonder if the Dearborn automaker regrets jettisoning the British brands to Indian automaker Tata in 2008 for a mere $2.3 billion.
The North American launch in mid-2016 of the  America Jaguar XE sedan and F-Pace SUV will fill out the Jaguar showroom properly for the first time in its history, with both a legitimate entry-level sedan and a well-designed crossover/SUV. That, on top of the resurgence of Land Rover, especially the runaway success of the Range Rover Evoque and the impending return of the Defender, puts North American chief Joachim Eberhardt in the best possible situation to succeed.
The Jaguar XE sedan is already selling in Europe. Analysts say the BMW 3 Series competitor is just the right kind of vehicle to introduce in the U.S. when a brand has momentum.
"Jaguar is making all the right moves with its higher-priced offerings like XF and F-type," says Dennis Keene, a brand consultant based in Los Angeles. "Now, they come in with a sedan and a great-looking crossover at attainable prices for people moving into luxury for the first time, or people looking for something less ubiquitous, and there are no barriers to considering a Jaguar."
Besides filling out the Jaguar showroom, the company is adding diesel versions to all its Jag and Land Rover/Range Rover models. So far, Volkswagen's debacle does not seem to be hurting consideration of diesels offered by other manufacturers, and in fact it broadens the brands' reach. "Please … test all of them to your heart's content," Eberhardt says. "The fuel economy and emissions are all as we say they are."
Eberhardt's history in the auto industry is deep, most recently as a retailer. He also ran product development at Mercedes-Benz North America and was head of sales at the Chrysler Group when it was part of DaimlerChrysler.
His first goal is to equalize the sales of Jaguar with Land Rover. Last year, Jaguar sold 15,773 vehicles in the United States and Land Rover sold 51,645.
Eberhardt says his experience at both Chrysler and as a dealer orients him to focus on helping dealers attract more foot traffic and give them the tools to close. The company has introduced Elitecare, a free five year /60,000-mile scheduled maintenance program  . That is for Jaguar only, he says, because Land Rover customers haven't indicated the cost of maintenance is an obstacle to purchase.
He has also cut prices. Jaguar has slashed the base price on the redesigned XF midsize sedan 9 percent, or $5,275, to $52,895, including shipping. Equipment levels across the range have been enhanced by 10 percent to 20 percent, based on list price. Base prices on the 2017 F-Type coupe and convertible will be $3,600 and $2,700 lower, respectively, with added standard equipment worth $4,000 to $12,000, depending on the model.
"There is a perception that Jaguars are overpriced and not good values, so we are changing that," Eberhardt says.
How will he market the message? The company is engaging more than 10,000 potential and wannabe customers over the next several months with a program that allows them to be filmed behind the wheel of a Jaguar XE and inserted into an action film, which they can share through social media. "We are expecting many millions of high-quality two-minute engagements when people share them. … It is going to be a very effective way to get the word around."
Speaking of action films, will Eberhardt buy time on the 2016 Super Bowl again? "We probably weren't timed right last year for a Super Bowl. It was probably too early. But I think maybe the 2017 Super Bowl would be a good idea when we have a showroom full of great product."
This is time for Jaguar Land Rover in US