Monday.com is a project management tool for organizing your tasks, collaboration, and calendars.
  Monday.com is a CRM, project management software and collaboration tool all in one. It has absolutely exploded in popularity over the last few years, due to its slick interface and extensive customer list, which includes Fiverr, WeWork, Wix and many more. Monday allows you to track your leads, communications with clients and your to-do list all in one place. Plus, engineers can track development projects, marketers can create social media calendars, and nearly all members of your organization can optimize their processes with Monday. Plus, Monday's very friendly user interface makes it a breeze to learn.
Project Management
Use Monday.com task management and timelines for a simple project management solution.
Marketing
Use Monday.com to build sophisticated, customizable dashboards that measure your campaign results.
CRM and Sales
Use Monday.com for contact management, lead capturing, and customizable forms for customer support queries
Remote Work
Monday.com boasts features for remote collaboration and teamwork such as socially engaging messaging systems and a built-in inbox.
Agile Software Development
Monday.com offers solutions for iteration planning, product roadmaps, and bug tracking.
Creative
Use Monday.com to jumpstart creative projects with templates for video products, editorial content, and marketing.
Construction
Use Monday.com's Gantt charts and timelines to give users a big picture view of any construction project.
HR
Use Monday.com's table view to plan new hire onboarding, professional development, and employee evaluations.
IT
Monday.com's real-time dashboards can track open tickets, IT orders, client payments, and agent time logs.
Monday.com Features Demo Video
Features: What I Like About Monday.com
Here are some of the best features Monday.com has to offer.
Project Data Visualizations & Dashboards
Track whatever data is most relevant to your main KPIs and transform them into pleasing visual graphics.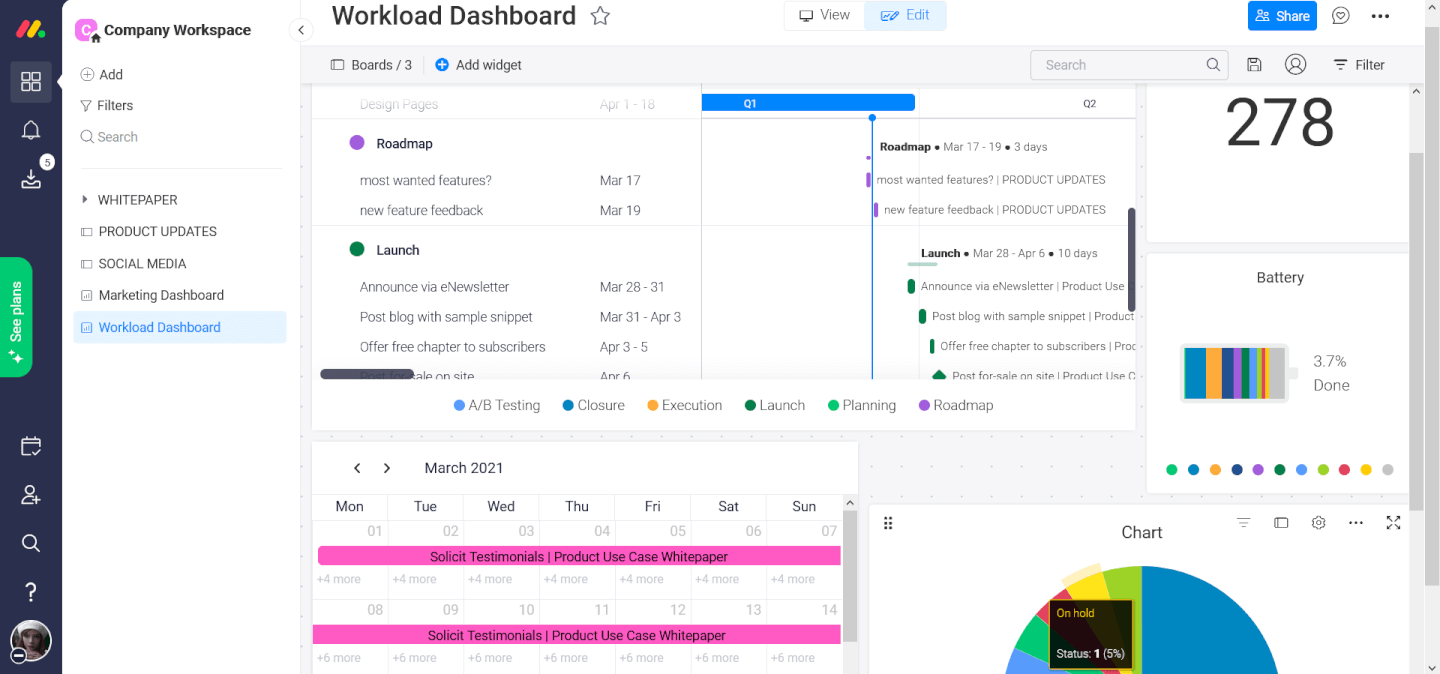 Monday.com has many ways to view the same information using different visualizations and dashboards. The more advanced plan will even let you pull multiple boards into a single dashboard. But even the most basic plans let you pick between many board views, like tables, timelines, Gantt charts, calendars, charts (bar and pie graphs, for example), Kanban boards, forms, and workloads.
Once you create a board, Monday.com does all the heavy lifting transferring your data inputs into different forms. Each team member can use the view they like best to view identical project information.
Project Automations
Automate common or recurring tasks with a series of when/if/then statements built right into the app for ease of use.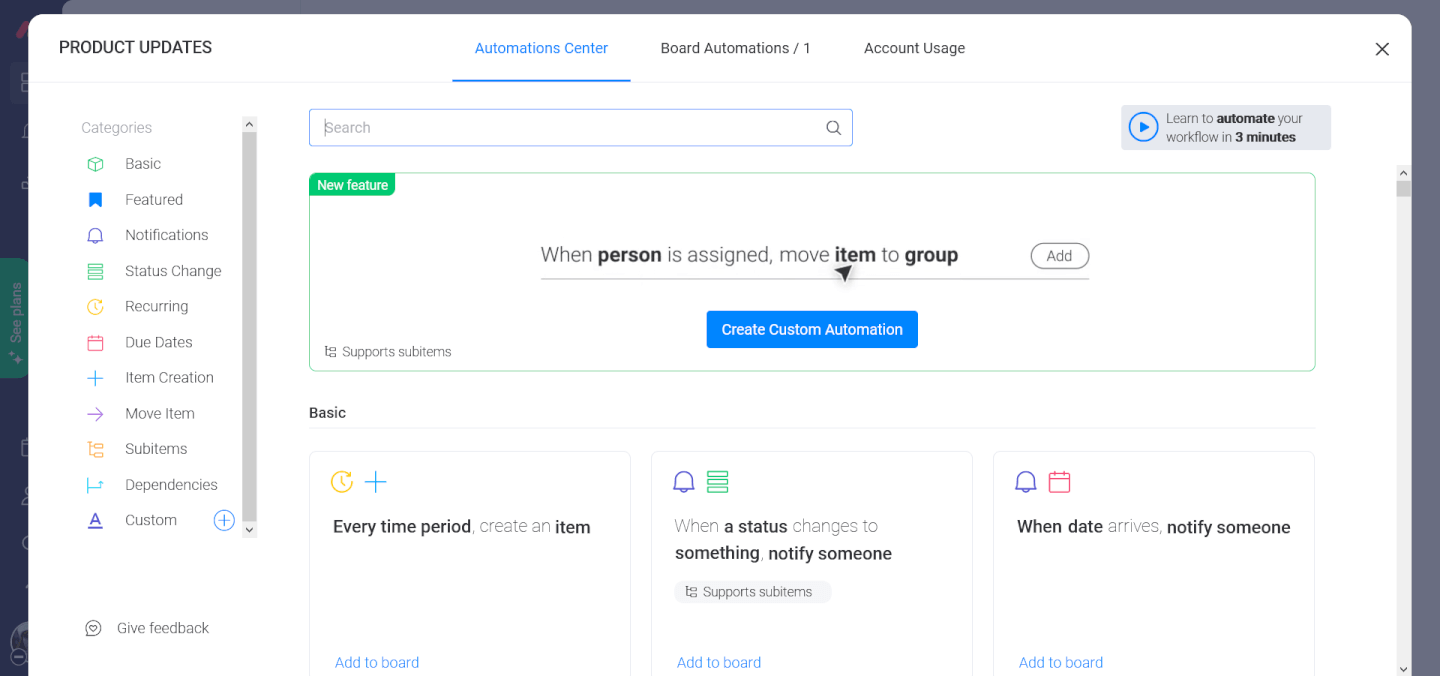 Monday.com offers an extremely user-friendly approach to workflow automation, providing several automation "recipes" with common triggers and actions baked right in. Automation recipes are sorted by type, making it super easy to find what you are looking for: send notifications, recurring items, assigning due dates, moving items upon a condition, building out subitems, and dependency triggers.
You can also build custom automations from scratch. The automation customization page walks you through the processes step-by-step using conversational language buttons, so truly anyone can use it. Automations needn't stop at one function, either, as a simple "and" command can link subsequent or simultaneous actions.
Deep and Extensive Integrations
Connect with apps you are already using to expand functionality and include things like a file library or email campaigns.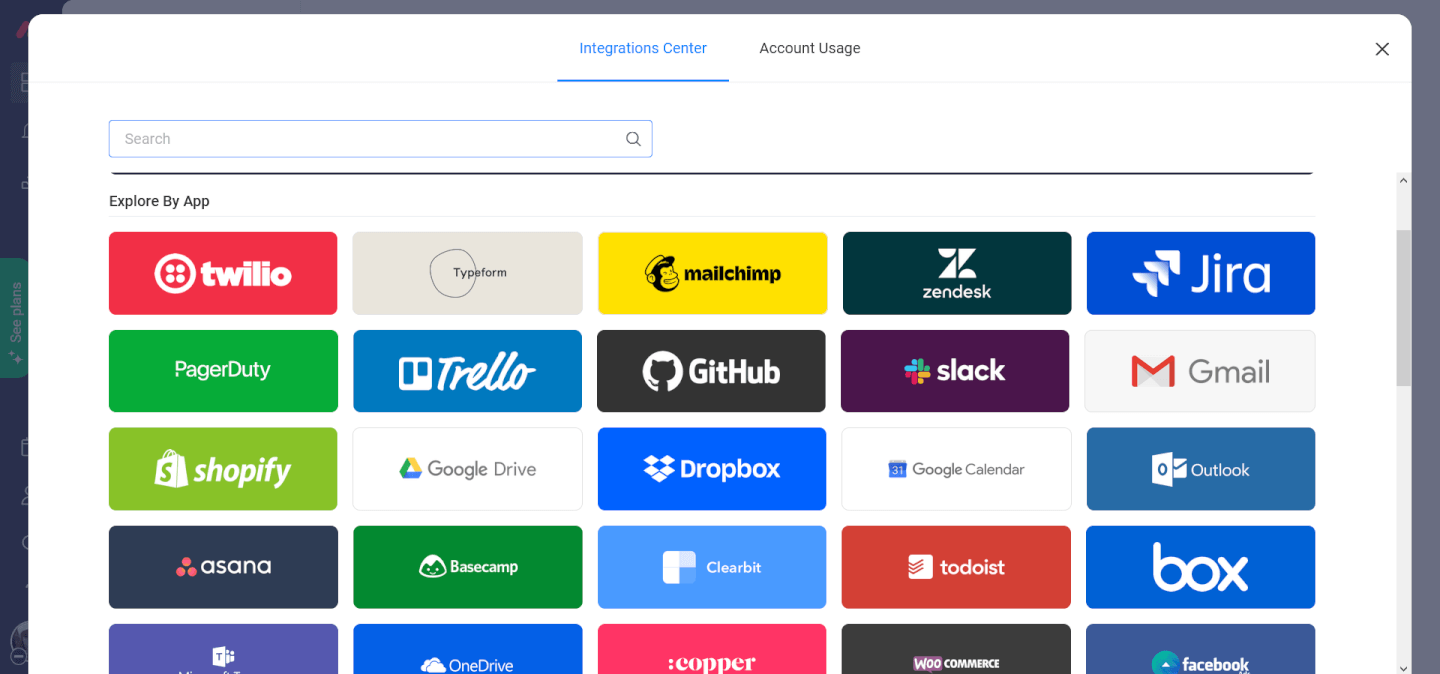 Integrate with hundreds of other apps like Asana, Basecamp, Jira, Todoist, Trello, Zoom, Slack, and many more.
Monday.com integrates with hundreds of third-party apps either natively or through a paid plan with Zapier. You can connect with common project management tools like Asana, Basecamp, Jira, Microsoft Teams, Todoist, and Trello. Additionally, they connect with everything you need for a unified communication strategy and workflow: Gmail, Google Drive, Facebook, Slack, Mailchimp, Dropbox, Excel, Outlook, and Zoom.
Integration is really simple, too. Just find the Integration Center icon in the menu and you can explore by recommended apps or app type. Their Automations Center can connect with integrated apps, meaning that an action in Monday.com can trigger a message in Slack or Gmail, and so on.