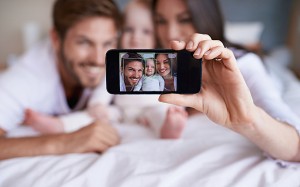 From the first scan to potty training, UK parents now post a million 'precious moments' on social media each month. Meet the 'over-sharenters'Hallelujah! Two-year-old Ben has just eaten a mouthful of yucky carrot cunningly disguised as a face on his lunch plate, now for all to see on Facebook.
Meanwhile, under the Twitter hashtag #whatamess, Eliza, three, is just this minute enjoying an ice cream at the park. While an Instagram pic of eight-month-old Theo's peachy bottom is all the evidence needed that his nappy rash is much better, thank you.
Scroll down any social media feed and it won't be long before you come across similar examples of 'sharenting' – precious moments that parents feel are too good not to keep to themselves. Indeed, if you have kids yourself, there's a good chance you've also contributed to some of the one million messages UK mothers and fathers post each month about their offspring.
Today, the average parent will post 1,000 images of their first child by the time they're five, according to a survey of 2,000 social media users by the charity The Parent Zone.
Sharenting? More like over-sharenting…and it now starts earlier than ever, with the ultrasound photo uploaded straight from the scan. When the 'likes' come rolling in, we are set on a slippery slope of believing everything about our offspring is so fascinating that we keep it going until they hit Freshers' Week.
Celebrities also can't resist TMI when it comes to their kids.
Like tens of thousands of parents who nearly broke the internet posting pictures of their children going back to school after the summer holidays, there's five-year-old Kai Rooney proudly posing in his uniform on his mother Coleen's Facebook feed. Another recent case of celebrity over-sharenting? The hotly debated decision by Perez Hilton to Instagram himself in the shower with his two-year-old son.
It's a world away from our own childhoods in the 1970s and 1980s – most of us have no more than a few grainy snapshots to commemorate our early years. Better smart phone technology has made it easy and cheap to take thousands of pictures and quickly upload them to the internet. But getting dozens of 'likes' for our kids' photos isn't enough for our increasingly inflatable parent egos.
As the number of video clips on the internet grows 75 per cent a year, we now also regale others with ballet performances ('So graceful!'), concert performances ('Encore!') and sporting successes ('Just like Daddy!') – as well as the videos of toddlers dancing to Lady Gaga that we hope are so cute they will go viral on YouTube. And Apple's 'live photos' feature on the latest iPhone – which makes Harry Potter-style moving pictures a reality – will be coming to a timeline near you soon.
According to one survey, 70 per cent say they go to it for advice from more experienced parents, while 62 per cent say it helps them worry less. And as well as being a quick and easy way to allow more distant family and friends to watch your kids grow up, social media has also become a way for fathers to get involved. An analysis done exclusively for Stella magazine by researchers Brandwatch found it's no longer just mothers who 'sharent': 43 per cent of posts are uploaded by fathers.
Oh great another baby picture! How 'over-sharenting' invaded social media