Mamia and Pampers Nappies Size 4 – Reviews & Comparisons
Since my daughter was a newborn, I have been a fan of Aldi's Mamia Nappies. We are now using Mamia Ultra-Dry in size 4 and are still very happy with them. I love trying different brands of things and have occasionally bought other nappy brands over the past year but so far we've always gone back to Aldi's Mamia.
The other day I spotted Pampers Baby-Dry nappies in size 4 in Wilkinsons and they were reduced to half price making them pretty much the same price per nappy as Mamia. I thought this was a good time to see what the Pampers nappies were like in a bigger size. In this post I will compare these two nappy brands in this size and let you know which one delivers…
Here they are, side my side. Aldi's Mamia to the left and Pampers to the right. They look quite similar here, size-wise at least.
The thickness is about the same and when you open them up like this (above) they look quite similar and feel pretty much the same too. They both have a faint chemical smell that most disposable nappies seem to have now.
When you open the nappies up further you can spot some differences. The Mamia nappies "wings" are much wider and offer more protection and the flaps where the Velcro is, is also much wider and gives Mamia a better fit. The Pampers flaps are really narrow and give the nappies a really high cut fit when on (like a Baywatch bathing suit…) that I think looks uncomfortable and makes the nappy more prone to leaks. The Pampers nappies' absorbent padding goes higher up at the back so should be better at preventing against leaks on that end.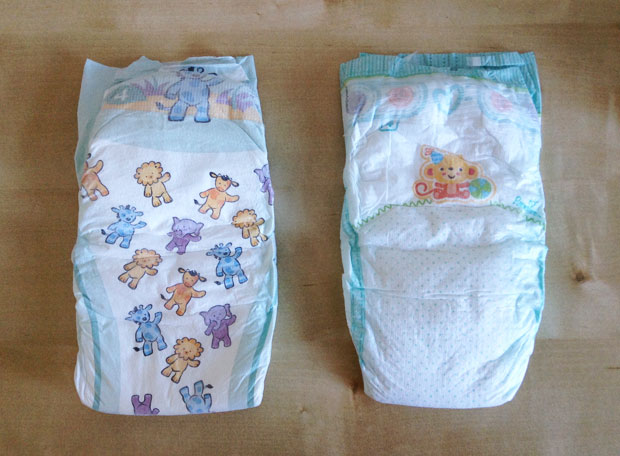 Both brands promise up to 12 hours of dryness meaning your baby's bum and nappy should be nice and dry after a full night. We usually use Aldi's Mamia and have never ever had a wee leak with them. We use them overnight for 12 hours and have never had a problem. Mamia nappies live up to their promise and really do offer 12 hours of dryness. The nappy feels dry and my daughter's bum is dry and rash free after 12 hours in a Mamia nappy.
Over to Pampers. I'm very disappointed with these nappies. Not only is the fit bad but they don't offer 12 hours of dryness or even half that. We tried one of these overnight and less than 12 hours later when my daughter woke up, her nappy was soaked and wet on the outside and had leaked through her cotton sleepsuit and her thick fleece sleepsuit, too! If she'd slept any longer, I'm sure her mattress would have been wet too. We decided to only use these nappies in the day until we run out but they're not great for daytime use either. They only last a couple of hours before feeling damp on the outside and leaking through to my baby's clothes. Now we can only use these at home until our stock runs out and we will definitely not buy these nappies again. I'm so glad I didn't pay full price for them. We also discovered that my baby's bum and genitals went red after every time she'd worn one of these — no matter if she wore it for 2 hours or 12.
I don't mind the brand Pampers at all — actually their baby wipes are among the best ones on the market — but these nappies are just not good enough and do not live up to their promises. They also cost about twice as much as the Aldi's Mamia nappies. My trusty Mamia nappies fit really well, are super soft and really absorbent. I will stick with them! They do what they say they will and are priced really reasonably. Thank you Aldi for keeping my baby dry! You don't always get what you pay for — sometimes you get more and sometimes a lot less.
This review is referring to these particular styles of nappies and these sizes only. We have since tried Pampers pull ups and have not had any rash problems or extreme leaks with them.
Mamia and Pampers Nappies Size 4 – Reviews