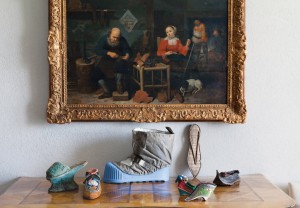 ONE OF THE MOST IMPORTANT collections of footwear in Europe — and arguably the world — is not housed in a grand museum in Rome or Paris but in a remote 18th-century manor high north of the Swiss Alps owned by Bally, the 164-year-old fashion and leather goods brand best known for its shoes. In a storybook town between Zurich and Basel is Zum Felsengarten, home to the Bally Shoe Museum in Schönenwerd. Inside, more than 1,000 pairs of footwear represent 3,000 years of history: French court heels from the 17th century, Venetian platforms from the 16th, Queen Elizabeth II's gold coronation shoes.
But unlike most national treasures, the museum is little known and rarely visited. And the story behind the collection is as curious and intriguing as the shoes themselves.
In the mid-1800s, Carl Franz Bally, an industrious silk ribbon manufacturer, bought his wife some pretty French shoes while on business in Paris. Since he didn't know her size, he purchased 12 pairs in different sizes. Only two fit, so he sold the rest at a good profit — and decided shoes were a much better business than ribbons. The Bally & Co. shoe company was launched from his house. By 1916, it had 7,000 employees, was producing four million pairs of shoes a year, and had stores in Paris, London, Geneva and Buenos Aires.
Over the years, generations of Ballys collected shoes. Ancient Egyptian sandals made of woven palms, Native American moccasins, Queen Victoria's low-heeled pumps for her 60th jubilee in 1897. The Ballys bought shoes from companies and at auction, and once word got out that they were serious collectors, they received shoes as donations and gifts. They also acquired antique cobbler tools, and paintings and drawings of the shoemaking craft.
By 1942, the company had long outgrown its headquarters, and the Ballys decided to turn the Zum Felsengarten estate into a museum. Visiting is a bit like traveling back in time. With each step one relearns the history of the world from the feet up. The oldest pair in the collection is from 3,000 B.C.: white baked-clay funerary sabots from the former Mesopotamia (today, southern Iraq). They were ''worn as a form of protection in the grave, since it was thought you would be confronted by evil spirits,'' explains Nicole Coverelli, one of the museum's full-time docents. There are shoes from the ancient civilizations of Persia, Egypt and Turkey, and Chinese silk slippers from the foot-binding era, some measuring just three-and-a-half inches long. One sees the excess of the '20s through richly embroidered flapper pumps and the privation of World War II by way of platform heels made of cork instead of the customary leather or wood, which were rationed. Of course, there are also a few historic pieces from Bally, like the Reindeer-Himalaya boots Sherpa Tenzing Norgay wore to summit Mount Everest with Sir Edmund Hillary in 1953 and Roger Federer's well-worn tennis sneakers.
If that weren't enough, there is an even larger collection in a warehouse about 30 minutes from the museum: Bally's archive of more than 30,000 of its shoes, with examples from nearly every year of the company's existence, starting with Carl Franz Bally's very first design, a pair of black Belle Époque-era boots. There are also pieces one associates Bally with now: beautifully crafted leather oxfords, boots and classic pumps. In addition, there are blueprints by the French Modernists Robert Mallet-Stevens and Le Corbusier, advertising posters, traveling sales cases, lasts and commercial reels starring luminaries like Charlie Chaplin. ''Carl Franz Bally was a hoarder — either that or he had a great vision,'' says the brand's new creative director Pablo Coppola with a laugh. Unlike the Bally Shoe Museum, these archives can only be accessed by Coppola and his design team. ''It's the company's patrimony,'' explains Bally C.E.O. Frédéric de Narp, who added that a traveling exhibition of shoes from the archive and museum is planned for spring. ''Carl Franz had a love for these objects and found real meaning in them,'' Narp says. ''We want to carry on this meaningfulness by sharing them with the world.''
A Quiet Swiss Town's Unlikely Treasure: Shoes