What is alamy
Alamy is a stock photography agency with a long history in the market, offering high quality stock images with both Rights Managed and Royalty Free license available. They've over 145 million photos and a simple pricing system to provide you with the right visuals for your designs.
Available on demand only, Alamy's photos cost depends on the license type you choose. Rights Managed photos cost between $19,99 and $199,99 according to intended use. Royalty free images are from $49 to $365 according to size. You can also save using credit packs. Alamy is a traditional and reliable name in stock photos, so it's certainly worth knowing about this agency.
Alamy is a macrostock agency and the licenses they work with reflect it, with Rights Managed and Royalty Free options available. They focus on the commercial, designer, and editorial markets looking for customized usage of images, but they also recognize the ever-increasing need to acquire quality and inexpensive stock photos, which royalty-free licensing enables. Their new website design, which was launched in April 2010 has successfully incorporated some key features that are attractive to one time purchasers, bloggers, and web designers.
Alamy is not only a stock image seller but its website tools show that they are interested in educating their users about stock photography, how to use it and the support they need for understanding and communication. Their stock photo glossary and their resolution and image sizing lessons are helpful for any stock photo user.
Alamy is dedicated to leveraging the efficiency and technical know-how to open up opportunities in the microstock market. The recent release of their iPad app attests to this. Additionally, in May 2011, they launched a dedicated German Website for this international market.
Alamy Review Basics
Over 160 million images making Alamy the largest stock photo database
150,000 images added every day
Alamy has been online since 1999 – They're celebrating their 20th anniversary on November 2019
File types sold on Alamy are stock photos, illustrations, and vectors
Accepts payment by PayPal, Visa, American Express and MasterCard
Royalty-free and rights-managed licenses available
Particulars
An advanced search engine that is Searchable by keywords, categories, licenses and buying options, region, ethnicity, release date, orientation, and reverse image search. This search tool is easy to use and navigate
Languages including English and German with international contact emails in Canada, USA, Germany, and India
Alamy has its corporate headquarters in Oxford, England with offices located in 4 other countries.
How much money can you make on alamy
I applied to contribute to Alamy non-exclusively. On these terms, they will pay me 40% of the price my pictures were sold. This is so far one of the highest paid microstock to the contributor.
I got my first sale on March 1st. This was 1 month after I registered. I sold it with the usage: Corporate Package Use – Internal use and external non-advertising use. The payment for this image was 29 USD.
Another image I sold for 189,05 with the following license.
Country: Worldwide
Usage: Marketing package – Large business, Use in marketing materials, worldwide for 5 years (excludes advertising). This license is for large companies with more than 10 people.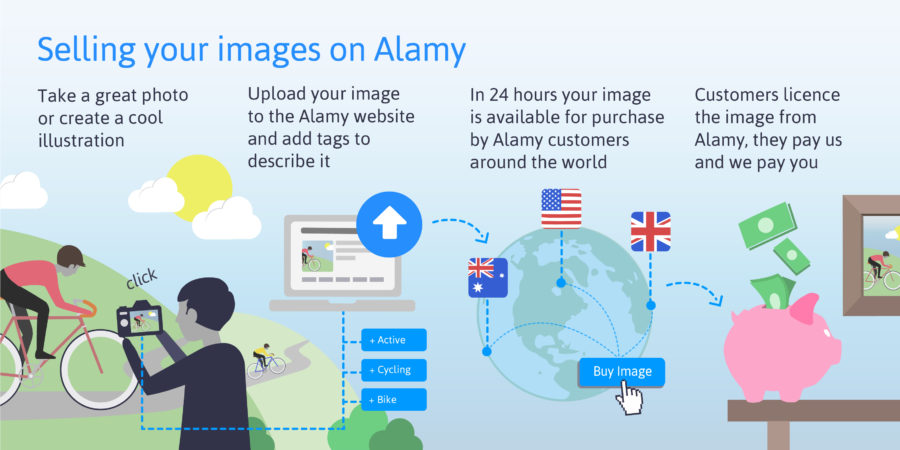 he average image license fee on Alamy is $90; we deal with a variety of clients so the prices do vary in different industries and countries. Generally, licenses for editorial uses achieve lower average prices than commercial uses – but our editorial clients tend to license stock images more frequently.
Some examples of our average prices:
Advert $500
Book cover $150
Online $20
On the whole, our pricing is significantly above what you see through microstock sites. We don't offer subscriptions, but we do have enterprise deals for large companies who consistently buy high volumes of images. We also license a lot of imagery directly through the website for the prices advertised. Prices vary depending on the license type and use; to get a better feel for our pricing take a look at our individual image pages for full pricing information.
The industry has changed – it's hugely competitive and some clients and industries will only deal with a few preferred image vendors, so for some markets, selling stock through an agency like Alamy might be your only route in.
As well as the traditional stock route, there are some additional ways you can make money through Alamy. These include selling through our global distribution network and submitting iPhone photos via our Stockimo app. Find out all the details about these and other ways to make money from your images in our Sell Images section.
When Alamy pays you
Alamy's minimum threshold is 50 USD. Once you reach it, they will pay you at the beginning of the next month. But note that the amount in your "Total sales" is not the amount Alamy will pay to you. This amount is without their commission, which depending on your contract with them, can be up to 60%.
Alamy can pay you directly to your PayPal account. You can also change the payment settings to be paid directly to your bank account. Alamy pays in three currencies. You can get your earnings in USD, EUR or GPB. I find it very convenient as I live in Europe. Other platforms I am selling my photos on are paying in USD only.
There is a difference in your earnings balance with other platforms. On Alamy, your earnings will first appear in the "Total sales". But it does not mean that you are going to be paid. First, your balance must be cleared. This happened when the customer transfers to Alamy the money for your pictures. I had to wait more than two months for my two sales being cleared. The first sale was cleared a month after. But the second one took one month and a half.