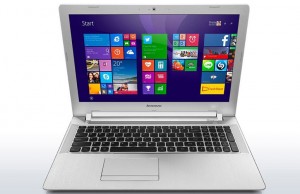 REVIEW
The Lenovo Z51 is a multimedia notebook that comes ready to entertain for a reasonable price. At $629 (starting at $499), this 15-inch laptop packs a full HD display along with JBL speakers and a terrabyte for storage, so you'll have plenty of room for your movies, photos and tunes. A speedy Intel Core i5 CPU and 8GB of RAM provide smooth performance, and there's even an optical drive to play your DVDs. However, the display's bland colors and limited viewing angles, combined with a short battery life, put a damper on an otherwise promising system.
Design
The Z51 starts with a plastic lid available in your choice of white or black. Inside, there's a metallic gray bezel surrounding a 1920 x 1080 15.6-inch non-touch display, which is complemented by a brushed aluminum deck below. There's a big vent between the VGA and AC jack on the left, followed by another even larger one on the bottom. The plastic underside also features grilles for JBL stereo speakers, although that means audio is often projected into a table or desk rather than at your ears.
Measuring 15.12 x 10.43 x 0.97 inches and weighing 5.07 pounds, the Z51 is just a tiny bit bigger than the Dell Inspiron 15 5000 (14.9 x 10.25 x 0.94 inches, 5.11 pounds) and the Asus X555LA (15 x 10.1 x 1.0 inches, 5 pounds).
Keyboard and Touchpad
With a well-spaced layout and full 10-key numpad, typing on the Z51 was fast and comfortable. I liked the full-size arrow keys and the deeper-than-average 1.68mm of key travel. I hit 79 words per minute on my first attempt at 10FastFingers.com's typing test, which is on the high side of my typical 75-80 wpm average. There's a couple of minor issues, such as no backlighting and the half-size right Shift key, but the lack of backlighting is understandable for a system in this price range.
The 4 x 2.1-inch touchpad has plenty of space for you to move around, and, as expected, responded accurately to clicks and multi-touch gestures, such as two-finger scrolling and pinch-to-zoom.
Display
All Z51s come with a 15.6-inch, 1920 x 1080-pixel display, although the non-reflective matte coating on the screen seems more appropriate on a business-oriented machine than a multimedia system like the Z51. The biggest problem with the Z51's panel is its poor viewing angles. When I viewed the trailer for Suicide Squad from even a little bit off-center, the screen became significantly darker, making some of the nighttime scenes hard to follow.
The Z51's screen measured 196.2 nits of brightness, which is more than what you get from the Dell Inspiron 15 5000 (177) or the Asus X555LA (160), although those machines cost almost $200 less than the Z51. The mainstream laptop average is more than 50 nits brighter at 249.
The 15-inch display's range of colors was quite limited, covering just 60 percent of the sRGB spectrum. This made colors on the matte screen look less vivid and slightly washed out when compared with other displays. The Asus X555LA and the Dell Inspiron 15 5000 recreated slightly more colors at 63 and 71 percent, respectively.
At least the color accuracy was decent. The Z51 notched a Delta-E rating of 3.6 (where close to 0 is best). That showing is bit better than the Inspiron 1500 5000 (5.4) and the Asus X555LA (4.6).