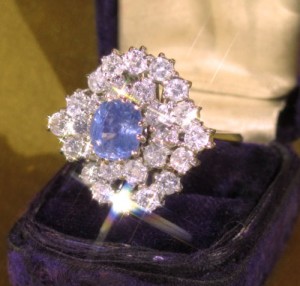 Sapphires are cut from an extremely hard mineral called corundum, which is also the source of an even rarer gem, the ruby. Used in everything from necklaces to bracelets to rings, sapphires get their characteristic blue hue from iron and titanium in the mineral. A variant of the sapphire, the padparadscha, ranges in color from pink to orange and occurs only in Sri Lanka. Other sapphires are mined in North America, Russia, Africa, and Australia, but the most prized examples are found in Myanmar, India, and Thailand.
During the late-Georgian period, jewelers used sapphires to try out new gem cuts, the most popular being the rose cut and table cut. Georgian sapphires typically had enclosed backs and were set over foil. In the Victorian Era, sapphires were combined with other gemstones in so-called acrostic rings so that the first letter in the name of each stone spelled out the word "dearest," (i.e., diamond, emerald, amethyst, ruby, emerald, sapphire, and topaz).
By the 20th century, some of the world's greatest examples of fine jewelry were anchored and accented by sapphires. Cosmetics queen Helena Rubinstein wore a starfish-shaped, Ecalle-designed ornament on the back of her hand, whose center was dominated by a large sapphire cabochon. Opera singer Ganna Walska wore enormous sapphires on her fingers.
Daisy Fellowes, whose grandfather was Isaac Singer (as in the sewing machine) favored sapphire brooches from Cartier. The Duchess of Windsor also shopped at Cartier for sapphires; one of her many necklaces featured no less than nine flower-like clusters of sapphires, each liberally accented with diamonds and attached to a pair of sapphire-bead chains.
The most sought-after sapphires are usually the ones of deepest blue. Kashmir sapphires are the color of cornflowers, often shading to rich purples, while those from Mynamar have a more royal-blue tint. Stones from other regions that are not as naturally blue are often cut to ensure that the meager amount of blue in the gem radiates throughout the final cut-and-polished piece (the secret is to leave the blue at the gem's base rather than its surface).
Almost all shades of blue are generally acceptable for sapphires, even ones with gray in them, which makes the blue "steely." Green, however, is not desirable. Unfortunately, the impurities that make most sapphires blue can also produce shades of green when the stone is held at certain angles. That's just one reason why the skill of the cutter is so important.
Green can also occur when sapphires are heat-treated to make them more blue. In fact, heat is one of numerous treatments used to enrich the color of sapphires. For example, distracting, light-catching fractures are often filled with everything from epoxy to wax, while a process called diffusion combines heat with coloring agents to enhance the surface of the gemstone. And heating corundum alongside chrysoberyl can produce a gem that mimics a padparadscha.
Last but not least is the star sapphire, whose asterism, as it is called, is the result of light playing upon the silk-like fibers within a stone. Most heat treatments diminish a stone's asterism (the trade off for the jeweler, though, is a richer color). Some star sapphires, particularly those from Thailand and Sri Lanka, have another stone's base glued to theirs. While this makes the gem appear larger and more imposing than it really is, over time the glue can yellow the stone.