Very few computer designs stick around long enough to become classics. Off the top of our heads, we might use the word for Lenovo's ThinkPad T and X series, but such exceptions to annual or biennial turnover are rare. What, then, do you make of a laptop that's still a contender after a debut in 2008 and a refresh in 2010? That's not even aging in dog years—that's more like geologic time.
Yet Apple's thin and light 13.3-inch MacBook Air is still going strong. It's outlived almost all of the Windows ultrabooks created to compete with it, Intel having long since moved its marketing dollars from ultrabooks to 2-in-1's. It's even outlived its original role as the status symbol for executives and frequent fliers in Apple's lineup, now that Cupertino offers the even thinner (0.52 inch) and lighter (2.03 pounds) 12-inch MacBook (2015). The Air today is positioned as an affordable, ultraportable everyday laptop, as suited for a student's backpack as a Tumi briefcase.
It's adapted to that role nicely, even the "affordable" part: Bolstered for 2015 by a fifth-generation "Broadwell" Intel Core i5 CPU, Thunderbolt 2 port, and faster flash storage, the 13.3-inch Air starts at $999 with 4GB of memory and 128GB of storage. Our test unit, with 256GB of flash, goes for $1,199.
Upgrading to 8GB of memory costs $100 at ordering time; stepping up to a Core i7 processor is $150. Opting for 512GB of storage is another $300. We could wish for 8GB of RAM standard, but don't consider the other options vital.
Nor do we miss a feature found on many Windows rivals, a touch screen; OS X doesn't need and doesn't support touch, though the MacBook Air's touch pad supports a variety of handy gestures and shortcuts. We do, however, think the Air is showing its age in one respect: While competitors like the Dell XPS 13 flaunt 1,920×1,080 or even 3,200×1,800 displays, the Apple retains its relatively low-resolution 1,440×900 screen. It's fine for unitasking, but users seeking to arrange multiple apps on the desktop will be disappointed.
Design
If you and several colleagues enter a conference room and put this year's, last year's, and the year before's MacBook Airs on the table, don't get up and play musical chairs—reuniting the outwardly identical laptops with their owners will be a chore. The sleek aluminum unibody has the same 12.8 by 8.9-inch footprint and the same wedge profile, rising to 0.68 inch at its thickest (rear) edge, as before, with the same light-up Apple logo centered in the silver-sheen lid.
At 2.96 pounds, the Air is no longer the lightest entry in the 13.3-inch class—that would be the Lenovo LaVie Z, incredibly svelte at 1.7 pounds but cursed with a klutzy keyboard—but it's comfortable to grip and no burden to carry. It's possible to warp the screen slightly if you grasp the corners or press hard from behind, but the unit is almost flex-free, with no softness in the keyboard even for hammer-heavy typists.
Ports are minimal. On the system's left edge are a MagSafe 2 power connector that breaks away rather than yanking the laptop with it if someone pulls or trips over the cord; a USB 3.0 port; an audio jack; and two pinhole microphones for FaceTime chats. On the right you'll find another USB 3.0 port, a Thunderbolt 2 port, and an SD card slot.
If you don't need it for connecting an external storage array, the speedy Thunderbolt 2 port serves as a Mini DisplayPort for connecting a monitor—or a VGA, DVI, or HDMI display via an optional dongle ($29 each for VGA or DVI, $35 for HDMI). A Thunderbolt to Gigabit Ethernet adapter is $29, in case the MacBook Air's 802.11ac Wi-Fi doesn't suffice for you.
Features
It's more polite to listen through the headphone jack, but the Apple ultraportable pumps out first-class sound even at room-filling volume, with crisp high tones and noticeable if not mighty bass. Both audio and video are clear during FaceTime conversations; the Webcam above the screen is well above the laptop average in brightness and noise reduction.
Also well above—make that way above—the laptop average is the Air's backlit keyboard, which has a surprising amount of travel for such a slim system and a snappy typing feel. The cursor arrows and top-row system control (brightness, volume, and multimedia) keys are small, but that didn't stop us from cruising at nearly our personal best speed within a few minutes of unboxing the laptop.
The touch pad doesn't have the Force Touch capability (a light click to "peek" at an item, a firmer one to "pop" into its parent app) of the pads in the new MacBook and MacBook Pro models, support for which is currently limited to house-brand applications. But it glides and clicks as comfortably as any on the market, while supporting a handful of useful gestures for swiping between pages or apps.
The 13.3-inch screen offers wide viewing angles, ample (almost excessive) brightness, and vivid colors with sharp contrast. Our only gripe with it is that Apple has chosen to keep the Air, unlike the MacBook, MacBook Pro, and iMac, in the pre-Retina ages, so details just don't pop as they do on the pixel-dense panels of those machines. A resolution of 1,440×900 is, well, better than the 1,366×768 of the 11.6-inch model, but—like the Air's thick bezel—it's behind the curve nowadays.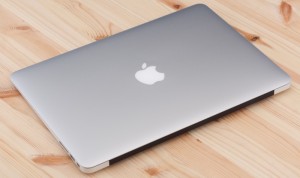 As you know, the MacBook Air comes with the latest flavor (10.11.1 "El Capitan") of the superlatively flexible and friendly OS X operating system and bundled apps. We think Windows 10 can slug it out with OS X in many respects, but not when it comes to free word processing, spreadsheet, presentation, photo, and music tools. An Office 365 trial is no match for Apple's cornucopia of creativity and productivity.
Apple MacBook Air (13-Inch, 2015) Review