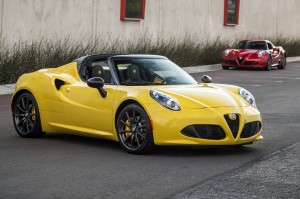 We won't act like we planned this. It had occurred to us that instead of a standard Four Seasons test, we could spend six months with an Alfa Romeo 4C coupe then swap into an all-new, open-air Alfa Romeo 4C Spider. But we shrugged off the concept, opting instead for a standard, 12-month evaluation of the coupe. Life, it seems, liked the idea of a split test.On a Saturday night on a coastal road in southern California, someone smashed their 2004 Honda Civic into the left-rear corner of our red Alfa Romeo 4C coupe, severely damaging the Alfa's wheel assembly and surrounding carbon-fiber bodywork. Maimed, our 4C left on a flatbed. But thanks to the good folks at Fiat Chrysler, we were subsequently offered up a bright-yellow 2015 Alfa Romeo 4C Spider to keep for six months in order to round out our Four Seasons test. It felt like getting a puppy to replace the recently deceased family dog—an uncomfortable mingling of grief and excitement.
The yellow Alfa Romeo 4C Spider is a lot like the dearly departed red 4C coupe. You can see its exposed carbon-fiber body when you're sitting in its surprisingly spacious, simple two-passenger cell, its manual steering is grouchier than a just-dumped preteen, and there's still a turbocharged 1.7-liter four-cylinder engine and accompanying six-speed dual-clutch transaxle shoved behind the seats.
As for what's different, the Spider is 22 pounds heavier thanks to some additional bracing, its removable, targa-like fabric top takes up precious real estate in the tiny trunk, and it has a $10,300 price premium over the $55,195 coupe. (And that's before adding $2,500 dark gray wheels, a $1,800 convenience package, $1,500 yellow paint, $1,000 xenon headlights, a $500 racing exhaust, $300 painted brake calipers, and a $300 carbon-fiber gauge cluster bezel.)
The Spider's still-slim rear window is easier to see out of thanks to a redesigned engine cover. It also comes equipped with an Alpine head unit that's ugly as sin and aftermarket chic but works much better than the standard 4C's sound system. Oh, and when the Spider's top is popped, you can better enjoy the turbo-four's braaaps and growls, all the while knowing that Alfa hasn't crippled the carbon-fiber monocoque's structural rigidity by scalping it.
While we didn't plan this, we're excited to see how the next six months with our yellow Alfa Romeo 4C Spider play out. We're christening it with some laps around Mazda Raceway Laguna Seca, so check back soon for its first update.
We head south toward St. Louis, where we'll be spending the night. We talk about our parents, our jobs, and a number of other odds and ends before we both fall silent. Jon plugs my iPhone into the Alfa's auxiliary audio jack. I tell him I couldn't get it to work earlier, but he persuades me to try again. I fumble through the illogical submenus, press a few random buttons, and "Riders on the Storm" by the Doors starts playing. Then, ironically, it starts raining. Hard.
The center-mounted, single-blade windshield wiper moves feverishly as massive raindrops shell the 2015 Alfa Romeo 4C. I'm stressed out. Then I realize why the steering effort feels so much lighter than ever before. It's because there's so much standing water on the highway that the relatively wide, staggered-size tires are skimming across the surface of the puddles. It's an unnerving drive across southern Illinois, and the rain doesn't let up until we're just outside of St. Louis. When we arrive, my brother and I barely say anything to one another before heading to bed.
It's a dreary but dry morning, and though Jon points out a sign for Missouri's Vacuum Cleaner Museum and Factory, we pass in favor of getting to and through Oklahoma as fast as humanly possible.
As we pull onto the Oklahoma toll road, I set cruise control and settle in for a long and lackluster journey across what is hands down the most uneventful state in the country. Jon and I are getting our sea legs under us, figuring out how to cohabitate such a small, cramped space. No small feat, mind you, seeing how I am 6-foot-2, weigh 190 pounds, and Jon is 2 inches taller and a stone heavier.
2015 Alfa Romeo 4C Spider - Open-top Swap