I don't post iHerb hauls on Twitter and Instagram often but when I do, I'm often asked about the things I'd recommend getting from iHerb, if there are things worth getting from iHerb and most importantly, is it safe to shop with iHerb because the website doesn't look very appealing. I thought I'd answer those questions today and if you're thinking of shopping on iHerb but aren't sure if you should, I hope this post answers any questions you may have.
First of all, before I proceed, I must mention that this is not a sponsored post from iHerb. I wasn't paid by iHerb to write this post nor did I receive any products from them for review. Every item/brand I mentioned here were purchased by me. However, iHerb does offer an affiliate program which I'm a part of so if you do place an order using any of my referral links, I get a small percent of credit back towards my future orders, which I'd really appreciate. But you don't have to use my referral links if you don't want to. It's all good. 
Also, this is going to be one heck of a lengthy post so brace yourselves.
Alrighty, let's get started!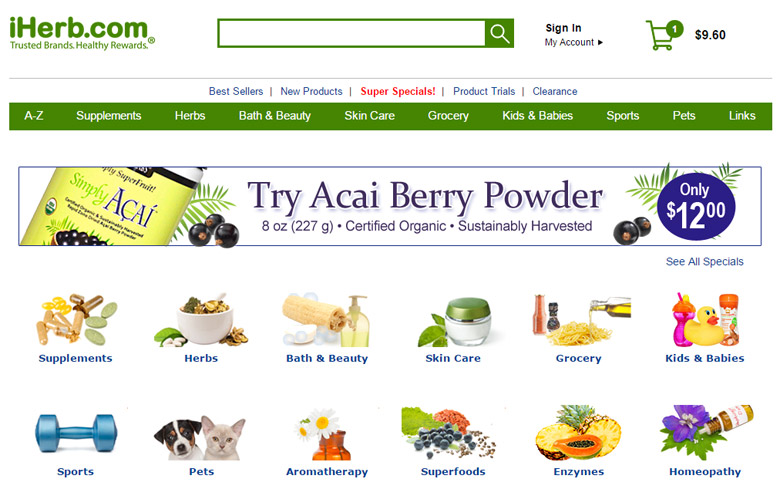 When I first shopped on iHerb years ago, that website was seriously godawful. It had a primitive, almost-Geocities like style of a website and there were colourful text here and there that seriously made me reconsider buying from the e-store. Categories of products were all over the place and it was bloody confusing trying to navigate the site.
Thankfully, they revamped their website and while it still looks very colourful, they've made it a lot easier to navigate the items you're looking for. The website is also mobile-responsive but I find that I prefer using the full site when I'm on my iPad instead of the mobile one.
What made my shopping experience a good one on iHerb is the ability to save the items in my shopping basket. I only shop on iHerb once every 2-3 months and in between my orders, I'd place what I need into the shopping basket. When I access the website a week or even a month later, my shopping basket would still contain those items. If any of the items I placed in the basket is sold out, iHerb will inform me and I'll be able to remove that item from the basket. I really like this feature as it allows me to add items in from my computer and mobile devices, as long as I'm logged in to my account.
I've not had any issues placing an order with iHerb. Any emails sent to Customer Service are replied promptly.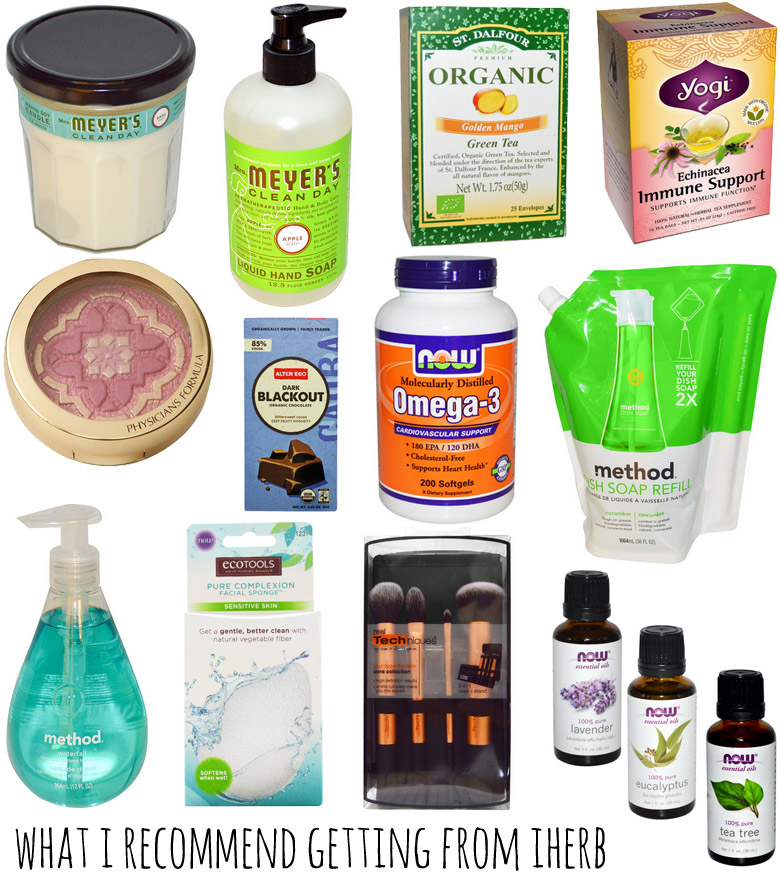 Things I Recommend Getting from iHerb
Aromatherapy essential oils
Essential oils are very cheap on iHerb. The price of one typical essential oil is only slightly more expensive than a regular fragrance oil in Australia, which has an artificial, manufactured scent. There's nothing wrong with fragrance oils if you're going to make candles or use them in an oil burner, but if you want to add them to carrier oils to be used topically, essential oils are the way to go. Anyway, back to the aromatherapy essential oils on iHerb. If you're in need of essential oils, get them on iHerb instead.
Real Techniques makeup brushes
If you've been lusting after Real Techniques makeup brushes but don't want to spend a lot of money on them at Priceline pharmacies, get them from iHerb instead. They're cheaper than Priceline (unless Priceline has their 40% off all makeup sale and even then, that seldom happens). I bought all of my Real Techniques brushes and sponges from iHerb. They don't have the latest range and they certainly don't stock the latest premium metal brushes but their regular brushes are pretty darn good enough for me.
Soy candles
I've purchased a lot of soy candles from iHerb. Soy candles are more expensive than the ones that use petroleum wax, and they often cost a lot of money in Australia. Even though I like to have a few luxe candles in my home, most of the time I'm happy to use the much cheaper ones from iHerb because they often work just as well as the expensive ones. Recommended brands: Mrs Meyer Clean Day (Paris B did an in-depth review of their soy candles here) and Aroma Naturals.
Method home-cleaning products
I love home-cleaning products by Method and while they're not super expensive in Australia, they're often quite hard to find. When I do manage to find a stockist in Melbourne, they don't sell the ones in bulk packaging either, which are cheaper per ml or gram. Instead, I get them from iHerb. I often purchase the bulk packets of dishwashing liquid, all-purpose surface cleaner and handwash. They smell really good and they're easy on the skin too.
Mrs Meyer Clean Day
I mentioned their soy candles (highly recommend them!) but those are not the only things that are good from the brand. I love the apple-scented handwash and their cleaning products are good too.
Chocolates and honey
Ahh my weakness, especially chocolate! Sometimes I'd like to throw in a bar or two into the parcel because … why not? ???? You can also get relatively cheap organic raw honey from iHerb but but do beware of the weight because this can add to the total weight of your parcel and shipping fees.
Vitamins and supplements
Vitamins on iHerb are similarly priced to most of the ones available in Australia, which means that they're not very expensive. However, there are times when certain vitamins would go on sale and that's when Tim will stock up. If you live in Malaysia and would like to purchase vitamins/supplements from iHerb (vitamins are expensive in Malaysia, even after conversion to AUD), be careful placing an order, especially if you opt to have your parcel shipped via DHL. A parcel I sent to my folks that didn't contain vitamins/supplements was held back from shipment and they required my parents to pay a hefty tax in order to retrieve the parcel. iHerb had labelled the description of the parcel in the customs form as "health and beauty supplements" (they do that with every parcel, even if there aren't any vitamins/supplements in it) and DHL would not release the parcel unless my parents paid the tax.
It was a very long and drawn-out process resulting in my burning that amount of money I paid for the parcel but it's a lesson learned. If you live in Malaysia and would like to place an order for vitamins/supplements on iHerb, I'd either strongly advise you against it, or use the cheapest form of shipping instead e.g. Regular Air Mail (many thanks to Paris B for the tip!). And keep your fingers crossed that your parcel does not get slapped with tax.
Ecotools
Before the AUD tanked so low vs the USD, I used to buy my favourite Ecotools products from iHerb. I love the Sustainable Moisture Socks and the Pure Complexion Facial Sponge Konjac sponge, and I'd restock often. Ecotools on iHerb has a wider variety of products compared to Priceline pharmacies in Australia. I don't think I'll be stocking up on my Ecotools Konjac sponge from iHerb anymore given that the AUD is doing so poorly but when it hopefully climbs back up to be on par (or close), then I'll get those again.
Physician's Formula
Physicians Formula is quite expensive in Australia (almost AU$30 per item at Priceline) but it has proper drugstore prices on iHerb. You won't get the latest releases on iHerb quickly but it's a good place to stock up on items that you enjoy from the brand.
Pet care
When I first adopted Janey, I bought her pet shampoo and vitamins from iHerb. They were very cheap yet highly rated and Janey didn't have any problems with them at all. Unfortunately, iHerb has stopped shipping of pet supplements, treats and certain grooming products to Australia, which is a huge bummer. But if you're based in the US or anywhere else, you shouldn't have a problem. The doggie shampoo I bought was the Austin Rose Inc Doggie Sudz Shampoo for Pampering Pooch in Mango & Neem and it smells delicious.
Tea
My favourite item to get from iHerb has to be tea. They have a wide variety of teas for all sorts of occasions. My favourite would be one of iHerb's bestsellers, and that's St Dalfour Golden Mango Green Tea. I stock up boxes of this because it sells out so quickly! Other recommended teas would be herbal teas from Yogi Tea and green teas from Harney & Sons.
Customer Reviews
Before placing an order, always check the reviews. I don't normally buy anything with less than 4 stars rating or highly-rated items with less than 50 reviews. When it comes to vitamins/supplements, I Google independent reviews as well. If the item is crap, people will be more than happy to say so.
Shipping
Now, let's talk about shipping. iHerb offers 3 shipping options to Australia:
1) Australia Post (cheapest option)
2) DHL Express International (I use this)
3) UPS International (most expensive)
I place an order with iHerb only once every 2-3 months when I do, I usually buy over US$100 worth of products. In this case, it wouldn't make sense for me to have my parcel shipped via Australia Post because while it's cheaper, it's often unreliable and takes a much longer time to arrive (5-15 days). I use DHL as it usually comes to slightly less than US$10 for a heap of products and they arrive in just 4 days. I don't bother with UPS as it's the most expensive option.
Parcels sent via DHL arrive very quickly (even quicker than items I've purchased from Australian e-tailers!) and they're often well-packed. Spillable items are packed in individual zip-lock bags. If any of the items are damaged and/or spilled, let iHerb know and they'll process a refund to you almost immediately.
Phew … this is a lengthy post! I hope it helps you if you're considering shopping from iHerb. I love shopping from that website and so does Tim. It stinks that our AUD is so low compared to USD because that would mean we wouldn't have to spend more money but let's hope things pick up eh?
If you have any questions about shopping on iHerb, feel free to leave them in the comments and I'll try my best to answer them. Till then, happy shopping!
Do you shop from iHerb? What's your favourite item(s) to buy from the store? What do you recommend getting?